Roundup: Girls bowling team routs Chaparral
December 20, 2017 - 3:37 pm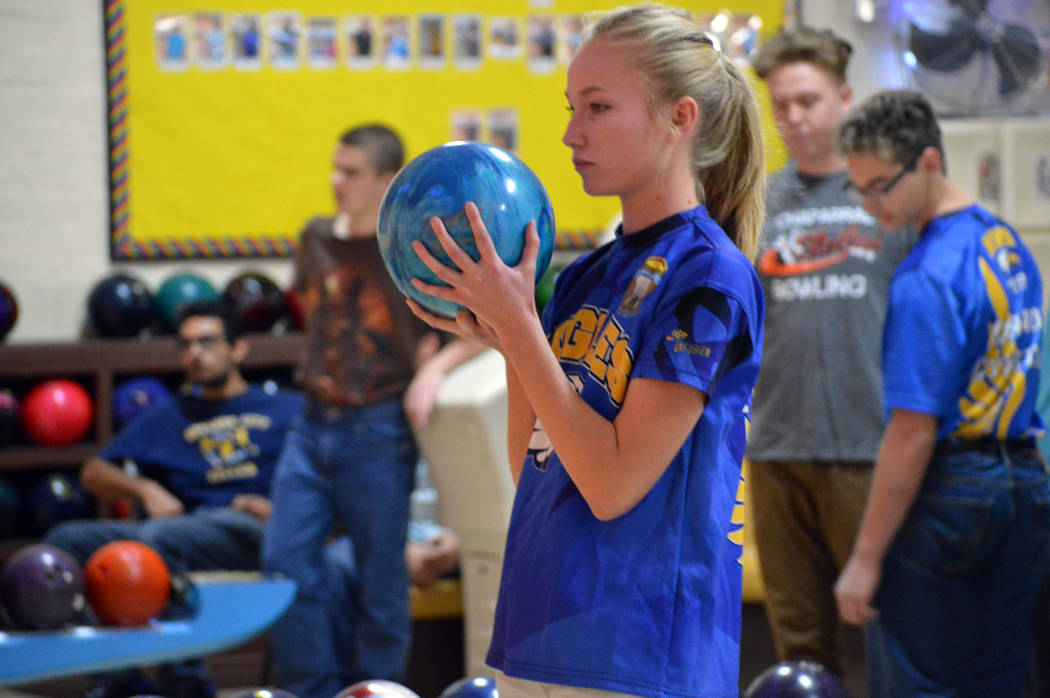 Coming on strong at Sam's Town on Dec. 14, the Boulder City High School girls bowling team routed Chaparral 1,274-919, bouncing back from a tough loss earlier in the week to Southeast Career Technical Academy. Sophomore Christine Smith led all bowlers with a score of 414, while senior Camille Torgesen shot 345 on the day, with a strong third game of 144.
Freshman Sarah Bernstein bowled 278 for the Lady Eagles, while senior Samantha Wagner bowled 247.
Falling to Chaparral 1,648-1,510, the boys continue to struggle to close out the first half of the season, but junior Sam Holt looks ready to lead a comeback charge after bowling a 500 against the Cowboys.
Freshman Jamison Kaboli also had a strong outing with a score of 440, while sophomore Connor Dykstra and senior Joseph McColery added scores of 295 and 275, respectively.
Flag football
Scoring a pair of touchdowns, junior Ryann Reese powered the Boulder City High School flag football team past 4A Legacy 20-18 on Dec. 13.
Primarily used as a running back, the explosive junior rushed for 101 yards and two scores on 10 carries, while senior Nikki Meleo rushed for 95 yards on 17 carries to lead the upset.
"This win should definitely give the girls confidence heading into the break," head coach Kevin Ruth said. "We made some nice plays against them but still have some areas to improve on. We're just happy to get the victory."
Scoring her lone touchdown on a 55-yard interception return in the second half, Meleo led the Lady Eagles with 11 tackles.
Balanced on offense, senior Nicole Valle completed 9-of-21 for 104 yards passing while rushing for 23 yards on four carries.
Senior Elizabeth Taggard led all receivers with three catches for 45 yards, while Meleo caught three passes for 34 yards.
Girls basketball
Outrebounded heavily against rival Virgin Valley on Dec. 14, the Boulder City High School girls basketball team fell to the Bulldogs 48-42.
Pushed around on the defensive side of the ball, the Bulldogs earned several second-chance opportunities on offensive rebounds, determining the outcome of the game.
"We need to do a better job rebounding the ball," coach Kirk Estes said. "They ate us up on the offensive glass, and we paid for it. This was a winnable game, and the girls see that. We'll get back to work and hopefully come out better next time."
Trailing by 2 points heading into the fourth quarter, the Lady Eagles gained momentum behind junior Hannah Estes (11 points) but were unable to hold off the Bulldogs in the closing minutes.
The team got contributions up front from its top six rotation players. Sophomore Keely Alexander scored 8 points, while senior Jerra Hinson, junior Setia Cox and sophomore Ellie Howard each scored 6 points.
Sophomore guard Madison Manns scored 5 points in the losing effort.
Taking a week off for practice, the Lady Eagles will resume play Wednesday, Dec. 27, against Coronado in the Gator Winter Classic at Green Valley High School.
Contact Robert Vendettoli at BCRsports@gmail.com.
Girls basketball
Wednesday, Dec. 27, Coronado, at Gator Winter Classic at Green Valley, 8 a.m.
Wednesday, Dec. 27, Yerington, at Gator Winter Classic at Green Valley, 3 p.m.
Thursday, Dec. 28, Dixie, Utah, at Gator Winter Classic at Green Valley, 10:30 a.m.
Friday, Dec. 29, unknown opponent, at Gator Winter Classic at Green Valley, 9 a.m.
Saturday, Dec. 30, unknown opponent, at Gator Winter Classic at Green Valley, 9 a.m.