Roundup: Bowlers advance in finals after key victories
February 8, 2017 - 2:58 pm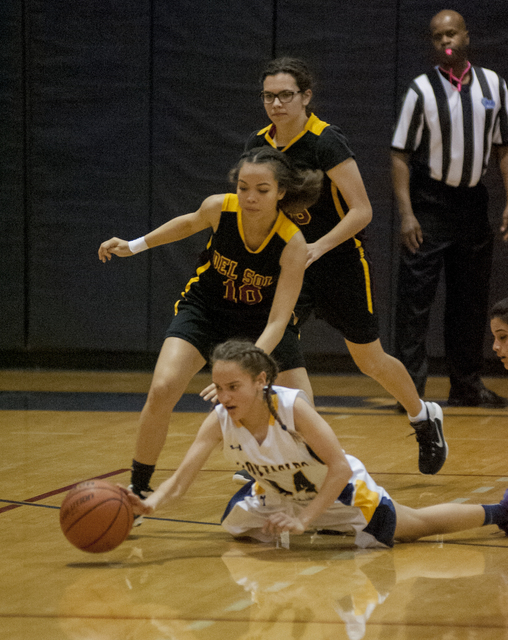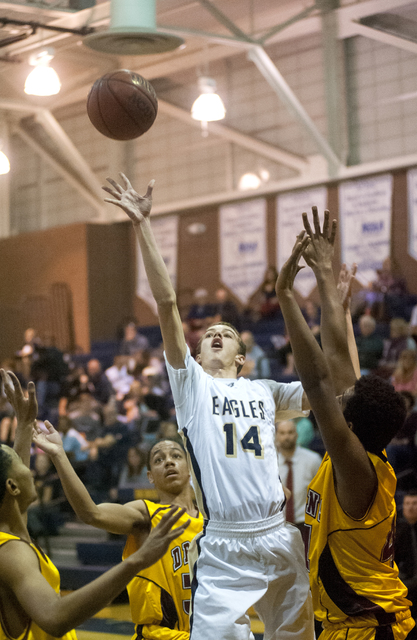 Boulder City High School's boys bowling team trailed Mojave in their first match by 18 pins during Monday's 3A first round playoff match-up, but outscored the Rattlers by 135 pins in the second match to claim a 2,047-1,940 victory.
"The boys started off slow by their standards, but really kicked it up a notch," head coach Rodney Ball said. "It really lit a fire under them to be down early and they finished the way I knew they could. If we continue to bowl like Monday, we'll be in good shape throughout the rest of the playoffs."
Carry the scoring load for the Eagles against the Rattlers, senior Samu Jancuk had his best outing of the season, bowling 612, while senior Ed Rassuchine bowled a 520. During the individual regional tournament, Rassuchine finished in eighth place with a score of 535.
"Ed had a little trouble on Monday, leaving Samu to take the lead," Ball said. "Thankfully, he came through for us at the right time and bowled one of his best games."
Also providing solid outing, senior Connor Armstrong bowled a 468, while sophomore Sam Holt bowled a 447.
Pulling out a more dominant effort against Mojave on Tuesday, the Lady Eagles, behind senior Abigail Harling, rolled to a 1,884-1,537 victory.
"The girls were really on their game Tuesday," coach Garth Schulz said. "From the opening match everyone was ready to go and focused. We'll be hard to beat if we keep that mentality."
Leading the way with a score of 559, Harling was back to her usual self Tuesday after a disappointing individual tournament score of 423 to place her ninth. Eri Leong of Southeast Career Technical Academy finished first with a score of 545 on Feb. 2.
"Abby was ready to roll on Tuesday, putting behind her disappointing performance from last week," Schulz said. "She went in with really high hopes and I think she was just pressing a little too hard. She worked with her personal coach over the weekend and came back good as new against Mojave."
Also finishing strong against the Rattlers, junior Bailey Bennett-Jordan bowled a 481, while freshman Christine Smith bowled a 446. Senior Alexis Cable concluded the Lady Eagles' effort with 398 points.
During individual play, Cable finished eighth with a score of 428, while Bennett-Jordan placed 12th with 391 points and Smith placed 15th with 373 points.
Advancing to the second round of postseason play, the boys faced Chaparral in the regional semifinals Wednesday, while the girls faced The Meadows. Results will be posted in next week's issue.
Flag Football
Junior quarterback Taylor Tenney connected with senior receiver Kenadee Bailey for a 60-yard touchdown Monday at Moapa Valley, guiding the Lady Eagles to a 27-0 victory, following their disappointing loss to Del Sol on Feb. 2.
"Taylor and I are starting to form really good chemistry," Bailey said. "Taylor throws a great ball and is getting better every game. For a first-year varsity player who never played before, I can't give her enough credit. We needed this victory after Del Sol and pulled it out."
Completing five of her six pass attempts, Tenney threw for a game-high 119 yards and two touchdowns, tossing the other to senior running back Alexis Pohe for a 36-yard score. Tenney also rushed for 72 yards on seven carries.
Adding to the running game as well, Pohe rushed for 45 yards on six carries, giving the Lady Eagles an added spark on offense.
"Her addition has been big for us," head coach Chris Morelli said. "She showed a little bit of her speed and agility out there on Monday."
Bailey finished with 33 rushing yards on four carries, with two touchdowns on runs of 2 and 10 yards.
Bailey also led the team with nine tackles, while junior Daisey Hodgkin pulled down an interception.
Falling to Del Sol earlier in the week 28-6, the Lady Eagles have dropped to fourth in the 3A Sunrise standings.
Tenney completed 14-of-21 against the Dragons, for 133 yards and a touchdown pass to senior Aimee Finn. Finn caught seven passes for 48 yards.
Boys Basketball
Unable to keep pace in the third quarter, the Boulder City High School boys basketball program dropped a heartbreaker Feb. 2 to Del Sol, losing 64-61.
Having an above-average game from the free-throw line, the Eagles shot 16-of-24 on the night but missed three crucial free throws in the fourth quarter to seal the Dragons' victory.
Leading the way in scoring, sophomore guard Karson Bailey scored 18 points, while junior guard Tanner Montgomery scored 12.
Junior forward Clayton Pendleton scored 9 points, senior forward Justus Green scored 8 points and junior guard Carson Balistere scored 6 points.
Hanging on to the fourth and final seed in the 3A Sunrise standings, the Eagles will close out the regular season Friday against Moapa Valley to ensure a playoff berth.
Girls Basketball
Dominating in every facet of the game, the Boulder City High School girls basketball program routed Del Sol 49-15 on Feb. 2.
"The girls are starting to defend for all 32 minutes," head coach Paul Dosch said. "They're playing hard and starting to trust each other on both ends of the floor."
Led by their dynamic freshman guard duo of Madison Manns and Keely Alexander, the Lady Eagles jumped out to a 19-8 first-half lead, making 15 shots to the Dragons' four.
Alexander scored a game-high 13 points, while Manns scored 11 points.
"Both of them are progressing really well," Dosch said.
"They are starting to complement each other, helping each other handle the pressure. They're both getting in passing lanes on defense, creating easy offense for their teammates. I've seen a lot of improvement."
Sophomore guards Setia Cox and Ryann Reese each scored 6 points, while junior forward Jerra Hinson scored 5 points.
Currently sitting in third place in the 3A Sunrise standings, the Lady Eagles will wrap their season up tonight at home against Moapa Valley.
Contact Robert Vendettoli at BCRsports@gmail.com.
Upcoming Games
Boys basketball
Tuesday-Feb. 18, regionals, Sunrise Mountain, TBA
Girls basketball
Tuesday-Feb. 18, regionals, Sunrise Mountain, TBA