Record-breaking lifter heads to national tourney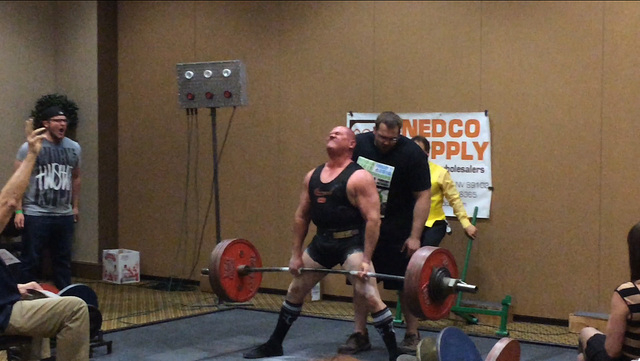 Boulder City resident Lonnie Wilborn has had a passion for powerlifting dating back to his high school days in his hometown of Houston, Texas, but it wasn't until just recently that he turned his passion into fuel for the sport.
Getting an invite to the 2014 United States Powerlifting Association Nevada state championship from a friend, Wilborn severed as a spotter for the competition, soaking in the atmosphere that he once enjoyed as a youth. Now, just two years later, he's not only one of the best powerlifters for his age bracket, 45-49 years of age in the state of Nevada, but the country.
"I've always had a passion for lifting weights," Wilborn said. "It wasn't until I went to the state championship a few years ago however, that I really thought about competing. Everything about my experience there just gave me fuel to do this. I started to have a more positive mindset when I got back into the gym; it became more than just a hobby for me. It's changed my life for the better."
Competing in the 2016 United States Powerlifting Association Nevada state championships, Wilborn has come a long way since his spotting day, breaking the men's masters division (age 45-49) raw bench-only record with a lift of 320 pounds.
Since then, Wilborn has set the Nevada state record for the men's open and master 220 class, single-ply division bench-only with a lift of 440 pounds, while breaking the masters deadlift record with a lift of 545 pounds.
Claiming national and state records to his resume, Wilborn will be looking to up his personal best this June, where he'll be be competing for the 2016 USPA National Bench and Deadlift Championships in San Antonio, Texas.
"I'm really excited to go back to my home state and represent our town at nationals," Wilborn said. "Texas is where it all started for me. I want to show how I've evolved in the sport and hopefully come out on top."
Personal records and accolades aren't the only thing that fuels Wilborn. Hopeful to place at nationals in June, Wilborn said he also wants to bring the sport to the local community in the coming years and introduce it to the town's youth.
"Powerlifting as a sport never gets the recognition that it deserves," Wilborn said. "It's a great sports, it's a passion. It's my hope in the coming years to get my needed certifications and introduce the sport to our community. To get the kids not only active, but to hopefully give them the same enjoyment, that the sport has given me."
Contact Robert Vendettoli at BCRsports@gmail.com.