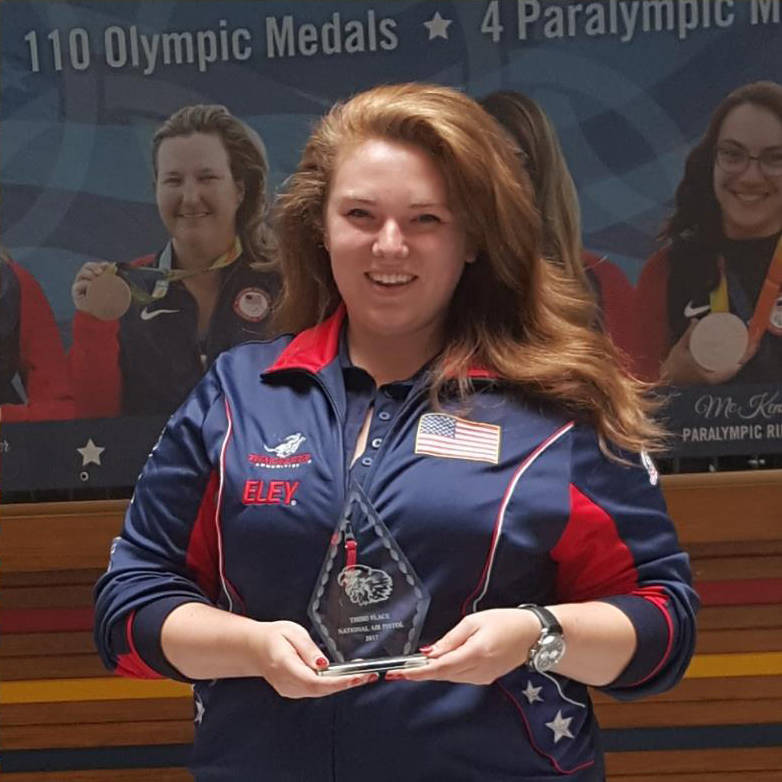 Alexis "Lexi" Lagan of Boulder City claimed gold and silver medals at the 2018 USA Shooting National Championships June 10-17 in Fort Benning, Georgia.
Lagan, a hopeful for the 2020 Olympics in Tokyo, won gold in the 10m air pistol event and silver in the 25m sport pistol competition.
"Overall, I have been making huge strides in my shooting," Lagan said. "I've seen major improvements, especially in the women's air pistol event."
Finishing atop the air pistol event, Lagan finished with an overall score of 1,149 points, beating out Sandra Uptagrafft, who finished with 1,133 points.
"Taking women's air with a 16-point lead felt good," Lagan said. "I've been working hard to prepare for the world championships in Changwon (South Korean) later this year. Having a solid win like that felt like justification for all my work."
Staying steady in the air pistol after achieving a four-point lead after Day One, Lagan showed signs of maturity by completing the victory over the American veteran.
"I try not to let leads or deficits influence me too much when I'm shooting," she said. "I try to remind myself that I'm not competing against other athletes, but rather competing against myself for constant improvement."
Nearly capturing a second gold medal in sport pistol, Lagan tied with Uptagrafft at 1,157 points at the end of Day Two, forcing the pair to enter a shutout.
"I've been in shootouts a couple times during finals, but never one that would decide the match like this," Lagan said. "It was a lot of pressure and was good experience for something to be prepared for in the future."
Falling in the shootout 3-1 to Uptagrafft, Lagan captured the silver medal after winning gold in the event at last year's nationals.
"Sport pistol has been rough for me this year," said Lagan, a 2011 graduate of Boulder City High School. "My coach and I have changed up my procedure for the rapid fire portion earlier this year and changed my lift for the precision portion about one month ago. Adjusting to these changes has been hard, but even still I'm seeing my scores improve. I was leading going into the finals but struggled in the final shoot. It ended with me barely missing a double win. The close matches are always disappointing, but I have to stay focused on my training leading to the world championships."
Lagan will now focus her attention on the world championships Aug. 31-Sept. 15, where she hopes to qualify for the 2020 Olympics.
"The world championships in Changwon, South Korea, happens once every four years and is valued in the shooting world almost as much as the Olympics," Lagan said. "It also opens up opportunities for countries to qualify for the Olympics in 2020. I'm very excited."
Preparation for Lagan's journey to qualify for the Olympics can be followed on Lagan's personal Facebook and Instagram pages. USA Shooting also will keep everyone up to date on Lagan's progress on its website and social media accounts.
For more information, visit www.usashooting.org.
Contact Robert Vendettoli at BCRsports@gmail.com.