McCann brings new energy to Eagles' baseball program
February 21, 2018 - 3:13 pm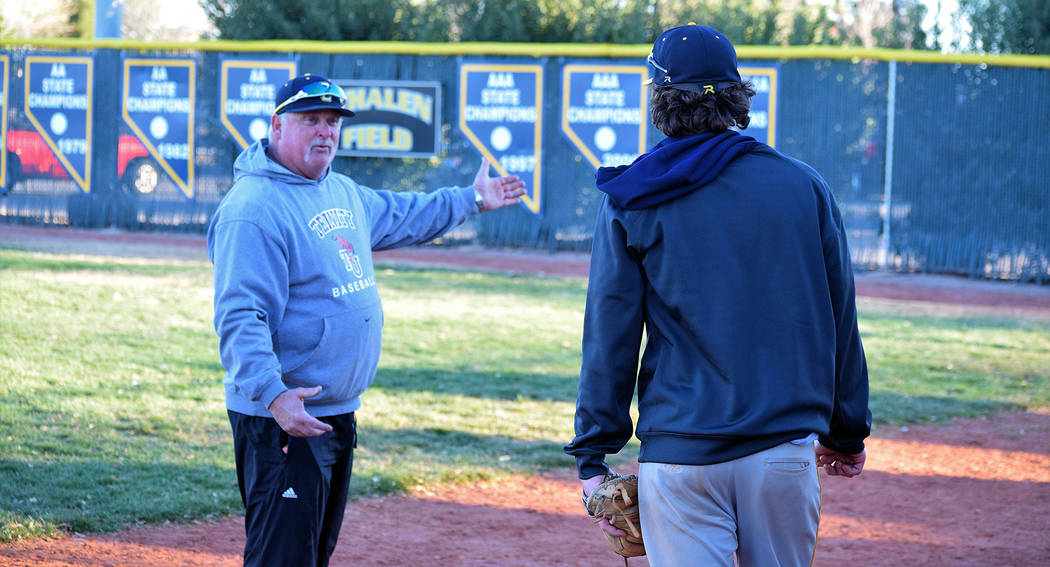 Newly hired Boulder City High School baseball coach Ed McCann is always searching for a challenge. That's why he took over for former head coach Bobby Reese, who resigned in June.
Coaching rival Moapa Valley last season, McCann saw Reese and the Eagles defeat the Pirates twice in the postseason en route to their second consecutive 3A state championship.
McCann is tasked with keeping the dynasty alive, while living in the shadow of Reese, who named coach of the year just before he stepped down.
"There's definitely pressure that comes with this job," McCann said. "That's why I took the position. "(Bobby) Reese called me up in the summer and asked if I was interested in taking over and boy was I ever. I'm always looking for a new challenge; it's what fuels me."
Beginning his coaching career in 1979, McCann has spent his career searching for the next challenge. Starting at Mannfield High School in Oklahoma, where he won a state championship in 1984, McCann then jumped to the collegiate ranks, most recently as a head coach at Alabama A&M. Building relationships and experience along the way, McCann says he's now ready for the final chapter in his career.
"I bring a lot of coaching experience with me, but I'm nowhere near done," he said. "I tell the guys all the time, I might have a '57 Chevy body but I have a new V8 engine. I'm up for the challenge and ready to get to work."
Returning to Nevada last year to take over his alma mater, where he graduated in 1974, McCann transformed the Pirates from a middle-of-the-pack program to league champions, defeating Boulder City three times last season, including once in the playoffs.
McCann is now hopeful to retool the Eagles, who now have a target on their back as the top team in the 3A classification.
"Anytime you win two championships in a row, there's going to be a bull's-eye on your back," McCann said.
"The players are excited and up for the challenge. I know myself and the coaching staff are excited. We have the opportunity to be really good at the end of the season."
Another primary factor for accepting the position was the current coaching staff.
"Honestly, this coaching staff is amazing," he said. "All these guys can flat out coach and that takes a lot of pressure off me. At Moapa, I would do everything — work with pitchers, outfielders, throw batting practice. It was nice to come here and work with a staff that knows what they're doing and knows how to win."
Setting up to be a perfect marriage at this point, baseball assistant and Athletic Director Alex Moore has been pleased with his hire thus far, calling McCann a pleasure to work with.
"We lost a great coach in Reese, but we hired another guy who is just as good," Moore said. "We haven't missed a beat since he's been hired. He's come in, done a great job, bringing different ideas and different drills.
He's only helped our team and continue to build on what we've been doing the last five years."
Players have also taken a liking to their new coach, who has brought a more intensive atmosphere to the program.
"He's got a great background," senior Anthony Pacifico said. "We're always moving, always doing something at practice, always learning new things. I really like him, I think he's a great coach. I'm excited to start the season."
Contact Robert Vendettoli at BCRsports@gmail.com.