August 6, 2014 - 12:39 pm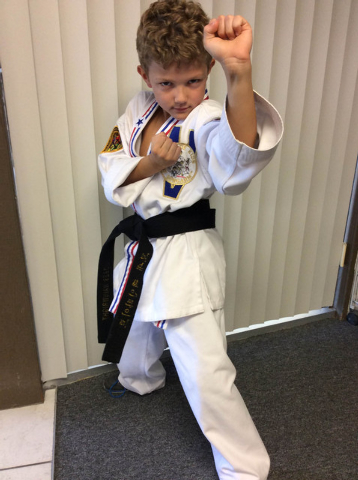 Moses Wainwright is not your typical 7-year-old.
Sure, he likes to play basketball and spends hours playing games on his Xbox. But he also is a devoted martial arts student and just earned his black belt in taekwondo.
It's a feat not easily accomplished by someone his age, according to his teacher.
"He one of a handful of kids who have done it," said Bobby Erdman of Family ATA Martial Arts in Boulder City and Henderson, adding that fewer than five of his students Moses' age have earned their black belts.
"You have to be dedicated and focused to get a black belt, and to do it at that age is obviously a testimony to his dedication," Erdman said.
This is Moses' 11th belt in four years and he is already working on his second-degree black belt.
"I like the crazy stuff," Moses said, singling out the self-defense moves he has learned, including how to flip people.
In order to receive the designation, he had to pass a fitness test, demonstrate six self-defense and 44 other moves and forms, as well as break a 1-inch thick board with his arm and with a kick.
Erdman said it typically takes people about three years of studying to earn the designation, but it usually takes young children longer because the Tiny Tigers program, specifically for children 3-6, teaches in half steps.
Moses started taking taekwondo lessons in 2010 and now studies five days a week. He is currently working with four traditional taekwondo weapons.
He also is tutoring his mother, Timber Wainwright, who started taking lessons at Erdman's school about five months ago.
His grandmother, Deb Stolpe of Boulder City, said some of the principles and values he has learned in taekwondo have carried over into his everyday life and school work.
Moses said the important values he has learned are honor, respect and integrity. This past week he was focusing on perseverance.
According to Erdman, perseverance is a key component of Moses' studies, particularly in his efforts to earn his black belt.
"He has failed a number of testings — more than your average student," Erdman said. "His perseverance to keep going, to keep training, to achieve the goal he set says a lot about his character and that of his parents (Timber and Brian Wainwright of Boulder City). They would not let him quit after seeing the tears on his face. They understand the life lessons — what you accomplish makes it that more special to you."
Erdman said Moses is a special child. "He is one of those kids who, when it doesn't matter what kind of day you are having — bad or terrible — he walks into the room and makes it better."
He said Moses' smile and positive attitude are infectious.
Moses will be starting second grade at Grace Christian Academy later this month. He said math is his favorite subject.
He said he also enjoys spending time with his family, including grandfather Fred Wainwright of Boulder City.
Hali Bernstein Saylor is editor of the Boulder City Review. She can be reached at hsaylor@bouldercityreview.com or at 702-586-9523. Follow @HalisComment on Twitter.