Locals place 16th in Hawaiian paddleboard race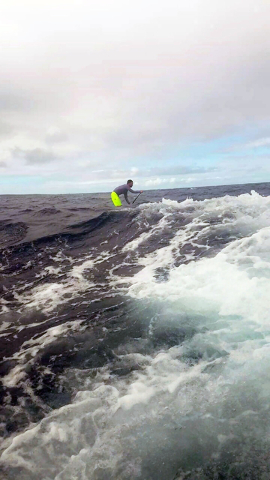 Terry Stevens and Braly Joy took on the best in the world in the Molokai 2 Oahu Paddleboard World Championships on Sunday in Hawaii, overcoming 20-foot swells to finish 16th out of more than 300 entrants.
Stevens, co-owner of the World Famous Coffee Cup downtown, and Joy, proprietor of 9th Island SUP on Nevada Highway, bonded over paddleboarding shortly after the latter moved to Boulder City two years ago and this year the two decided to team up for one of the sport's biggest challenges.
The team got started at 8 a.m. with calm water and clear skies, but that changed early in the race as clouds rolled in and it began to rain. Before the race was an hour old, they began to learn why the route is known locally as "the channel of bones."
"We had a GPS unit on the boat my wife was driving," Stevens said. "And by my second turn on the board the waves were reaching 9 feet above sea level, and between them the boat was dipping to 9 feet below sea level."
The two Boulder City men finished the 32-mile race in just under 6 hours, 3 minutes — an hour or more behind some of the elite professionals, but an hour to 90 minutes faster than some the teams.
"We couldn't have done it without the support of family, and friends and especially my wife Kristen, who was in our boat," Stevens said. "The outpouring of support from the whole town just incredible, everyone was so nice. It was tough out there, but an incredible experience."
Contact reporter Hunter Terry at hterry@boulder cityreview.com or call 702-586-6711. Follow him on Twitter @HunterBCReview