Lady Eagles seize home-court advantage in 3-1 victory over Basic
September 7, 2016 - 1:45 pm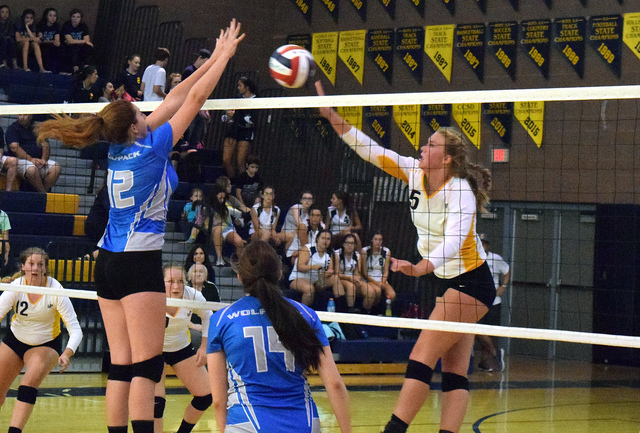 There's no place like home, especially for Boulder City High School's girls volleyball program, which after a rough opening week of play started its home slate Sept. 1 with a crucial 3-1 (27-25, 19-25, 26-24, 25-22) victory over Class 4A program Basic.
"Thursday was a big day for us," coach Cherise Hinman said. "We really needed this game to get back on the right track. I'm happy with the way the girls played against the Wolves. It was heads and shoulders better than the week before."
Playing with more confidence as a team against Basic, Hinman noted that the girls' floor movement and passing were key to the Lady Eagles' victory. She is hopeful this victory will jump-start their season moving forward.
"We feel very confident as a team after this last outing," Hinman said. "We have a lot of tough opponents coming up on our schedule this year, especially in league play with both Moapa Valley and Virgin Valley on the rise. We just need to just take it one game at a time and play the way we played the other night."
Echoing her coach's comments, senior captain Alea Lehr said she feels that Thursday's win against the Wolves is only the beginning for this year's program.
"We didn't play that well in the Las Vegas Invitational," Lehr said. "We were dealing with some issues as a team, but we really came together strongly on Thursday and beat a good team. We'd like to carry this momentum moving forward and continue to play like a team."
Playing well-rounded, Lehr led the Lady Eagles as their main table setter with 42 assists Sept. 1, along with four aces and a pair of kills.
"It starts at the top with our leaders and making sure we're moving the ball consistently," Hinman said. "If we can focus on that, then we'll be successful."
On the receiving end of multiple assists, junior captain Maggie Roe had an all-around game, garnering 17 kills with 19 digs. Big on the defensive end as well, Roe tallied five key blocks in an outing that went down to the wire with the Wolves in each set.
"Our defense was a lot better Thursday compared to the invitational," Roe said. "We played with a lot more intensity and we really communicated well on the floor."
Providing solid defense as well was senior Cortney Blumenthal, who supplied two blocks along with seven kills on offense.
Hoping to keep the momentum alive against 4A opponents, the Lady Eagles will travel to Liberty tonight, before facing off against national power Coronado on Monday and Rancho on Tuesday.
Contact Robert Vendettoli at BCRsports@gmail.com.
Upcoming games
■ Today: at Liberty, 5 p.m. junior varsity; 6 p.m. varsity
■ Friday-Saturday: Panther Classic at Palo Verde, TBA
■ Monday, at Coronado, 5 p.m. junior varsity; 6 p.m. varsity
■ Tuesday, at Rancho, 5 p.m. junior varsity; 6 p.m. varsity