Lack of experience costly for Eagles at homecoming game
October 5, 2016 - 2:56 pm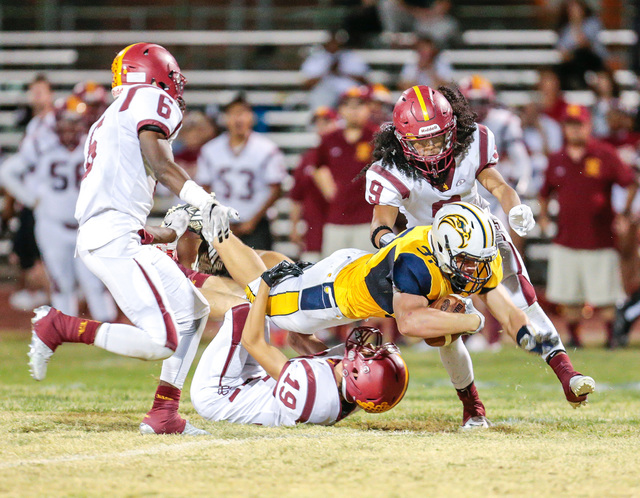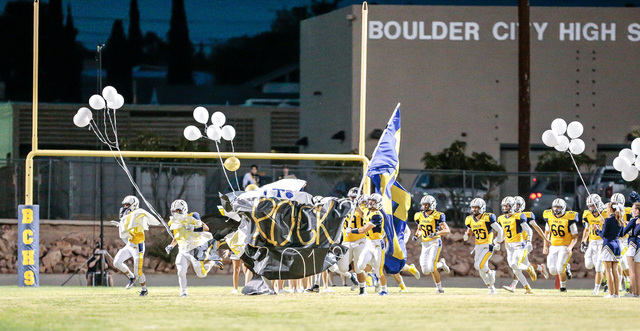 The Boulder City High School football team fell victim to a dynamic Del Sol rushing attack in a 39-7 homecoming loss Friday, but the Eagles found silver linings elsewhere to revive what is still a program in full rebuild mode.
"I thought the boys went out there and for three quarters we did our job," Boulder City head coach Chris Morelli said. "We held tough with them for a while, but at the end our lack of numbers and experience finally caught up to us. That's kind of been the theme of this year's season. Start strong and fade late."
Trying to hang tough with the Dragons, the Eagles entered the fourth quarter trailing 26-7, their offensive highlight a 36-yard touchdown pass from senior quarterback Michael Martinelli to junior receiver Briggs Huxford in the second quarter.
"I thought we played well for most of the night," said Martinelli, who was crowned homecoming king while his best friend, senior Kelsey Bacon, was crowned queen. "The guys were definitely playing with a lot of emotion because it was homecoming. The crowd was really great and they really pumped us up for this game. We just couldn't limit our mistakes toward the end."
Martinelli threw three costly interceptions in the final quarter but still played well overall to spark confidence from his teammates moving forward.
"I thought Michael did a great job Friday night, playing with what was given to him," said Huxford, who finished with a game-high six catches for 125 yards and the TD. "Del Sol was really focused on stopping the run, so Michael and I were able to open it up more on a few out routes for quick catches. Moving forward, we just need to keep building momentum to balance out our offensive approach."
Passing for a season-high 144 yards, Martinelli finished the game 10-of-38 overall, good enough to earn another start this week against Chaparral.
Finding more silver linings despite Friday's loss, Martinelli expressed his happiness for sophomores Sean Jones and Ryan Vannario, who both saw their first big-game reps during the Eagles' biggest game of the season.
"There's nothing like homecoming, honestly," Martinelli said. "I remember when I was a sophomore. I didn't do anywhere near as good as those two did. It's nice to see them not only get game reps, but on such a big stage. They both handled the moment great, I thought. The future is in good hands with not only them, but the few other sophomore contributors we have on the team."
Completing the Eagles' longest pass of the night, Jones connected on his lone pass attempt for 42 yards, while also pulling down an interception on defense. Vannario also had a solid outing as the team's lead back, rushing for a team-high 60 yards on nine carries, including an exciting 17-yard burst in which he barreled over a Dragons' defender.
"Homecoming was really special for me," Vannario said. "I got called up midway through last week from junior varsity for the Moapa Valley game, where I didn't see much action. To be the featured back the next week in our biggest game of the season really gave me a lot of confidence, made me feel like I belong here."
Jones shared Vannario's excitement, calling Friday's homecoming game an eye-opener for him as a key part of the Eagles' future.
"To shine on homecoming, there's really no way to describe how pumped you get," Jones said. "I would have really liked to pick up a victory for our home fans, but there were definitely bright spots at times. Having not played a lot, I'm going to take this game and use it as motivation to get better not only for this season, but for next."
Looking ahead to tonight's matchup at Chaparral, Morelli is confident his team won't give up 466 rushing yards to the Cowboys like they did with the Dragons this past week but noted that his secondary does need to be ready when they face the area's second leading passer in Chaparral senior Santiago Vialpando.
"We're really going to test our defense in practice this week and hopefully do a better job of making them earn points," Morelli said. "We gave up a handful of big plays this past week, including three of 60 yards or more. We need to be more aggressive. I'm hopeful for a better outcome."
Contact Robert Vendettoli at BCRsports@gmail.com.
Upcoming Game
■ Today, at Chaparral, 7 p.m. varsity