Younger golfers to rely on returning teammates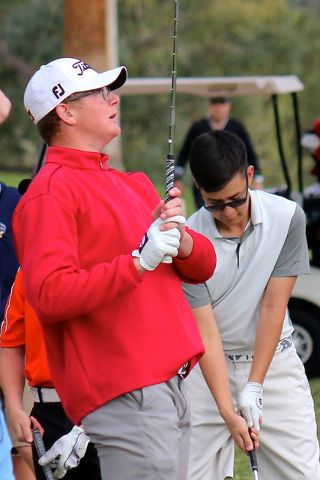 Under the guidance of head coach Regina Quintero, Boulder City High's golf program has carved out a dynasty for itself, representing the Sunrise League the past four seasons in the Division I-A state tournament.
Despite losing several contributors from last season's third-place team, the Eagles are hoping to make a fifth trip to the tourney, in what will be Quintero's final season at the helm of the program.
"The Eagles are extremely young this year, with only three returning golfers from last season's state tournament team," Quintero said. "We're just hoping to get better as a team as the season goes on and get the younger players some match experience. Our returners will need to step up and post some low scores if the team wants to advance to the postseason again this year."
Returning to help the Eagles climb to the top of the Sunrise League this season is junior Kyler Atkinson, who finished in 10th place last season individually for Boulder City at the state tournament. Garnering three second-place finishes, one third-place and one fourth-place finish and a pair of fifth-place finishes last season, Atkinson should be ready to lead the Eagles this season now that he's the top dog.
"Kyler is a big influence, not only on our younger guys, but both our returners as well," Quintero said. "They see how he prepares for matches, they see how he practices and the intensity and passion that he brings. We're hopeful it can rub off on our next generation of golfers."
Also expected to contribute this season for the Eagles is junior No. 2 golfer Samu Jancuk and sophomore No. 3 golfer Jackson Wright.
"Both of them have experience from last season, so we'll be counting on both of them heavily to provide us with low scores," Quintero said. "Our experience is going to be everything this season. I expect both of them to battle it out for positioning and have great results because of it."
Relying on experience firsthand will be crucial for the Eagles' postseason hopes, but so will be the development of the youth movement that has logjammed team.
"Developing our youth is definitely a priority of ours this season," Quintero added. "We have a solid group of kids who want to be here and contribute to what we do. Some of them have golf experience, and some of them don't, so it will be interesting to see how this shakes out."
Fielding six freshman this season — Karson Bailey, Austin Bean, Kaeden Carver, Jack Gros, Chase Hamel and Kevin Phelps — Quintero is hopeful at least one of her new athletes will make a positive impact on the Eagles' varsity season.
"We have a solid core of freshmen this season that I'm very excited about," Quintero said. "Phelps will most likely be our fourth golfer to start the season, after gaining experience throughout our middle school program, with Bean and Hamel right behind him, having participated in the program as well. It's going to be tough for all of them to get used to the high school environment early, but we're hopefully they can make the transition smoothly."
Junior Aaron Walker and sophomore Andrew Kovacevich are also newcomers this season.
"The biggest thing for our newcomers to overcome is handling the pressure of the varsity level," Quintero concluded. "It's easy to get into a groove during practice when your with everyone, but how will you react when you're in a group and you're the only Boulder City golfer? There's pressures that come with performing at this level. It's not the physical skills within our newcomers that we're worried about, it's the mental. (I'm) excited to see how this bunch meshes with our returners. I'm hopeful for another great year."
The Eagles will start their season off on Monday as part of a cross-division matchup that features Division I, Division I-A and Division III opponents at Rivers Edge Golf Course in Needles, Calif.
Contact Robert Vendettoli at BCRsports@gmail.com.