Wrestlers earn fifth-place team honors at invitational meet
January 23, 2014 - 5:11 am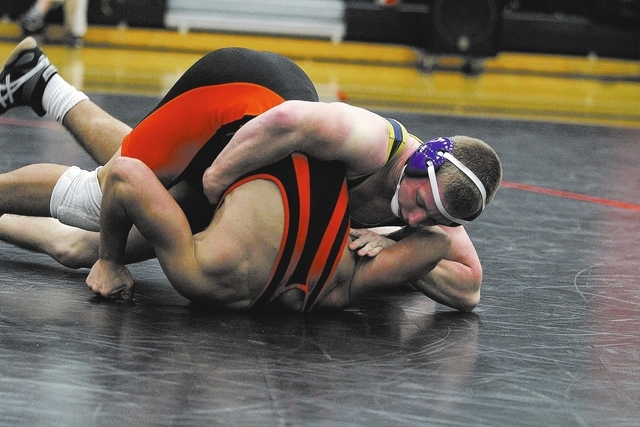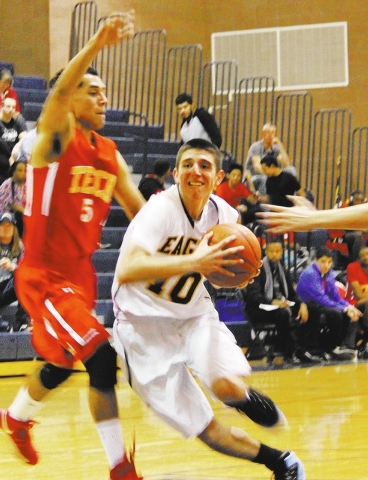 Junior Jacob Jurgschat was named wrestler of the week after winning six of eight matches to place fifth in the 195-pound weight class in the Mohave (Ariz.) Invitational Saturday.
Jurgschat helped Team Boulder raise its dual-meet record to 17-3 for the season, while placing fifth as a team in the invitational.
Brady Branscum (106 pounds) was 6-2 for the tournament and placed fourth. Thomas Prach (160) and Patrick Garvin (138) each were 5-3 and placed fifth. Tyler Rushworth (132) placed sixth with a 4-3 record.
"Jacob was chosen as wrestler of the week for his great effort in the tournament," head coach Jim Cox said. "Brady did real well to place fourth and three others placed fifth for us. The kids are working hard and are getting better as we head toward the end of the season and the playoffs."
Other Eagles who did well were Jackson Dunagan (220) who was 5-2, and Colin Fox (120), Dylan Dennington (152), Alex Pappageorge (170), Nelson Van Diest (182) and Jack Rocyski (275), who were each 4-3 during the event. Jimmy Brown (113) was 3-4.
Team Boulder wrestled a dual-meet Wednesday against Moapa Valley in Overton. They return to the mat at 7 p.m. Tuesday with a road dual-meet at Sunrise Mountain.
Boys Basketball
Boulder City begins a rough week today with three tough opponents that include defending state champion Desert Pines and two old rivals: Virgin Valley and Moapa Valley.
The Eagles travel today to Mesquite to play Virgin Valley, one of the teams leading the Sunrise League with an overall record of 9-7 and league record of 3-0 record. They travel Monday to play the other league leader, Desert Pines (12-3, 3-0).
They return home for a Wednesday game with Moapa Valley. All games are at 6:30 p.m.
Guard Tyler Newby scored 11 points and Brooks Roe added 10 to lead Boulder City to a 56-41 home victory against Tech Friday. Marcus Walker added nine points, while Sam Woodbury and Xavier Steel each had eight points.
Beating Tech was the first league victory for the Eagles (5-9 overall and 1-2 in league). A good week against Desert Pines, Virgin Valley and Moapa Valley would go a long way to propelling them into the mix of teams hoping to earn a playoff seeding.
"Getting our first win in the league definitely gives us some confidence," senior forward Marcus Walker said. "We feel good about the games ahead."
The Eagles defeated Chaparral 47-42 at home Tuesday. Marcus Walker score 18 points and Jacorey Dixon added 11, while Nicolas Walker scored nine points.
The Eagles, which trailed 16-­8 after the opening period, rallied for the win and are now 6­-9 overall and 2-­2 in the Sunrise League. It was the first league loss for Chaparral.
Bowling
Both the boys and girls bowling teams have a match at 3:30 p.m. today against Tech at the Wildfire Casino Lanes.
Teagan Smale's 201.3 was the highest per-game average in Division 1-A through seven matches. Randall Berkheimer was averaging 184, while Dylan Amico was at 158 and Eddie Feeney was at 157.
For the Lady Eagles, Niki Schulz has a 141.5 average through seven matches. Amy Murphy is at 117, while Aliya Anders is at 106 and Mariah Harvey is at 104.