Triple jump lets Fenyves soar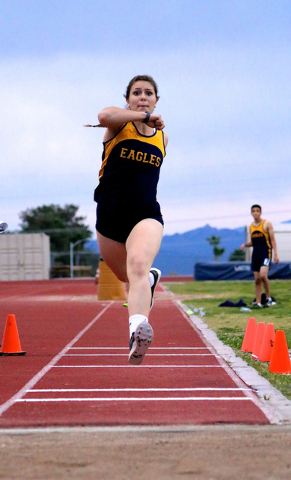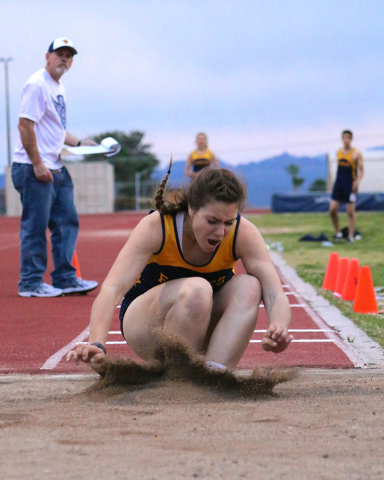 Alexis Fenyves has wanted to fly since she was a youngster. That is the reason she choose to compete in the triple jump and be a part of the Boulder City girls track and field team.
"It gives me the sensation of flying and being in the air for a while," said Fenyves, a 17-year-old senior. "Once I tried the sport as a sophomore, I just fell in love with it. I get a good feeling each time I leap through the air."
Perhaps it might have something to do with the fact that her father, Mark Fenyves, is an airline pilot and her mother, Mercedes Fenyves, is a flight attendant. She said one day she plans to sky dive.
But for now, her "flying" will stick to the field events.
Her leap of 32 feet, 6 inches placed her in sixth place in May at the state tournament. She leaped 32-7.5 in the season-opening Heitkotter Invitational at Faith Lutheran, and her leap of 33-5 in the three-team meet March 18 gave her first place and is her best this season.
"Alexis is a great kid with tremendous enthusiasm for the sport," Boulder City girls track coach Steve Roe said. "Most kids use track for conditioning for other sports or as something to do. But Alexis truly enjoys the sport of track and field and she has gotten better each year. Her dedication and enthusiasm have led her to real results and success. She proves that work plus enthusiasm equals success."
Fenyves has her sights set on the school record of 34-8 and possibly the Division I-A state championship. But she knows it will take an extraordinary jump.
The current defending state champion and Southern Region champion is Haley Vinson of Faith Lutheran, who already jumped close to 36 feet twice this season.
"My goal is to beat her at least once this season," Fenyves said.
In the triple jump, an athlete runs down the runway and leaps at the starting point, landing once on one foot and leaping forward to land on the other foot and leaping forward before extending both feet to land in the sand pit.
Fenyves, who has several scholarships offers, regularly jumps around 33 feet, more than a first down of 10 yards on a football field. But as good as she is in the triple jump, her talent does not carry over to the high jump and long jump as well as she and her coaches would like.
"I don't know why really, but I love the triple jump and I am a natural at the event," Fenyves said. "But as good as I am in the triple jump, I am as bad in the high jump and long jump. You would think it would carry over and I would also be good at those two events, but honestly, I am not very good in those two events.
"Maybe because some of the qualifying times are at the same time and I don't like to split between events, so I am glad when I can concentrate only on the triple jump."
Fenyves started track and field when she was a sophomore, choosing it over cheerleading, which she participated in for two years. She has been a student with Dance Etc. since she was in elementary school and still performs in recitals and shows.
To improve her jumping, she is working with the Nevada Gazelles amateur track club, coached by former UNLV and NFL quarterback Randall Cunningham.
"Since joining the Gazelles a few months back, my jumping has improved greatly, almost 11 inches, and I am excited to see where I will be when it is time for the state meet," Fenyves said.
Selinger tops in three runs
In other girls track, freshman Sierra Selinger won three events to lead Boulder City to victory in a four-team meet March 18 at Mesquite. She won the 800 meters (2:50.8), 1,600 meters (5:49.8) and 3,200 meters (12:46.8).
The Lady Eagles scored 95 points, followed by Spring Valley (70), Virgin Valley (52) and Moapa Valley (49).
Boulder City's Arianne Hess won the high jump (4 feet, 6 inches) and long jump (13-5½). She was second in the triple jump to Fenyves.
The Lady Eagles won the top three spots in the discus, with Sariah Gneiting capturing first with a throw of 94 feet 2 inches, Hannah Doane taking second (72-3) and Brittany Goldston taking third (69-6).
Roe wins three events
Brooks Roe finished first in three events March 18 in Mesquite as Boulder City swept a four-team meet with 118 points. The Eagles defeated Virgin Valley (58½ points), Moapa Valley (57) and Spring Valley (38½).
Roe won the 110 hurdles (15.7), the 300 hurdles (42.0) and the triple jump (36-6¼), while teammate Tyler Campbell won the 1,600 meter run (5:04.1) and 3,200 meter run (11:2.9).
In the shot put, the Eagles won the top three spots, lead by Andrew Sands with a throw of 48 feet, 2.5 inches. Brendon Cowley came in second (45-7) and Samuel Gomez placed third (45-4).
Contact Pedro F. Fonteboa at BCRsports@gmail.com.