Sophomore pitcher shines for Lady Eagles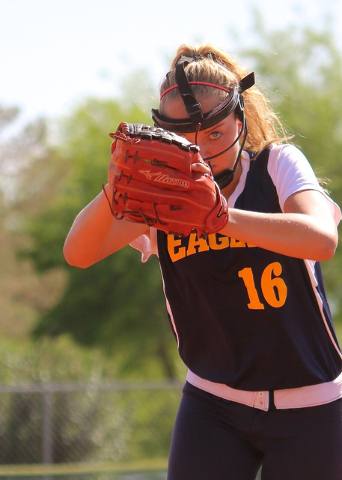 The conference wins just keep piling up for Boulder City High's Lady Eagles softball team, following another pair of impressive Division I-A Sunrise league victories over Desert Pines and Sunrise Mountain.
"Getting those two wins last week were great to keep us in that first-place spot for league play," Boulder City head coach Angelica Moorhead said. "Obviously playing Moapa Valley and beating Moapa Valley is always a big game for us and it gave the girls confidence heading into the week. The girls were solid and played to win. We need to continue to play with that mindset in these upcoming weeks."
Advancing to 20-5 on the season and 9-0 in conference play, the Lady Eagles rode the arm of sophomore pitcher Bailey Bennett-Jordan to a pair of victories, a good sign moving forward for the program which will lose star pitcher Charlie Masterson to hometown UNLV after graduation.
Handling the ball against the Jaguars on April 13, Bennett-Jordan made the most of her opportunity to start, shutting Desert Pines out in the Lady Eagles' 16-0 win, allowing just two hits while striking out eight batters. Continuing her success against Sunrise Mountain on Monday, the rising sophomore picked up her second win over the three-game stretch in the Lady Eagles' 9-2 victory, striking out 10 batters while only allowing two runs over four hits.
"Its been great having Bailey help us out when we need her in the circle," Moorhead said. "She knows what her job is and she is ready to go when it's her turn to throw. She is an aggressive player both in the field and at the plate."
Speaking of her bat, Bennett-Jordan was able to supply the Lady Eagles with an all-around performance against the Jaguars, batting two-for-four as well with a run batted in, while Masterson continued her tear at the plate, batting a perfect four-for-four with a game-high six RBIs and a triple.
Coming into the week, Masterson is fourth in the state with a .676 batting average and tied for third in RBIs with 35, displaying both her power and grace at the plate. Highly regarded this season as well, Bennett-Jordan ranks fourth in RBI total, with 34, giving the Lady Eagles one of the most dynamic offenses in Division I-A this season.
Against Sunrise Mountain on Tuesday, sophomore Lily Osman led the way with a three-for-four performance with an RBI, while senior Bryanna Lopez finished her outing against the Miners two-for-four at the plate.
Looking to extend their conference win streak to 10, the Lady Eagles will resume their season today when they travel to Del Sol.
Contact Robert Vendettoli at BCRsports@gmail.com.
Upcoming games
■ Today, at Del Sol, 3:30 p.m., varsity; 3:30 p.m. at home, junior varsity
■ Monday, vs. Virgin Valley, 3:30 p.m., varsity; 3:30 p.m. at Virgin Valley, junior varsity
■ Wednesday, at Southeast Career Technical Academy, 3:30 p.m., varsity; 3:30 p.m. at home,junior varsity