Softball team tops league
April 22, 2015 - 12:27 pm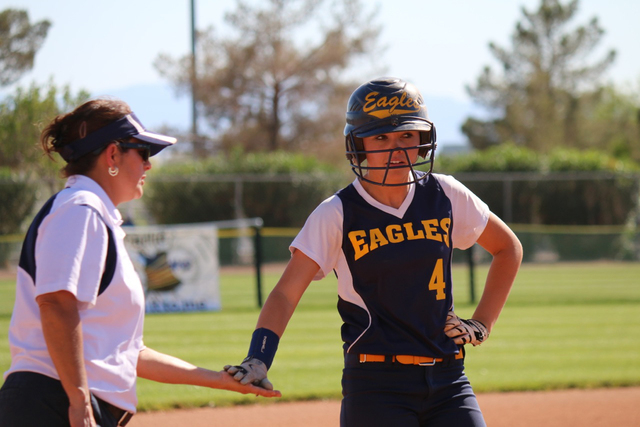 The Lady Eagles continued their winning ways as they inch closer to the end of the season.
The softball team traveled to Sunrise Mountain on April 15, where they won 13-0 in a five-inning game. It was another complete game by Charlie Masterson, who had 15 strikeouts. She also had four RBIs. Kylee Hamel and Jessica Embro brought in three and two RBIs, respectively.
Following Sunrise Mountain, Boulder City headed back home for a Friday game against Del Sol. It was another five-inning game for the Lady Eagles, who won 15-0. Jessica Moorhead pitched a complete game with six strikeouts. Alyssa Ybarra, Jerra Hinson, Masterson and Hamel all brought in two RBIs.
The week ended with a tough 9-0 loss at Pahrump Valley on Saturday. Despite having five hits, Boulder City just couldn't bring its runners home. Both Micayla Gegen and Moorhead pitched, and earned a combined four strikeouts.
The Lady Eagles started this week off with a 18-3 win at Virgin Valley.
Gegan pitched a complete game, and recorded three strikeouts. Masterson brought in four RBIs on two hits, while teammate Hamel brought in three.
They played Southeast Career and Technical Academy Wednesday, but the game was too late for results to be included in this edition.
Up next for the Lady Eagles are games against Bonanza, Chaparral and Moapa Valley to finish out the season. The first of those games is Friday at home.
Overall, the girls are 10-0 in league play and are in first place.
The Lady Eagles are selling tickets for their second annual Night of Drawings and Pancake Breakfast, which will take place on Friday and Saturday, respectively. They will be giving away a 40-inch, flat-screen smart TV.
Track and Field
Boulder City's Track and Field teams competed in two meets last week. The first was the Boulder City Weekday on April 15, and the second involved a trip to California for the Ocean View Small School Invite.
In the Boulder City Weekday meet, the men's team placed first overall with 193 points over Sunrise Mountain, Cheyenne, Desert Pines, Andre Agassi and Laughlin. The women's team placed third with 116 points.
For the men, sophomore Tyler Campbell placed first in the 3200 meter with a time of 13:23.29 and second in the 1600 meter, running 5:04.86.
Senior Brooks Roe placed first in the 110-meter and 300-meter hurdles with times of 16.19 and 42.73, respectively.
The Eagles' boys 4×400 relay team placed first, recording a time of 4:20.33.
In shot put and discus, junior Sam Gomez placed first throwing 49-02 in shot put and 154-07 in discus. Brenden Cowley, a senior, took second in shot put, throwing 48-02. Senior Andrew Sands recorded a throw of 47-02 in shot put, placing him third, and 132-08 in discus, giving him second place.
Junior Troy Wilburn placed first in pole vault, with a vault of 10-0, while Roe placed second in triple jump, recording a jump of 37-03.
For the girls team, Sierra Selinger placed second in the 1600 meter, running 6:15.23. Emma Jeppsen placed third in the 100-meter hurdles, recording a time of 20.13 and Boulder City's 4×100 relay team placed third with a time of 56.45.
In the 4×200 relay, the girls team finished second, running 1:57.11, while the teams for the 4×400 and the 4×800 relays took first place, with times of 4:53.85 and 11:17.32, respectively.
Senior Sariah Gneiting placed second in shot put and first in discus throwing 35-02.50 and 100-02. Katlyn Daly, who is also a senior, placed third in shot put, throwing a distance of 33-03.50.
In high jump, senior Arianne Hess received third, jumping 4-4, and third in triple jump with 31-03.
During the Ocean View Small School Invite in California, the Eagles placed second overall with 65 points, vying against 23 schools. The girls finished 10th, with 21.5 points.
Roe was in the top three again for both hurdles races. In the 110-meter hurdles, he placed third, running 17.94, while placing second in the 300-meter hurdles with a time of 41.60.
Gomez and Sands both placed in the top three for shot put and discus. Gomez placed second in shot put, throwing 49-05.50 and first in discus with a throw of 160-06. Sands took first place in shot put, recording a throw of 49-05.50 and third in discus with 142-02.
For the freshman and sophomore finals, freshman Zachary Trone placed second in high jump, with a jump of 5-04 and first in triple jump, jumping 39-07.
On the girls team, Gneiting placed first in shot put, throwing 35-11, and fifth in discus recording a 99-06. Maida Nelson placed second in pole vault, with 7-0.
Boulder City traveled to Pahrump Valley High School on Wednesday; results of the meet were too late for this week's paper.
Boys Golf
The Boulder City boys golf team won its third consecutive Division I-A league match of the season April 14 at Falcon Ridge.
In the match against Moapa Valley, the Eagles scored 426 to Moapa's 471.
Despite heavy winds of up to 40 miles per hour, Hunter Ulibarri shot 76, winning him the medalist honors. Kyler Atkinson tied for second with 82, just barely edging out teammate Luke Logan with 83.
Jackson Wright shot 89 and Samu Jancuk shot a 96. Doug Wayland shot 101.
The boys faced Green Valley April 16, losing 218 to the Gators' 211 at Legacy Golf Course.
Logan was medalist for the match, with the best score on the nine-hole course, shooting a 35. Quentin Turner shot a 40.
Next up, the team plays Foothill at 3 p.m. Monday.
Contact Rochelle Richards at BCRsports@gmail.com.