Players rise to 'Top' at Football University camp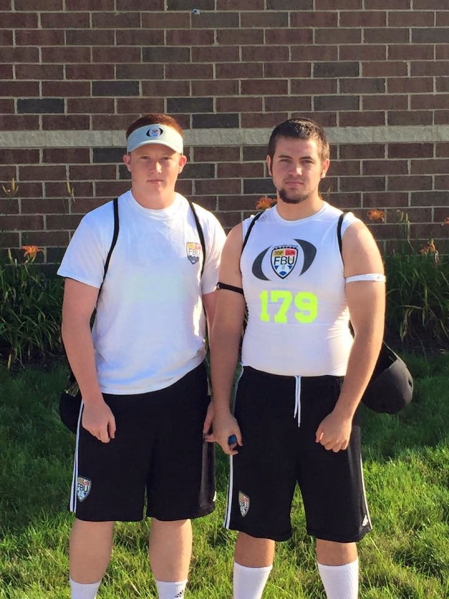 Chase Cowley and Michael Morgan were treated like celebrities as they made their way down the red carpet at Dublin Jerome High School in Dublin, Ohio. Parents cheered as Cowley, Morgan and other participants entered the gym during orientation for Football University'€™s Top Gun showcase.
They were among the nation's top high school athletes in their respective football positions invited by FBU Top Gun to compete and display their abilities.
Cowley and Morgan, incoming juniors at Boulder City High School, were the only two selected to represent Boulder City. They were chosen after demonstrating their abilities as linebackers at an FBU camp in Anaheim, Calif., earlier this year.
In a FBU press release, 247Sports said of Top Gun, "€œno event is bigger than Football University Top Gun. It is easily the most highly anticipated camp for us because of the level of talent."€
More than 875 high school football players and coaches with NFL experience attended the showcase from July 16-18. The showcase is "designed to give elite high school or middle school athletes top-flight instruction and have trained some of the nation's top players," according to the press release. Mentors throughout the years have included Drew Brees, Matt Ryan, Eli Manning and Tony Romo.
"€œOur head coach was Billy '€˜White Shoes'€™ Johnson, one of the greatest kick and punt returners of all time,"€ Cowley said.
Despite rain, athletes played one-on-one games and seven-on-seven games where their performances were caught on tape. After a hard day of training techniques, drills and games, players would review the tapes with coaches. Cowley said he caught quite a few things that he needed to work on during the next practice by watching the tapes.
The showcase also featured guest speakers who used their stories to motivate the players. Lenny Cook was one such speaker. Cook was a top basketball player for his graduating class, who used his experience to encourage them not to get on the wrong road like him. Cook became a father his sophomore year of high school, limiting his time on the court. He skipped college and registered for the NBA draft, where he was projected to be a sure pick. However, Cook went undrafted, ending his basketball career. His message: Stay humble and stay hungry. Meaning don'€™t get too big headed and always stay on the grind and work.
"€œMy personal favorite thing from the camp was the morning seminars,"€ Morgan said. "€œI believe that those taught me the most, by telling me what I should be doing pregame and postgame in order to get better and motivated."€
At the end of the camp, players receive evaluations of their performances and a one-on-one meeting with their FBU coaches to discuss abilities and what is needed to step up their game to the next level.
"€œFootball University offers this individual attention to help players understand what they need to do to take their game to the next level,"€ Randi Steilen, Chase'€™s mother, said. "€œFBU alumni are known to use this evaluation throughout the year to help sharpen technique, skill and overall play-making ability to maximize their full football potential."€
"The decision is made by the coach,"€ Cowley said. "€œThey look for effort, the ability to learn quick, physicality, mental toughness and, of course, our skill."
If a player is deemed to be at the top of his position, he is invited to attend Top Gun. So when Morgan and Cowley received their invitations, they said they couldn't have been more shocked and honored.
"€œI honestly thought I wasn't ready to go on to compete with some of the (best) players in the nation,"€ Morgan said. "€œGoing to the camp, I was expecting to be probably one of the smaller and inexperienced players and that I was just going to be run over and burnt. (But) as soon as I stepped on that field and looked at all the other competition, that made me realize that I could do my best and overthrow my opponent."
With football season right around the corner, Cowley and Morgan are already preparing for the next season. Cowley said it was nice to have a teammate attend the showcase with him because now they both have a lot to bring to the BCHS team to help win games this fall.
"€œI learned so many different skills and techniques that I can implement and share with other teammates,"€ Morgan said. "€œI feel that after attending camp, I have returned as a more determined and dedicated student-athlete."€
"My football game has changed quite a bit, not only from the physical standpoint, but also the mental,"€ Cowley said. "€œI learned how to better my mental game, which in turn made me a better player. I'€™ve learned some of the best technique(s) from some of the best coaches in the nation, and I am truly grateful for that."€
Contact Rochelle Richards at BCRsports@gmail.com.