New spotlight truly showcases wrestlers' talents
January 27, 2016 - 3:40 pm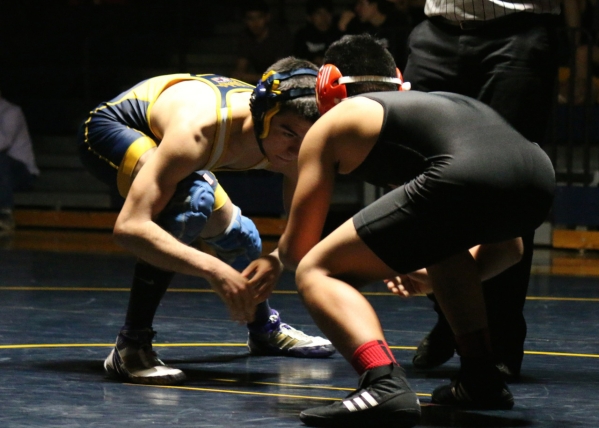 It was a monumental moment for the Boulder City wrestling program Jan. 20 as fights under the lights was introduced.
Creating an aura of something special in the heavily packed gymnasium for the Eagles' first home match of the season, Boulder City blacked out most of the space, using only a mat lamp from above the rafters to put the spotlight on the athletes performing.
"I thought it was a great atmosphere to be a part of," senior 138-pound wrestler Tyler-James Rushworth said. "I've participated in settings like this before, but to compete like that at the high school level, I thought was special not for only me, but for my teammates."
Set to become a trend for the hometown program moving forward, the Eagles are hopeful that the mystique and glare of the spotlight will be a reflection moving forward of special things to happen.
"I don't think you could have asked for a better atmosphere than the one we got tonight," assistant coach Allen Haines said. "This night has been a long time in the making and the guys were psyched to wrestling under the spotlight. I feel it got them even more pumped up for tonight and it showed in their performance. This could definitely be a game-changer for our program moving forward."
More than just bright lights and gimmicks, the Eagles were all business on the mat, responding to their new environment with solid individual performances against opposing Chaparral.
"I saw a lot of fight out of our guys tonight," Haines said. "Tonight wasn't just about the introduction of our spotlight, it was about the whole program. Everyone came out tonight under a bit of added pressure because it was our first home meet and they responded well against a conference opponent. Even in the few matches we lost, I saw great effort from our guys and positives we can take out of it to get better moving forward."
Picking up falls on the night were Rushworth and juniors Jimmy Brown and Devin Fox, who produced great individual showings for the Eagles on a night where the opposing Cowboys weren't able to suit up many athletes.
"We were only able to compete in a few matches, but the ones that did compete were on their game tonight," Haines added. "Both Tyler and Jimmy both looked impressive tonight to say the least. Heading into the final stretch of the regular season look for both of them to finish strong and make impacts at regionals."
Fox's performance also stood out after cutting his weight down from his original 195 to 182 to pick up a fall for the Eagles.
"It's going to be really interesting to see where Devin's at when he gets his conditioning up after cutting all that weight, but I think he's going to be a lot more productive because of it," Haines said.
Sophomore DJ Reese also made a weight cut this week, making his debut at the 113-pound slot for the Eagles under the spotlight, dropping down from his original 120 weight to compete in an exhibition.
"I thought this was a good test for DJ, to see where's he at with the weight change," Haines concluded. "Right now DJ and Zane Dennington are fighting off to see who goes to 113 and who goes to 120 moving toward regionals, so this was a big night for him. I thought he showed a lot of heart out there and once he gets used to the weight and in the right shape, he could be really strong in that slot."
Picking up forfeit victories for the Eagles were junior Dillon Viera (162-pound weight class), sophomores Garrett Leavitt (106-weight class) and Dennington (120-pound weight class), and freshman James Ewell (145-pound weight class).
The Eagles will resume their regular season tonight with a home matchup against Virgin Valley, where the spotlight will be on the Bulldogs in Boulder City High's next edition of fights under the lights.
Contact Robert Vendettoli at BCRsports@gmail.com.
^
Upcoming Games
Today, vs Virgin Valley, 5 p.m., junior varsity; 6 p.m., varsity