Lady Eagles use tournament to work out kinks in team
September 5, 2013 - 4:00 am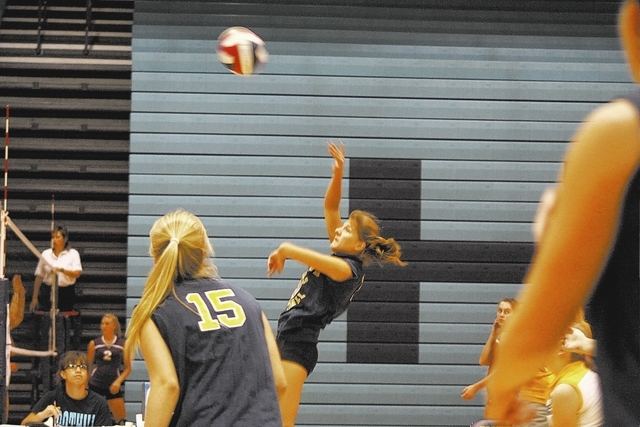 The opening tournament of the Boulder City girls volleyball season went pretty much the way head coach Cherise Hinman thought it would with plenty of mistakes and lineup changes.
Hinman spent the season-opening Las Vegas Invitational helping the team find its chemistry during the grueling two-day event against teams from Nevada, Utah and California.
The Lady Eagles won only one of six matches on opening weekend, defeating Western in two sets Saturday morning at Foothill High School. Boulder City went 0-2 on Friday and 1-3 on Saturday.
It has worked in the past.
Last season, the Lady Eagles were 3-2 in the invitational, only to turn around and go 28-8 overall and 12-0 in the Sunrise League. In 2011, the Lady Eagles were 3-4 in the tournament but bounced back to win 27 consecutive matches and reach the state championship. They finished the season with a 29-8 record.
"It's a learning experience each year, but we find out what works best for us," Hinman said. "Then, we come home and work on it."
On Friday, the Lady Eagles lost 25-23, 25-23 to Polytechnic (Calif.), and 25-13, 25-18 to rival Foothill.
Boulder City opened Saturday's play with a 25-16, 25-13 sweep of Western. They then dropped a 25-20, 25-21 match to Douglas (Ariz.), lost 25-15, 25-18 to Calabasas (Calif.) and finished with a 25-17, 27-26 loss to Sierra Vista.
"We weren't in the tournament looking for victories as much as for playing time together and chemistry, but it was still tough to lose five of our first six games," senior Kendall Miller said. "We will be better."
Boulder City opens the regular season 6 p.m. Tuesday at Canyon Springs (0-0). The Lady Eagles will debut at home at 5 p.m. Sept. 12 against defending 1-A Southern Region champion Faith Lutheran (3-3).
Array
The Lady Eagles finished third in the eight-team Sunrise League match Tuesday at Falcon Ridge Golf Course in Mesquite. Boulder City shot a 428 to finish seven strokes back of winner Moapa Valley.
Senior Jordyn Syler, who finished fourth at state last season, led Boulder City with a 9-over par 80 to share medalist honors.
Array
The Eagles soccer team opened the season Tuesday with a 5-5 tie against visiting Pahrump Valley. Senior Yann Moncayo scored twice and had an assist, while seniors Kurt Steinke, Nicholas Walker and James Walsh each scored.
Boulder City built a 4-1 first half lead before surrendering four straight goals.
The Eagles host Del Sol at 3:30 p.m. on Monday.
Array
The Lady Eagles opened defense of their Sunrise League title Tuesday at Tech, winning 12-6.
Junior Melissa O'Berto lead the team in singles play going 3-0.
The retooled boys team lost at Tech, 13-5.
The teams will host Sunrise Mountain on Monday and Desert Pines on Tuesday. Both matches start at 3 p.m.