Lady Eagles' undefeated league record challenged by competitors
January 21, 2015 - 2:05 pm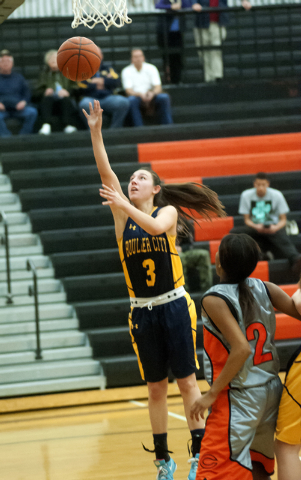 The road does not get easier for the Boulder City Lady Eagles despite being undefeated in the Sunrise League.
"It makes it tougher because we are No. 1 and we will get everyone's best effort to knock us off," said senior guard Katlyn Daly. "We just have to play them one game at a time and focus on what we need to get done in each game."
Alyssa Ybarra scored 16 points Friday to help the visiting Lady Eagles defeated Chaparral 54-40 in a battle for first place in the Sunrise League. The Cowboys fell to 10-5 overall and 4-1 in the league, and slipped to third place behind Virgin Valley.
Junior Megan Morton scored 12 points and senior Samantha Hanson continued her hot streak in recent games, scoring 11 points. Sophomores Jules Worrall scored 8 points and Rylee Dosch added 4.
"The girls played really well," Boulder City coach Paul Dosch said. "While Katlyn did not score any points, she helped to control the game's tempo for us with her ball handling. Alyssa was great at both ends of the floor. She is really focused on all our team goals.
"We needed her to score against Chaparral and she did. She has taken her game up a notch. Megan was solid as usual."
Boulder City got off to a slow start and trailed 17-9 at the end of the first period, but outscored the Cowboys 14-6 in the second quarter to pull to a 23-23 tie at halftime.
The Lady Eagles then led 38-33 after three quarters and pulled away with a 16-7 advantage in the final period.
Hanson has helped the Lady Eagles to a 6-0 league record and a 12-5 overall record.
"Sam is doing everything," coach Dosch said. "She is our utility player. She can defend and score, and now she is starting to compete on every play. I am really proud of her."
Boulder City played at home Wednesday against second-place Virgin Valley (9-6, 5-1) but too late for the score to be reported in this issue. The remaining five teams in the Sunrise League have losing records.
The Lady Eagles will play Del Sol, 5-13 overall and 1-4 in league play, at home Friday before they begin a four-game road schedule.
Boulder City will not play at home again until they face Desert Pines Feb. 4. They play at Southeast Career Technical Academy at 6:30 p.m. Tuesday and at Sunrise Mountain Jan. 29. They also play Jan. 30 at Faith Lutheran and Feb. 2 at Moapa Valley.