Lady Eagles step up; softball team rallies for run at championship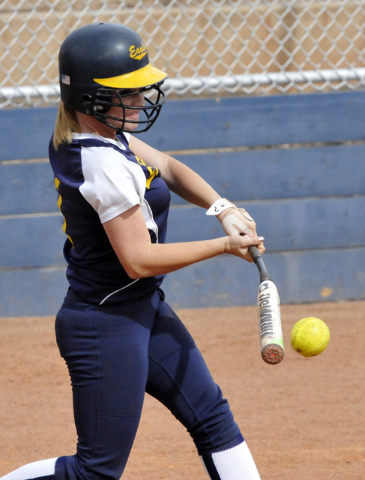 Senior Charlie Masterson came into her final season with the Lady Eagles from Boulder City High School's softball team hungry for a state championship. Following Tuesday's 10-3 opening-round postseason rout of Pahrump Valley, it was clear that Masterson's hunger was more prominent than ever.
Following another stellar regular season with Boulder City, in which she batted .639, with 56 hits and 47 runs batted in, while posting a 14-6 record on the mound with a 0.77 earned run average and 147 strikeouts, Masterson was at her best again Tuesday, a hopeful telling sign of things to come for the remainder of the postseason.
Allowing just one earned run during her seven-inning complete game, Masterson pitched a gem, striking out 11 Trojan batters, while allowing six hits and no walks. The main table setter for the Lady Eagles' offense as well, Masterson batted a perfect 4-for-4 on the day with an RBI.
Coming into the season, Masterson said she wouldn't be able to do it alone, hoping that her supporting cast would be able to step up during her last hurrah. So far, outside contributions for what has been a drastically improved Boulder City roster haven't been a problem.
Continuing her late season rampage, sophomore Lily Osman batted 3-for-4, adding a game-high four RBIs, while adding a home run and a double, while sophomore Bailey Bennett-Jordan finished 2-for-3 with three RBIs and a home run as well.
Freshman Marlena Mills also got into the mix Tuesday, adding a pair of RBIs for the Lady Eagles off of a 1-for-3 performance, while senior Jeanne Carmell has continued to show her senior development, adding in a pair of hits for the program.
"The girls came out with their bats swinging," head Coach Angelica Moorhead said. "They were very positive, energetic, focused, and ready to play ball. We need to play like that every game."
Pushing for their first state championship since 2010, these Lady Eagles led by Masterson are far from a one-player show. With key contributions scattered throughout the lineup, the feeling around the program is that this could be their banner year.
"Today was a good game," Masterson said. "We hit the ball pretty well collectively. The teams are only gonna get tougher from this point; but I think if we play how we practice, we'll be fine."
Results of Wednesday's game against Faith Lutheran will be in next week's issue.
Contact Robert Vendettoli at BCRsports@gmail.com.
Upcoming games
■ Today, at home, 2 or 6 p.m. (based on results of Wednesday's game)
■ Friday at 6 p.m. or Saturday at noon, at home, (based on results of today's game)