Lady Eagles step up game, remain undefeated
January 30, 2014 - 5:03 am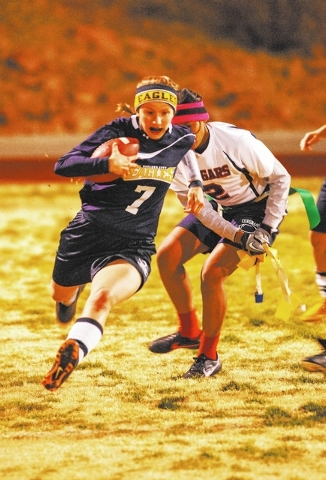 The Boulder City girls flag football team played its closest game of the season and survived to remain unbeaten.
Sophomore quarterback Jeanne Carmell passed for one touchdown and ran for another to lead the Lady Eagles over Del Sol 13-6 in overtime Jan. 23. The escape with the road win improved them to 12-0 overall and 10-0 in the Southeast League.
Boulder City and Arbor View remain the only two undefeated teams of 34 playing the sport in Clark County. Arbor View is 11-0 and 7-0 in the Northwest League. The Southwest League's Desert Oasis, at 13-2, has the most wins, followed by the Lady Eagles' 12 victories.
"Del Sol is a great team and we have played four tough, close games with them over the two years," Boulder City head coach Chris Morelli said. "We had several players sick with the flu, but they played tough and found a way to win.
"This week was a rough stretch in the schedule for us with Foothill, Del Sol, Coronado and Basic all in a row."
Against Del Sol, Carmell was 11-for-22 passing for 181 yards. She added 106 yards rushing on 14 carries and one interception on defense.
Kinsey Smyth caught seven passes for 101 yards and a touchdown for Boulder City. Paige Buettner, Logan and Cameron Kanaley led the defense.
"When we went into overtime I knew we all had to step up our game," Carmell said. "We did, and it was amazing to come away with the win. Our goal is to make the playoffs because we did not last year. When we make the playoffs, the goal will be the championship game."
Coach Morelli was proud of his team's overtime stand.
"The girls just made up their minds that they weren't going to lose that day," Morelli said.
On Monday, the Lady Eagles played at home against Coronado. Carmell ran for one touchdown and threw for another as Boulder City defeated Coronado 20-0 and raised its record to 13-0 overall and 11-0 in the Southeast League.
Carmell rushed for 107 yards on 11 carries and scored on a 35-yard run. She also completed 8 of 12 passes for 130 yards and a 30-yard touchdown pass to Smyth.
Jane Nevarez added a 4-yard touchdown run.
"Overtime and close games are not places where a team like us wants to be found," Smyth said. "But we found a way to come together and get the victory against Del Sol. Our goal for the rest of the season is to leave our heart and soul on the field every game and know we gave it our best effort.
"It is important for us to keep the desire and fire going through to the end," she said. "I can't describe in words how much my teammates mean to me and how important it is to all of us to win together as a group."
The Lady Eagles also played Wednesday at Basic.
Boulder City returns home Friday for a 5 p.m. game against Chaparral.
"Our team plays like a family, we stick together, no matter what happens," Carmell said. "We have a lot of talented players on both offense and defense that we know we can count on at any given moment."
Girls to have own all-star/senior game
Flag football was so popular a year ago in its opening year that a junior varsity program was added this season to almost all of the 34 schools that have a varsity program.
Now, comes the demand for a postseason all-star/senior game.
The Southern Nevada Flag Football Coaches Association will host its first all-star/senior game May 17. Coaches said they plan to make the game annual.
Any girl who played varsity football this year is eligible to come and play in the all-star/senior game at Shadow Ridge High School, Morelli said.
It will be an extended game beyond the regular four quarters to allow more athletes to play. The coaches are still considering the format.
"We are hoping to build on last year's popularity and that of this season," association President David Sevier said. "As with any high school sports program, the cost is a great concern. We are reaching out to local businesses to support the funding for officials' jerseys and concessions during the game, or to advertise. The girls have a great league going and the all-star game is just another highlight to the season."
For further information about donations, buying an advertisement banner or game announcements, call Sevier at 702-600-0641 or by email at dpsevier@interact.ccsd.net.