Lady Eagles continue to adjust effort on court
January 20, 2016 - 3:52 pm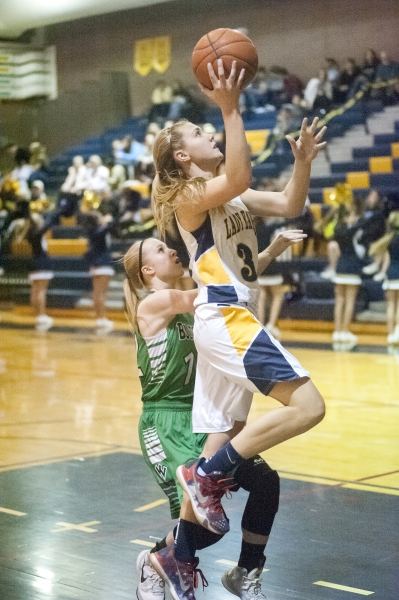 Adjustments are being made, slowly but surely for Boulder City High's girls basketball team.
Following Tuesday's 47-32 conference defeat to Virgin Valley, the outcome didn't change for the 7-11 Lady Eagles who have now dropped four consecutive league games, but the overall effort improved heavily from last week's 42-17 debacle against Moapa Valley.
"We are trying to close out game," Boulder City head coach Paul Dosch said. "We still need to do a better job of raising our effort level. We have to get more production from our starters and buy into the defensive game play more."
The Lady Eagles looked good coming into the ball game, down by just four after the first quarter, 14-10, before the Bulldogs used a 12-4 second quarter surge to run away with the game handily.
"We need to continue to attack on offense," Dosch said. "We are settling for too many outside jumpers. We also need to rebound better and start winning the 50-50 ball battles. Losing the hustle stats are what's killing us."
Down 26-14 at halftime, the Lady Eagles showed promise in the third quarter, outscoring the Bulldogs 14-7 in the period, behind a game-high 15 points from senior guard Megan Morton, before Virgin Valley closed the game out with a 14-4 fourth-quarter run.
In the frontcourt, junior forward Julia Worrall and sophomore forward Jerra Hinson contributed with four points each, while fresh guard Hannah Estes scored four points on the night as well for the Lady Eagles.
Senior guard Rylee Dosch concluded the night with three points, while senior guard Lauren Mullins added two.
Curretly looking on the outside in to gain a postseason berth, the Lady Eagles have now dropped a game behind fourth-seeded Moapa Valley for the conference's final playoff spot. With 0-13 Del Sol coming to town tonight, the Lady Eagles should get back to their winning ways against the Dragons.
Contact Robert Vendettoli at BCRsports@gmail.com.
Upcoming Games
Girls basketball
Today, vs Del Sol, 5 p.m., junior varsity; 6:30 p.m. varsity
Monday, vs Southeast Career and Technical Academy, 5 p.m., junior varsity; 6:30 p.m. varsity
Wrestling
Friday and Saturday, Delta Duels, Delta, Utah
Tuesday, at Del Sol, 5 p.m., junior varsity; 6 p.m., varsity