Klouse ready for transition from pool to course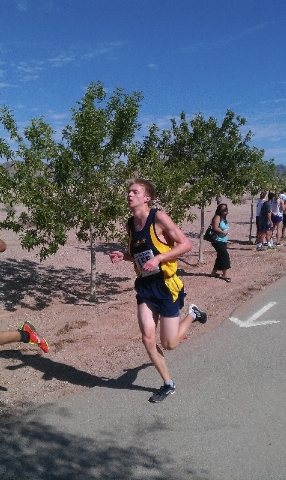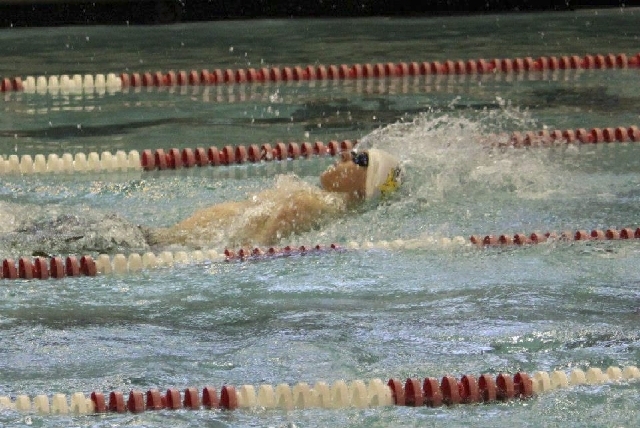 It's August, and for Boulder City athlete Evan Klouse it means it is time to get out of the pool and run.
Klouse is a multiple-sport athlete at Boulder City High School, as are many others, but for him it is the odd combination of being an elite swimmer and an elite runner.
The senior excels as a swimmer for the two-time state championship Eagles high school swim team, and the nationally acclaimed Heatwave, the Boulder City-Henderson amateur swim club, which competes as part of the Southern California region.
From July 24-28, Klouse competed in the long-course competition in USA Swimming's Junior Olympic Summer Championships at Mission Viejo, Calif.
Klouse swam preliminaries and finals in six events and recorded good times in the 50-, 100- and 200-meter freestyle races, as well as the 100 and 200 backstroke, and the 200 butterfly.
But with August comes a change in sport and priorities. It is time for cross-country.
The boys cross-country team is one of nine Boulder City fall athletic teams that begin practices in the next 10 days. They have been having intramural practices twice a week at Broadbent Park.
"This is the time of year when I transition from the pool to the dirt roads," said Klouse, who turns 18 in September. "It is important because it is my senior year and my final cross-country season. I will now focus on running and training for the high school team."
A typical day for Klouse this summer has been a morning 3- to 5-mile run with fellow senior Chandler Harkins, a teammate and friend since third grade at Martha P. King Elementary.
The afternoons consist of about 3 miles of swimming with Heatwave and high school swim teammates.
"Training together is always fun," Harkins said. "We are best friends, and we try to push each other hard every practice. We want to see each other succeed."
The pair has been successful in the past two cross-country seasons.
In 2011, the final year in Class 3A, the Eagles won the region championship and then finished in fourth place at the state meet in Reno.
Klouse was the leader of the team that season, with Harkins a close second. It reversed in 2012.
Last season, in the new Division 1-A, the Eagles placed third in the Southern Region Championships. Harkins placed third in the region, while Klouse was eighth as the Eagles advanced to the state meet. There, Harkins was 13th and Klouse 26th.
"The plan is to do better individually and as a team," Klouse said. "We are looking forward to our final cross-country season and to making it a successful one."
Klouse may have started a trend. His younger sister Aubrey Klouse and teammate Joren Selinger are finding success both at the high school and Heatwave club levels.
"Evan has enjoyed running and swimming for quite some time, but it is difficult to do both, especially at the same time," said Canaan Petersen, Eagles cross-country coach. "He is a good athlete, and he does well at both. He has had success in both, and I am sure that will continue this year in both sports. He and Chandler are the role models for the younger kids."
After the high school cross-country season, Klouse prepares for the spring high school swim season and the Heatwave summer season. Meanwhile, Harkins prepares for spring's track and field season.
"I wish Chandler was also a swimmer, but he stopped about eighth grade," Klouse said. "I was the only one who was too stubborn to give up one of the sports. I really wanted to do both."
And he has been successful.
"His cross-country really complements his swimming," Eagles high school swim coach Sara Carroll said. "Swimmers tend to be stronger upper bodies. Running helps his cardio. He has always been a quiet, dependable and determined kid. He has improved a lot in both sports."
As part of the Eagles' high school swim team, he helped the boys win three straight state championships. Individually, he was part of the state championship 200-meter freestyle relay team, and placed third in the 100 freestyle and fourth in the 100 backstroke.
Klouse, a swimmer since age 8, began cross-country as a sophomore at Boulder City.
"I liked running and I felt that my times were good enough to make the high school team and maybe help them," Klouse said. "So, I decided to give it a shot."
Klouse has been a busy summer in the pool this summer.
The Heatwave competed June 27-30 in the Novaquatics June Age Group Championships in Irvine, Calif. Klouse competed in several events and was part of the 200-medley relay that placed fourth, and he helped the Heatwave to a second-place finish in the team competition.
"At some point after the high school cross-country season, around the holidays, I again focus on the swimming side," Klouse said. "But in August, each summer after the Junior Olympics, I refocus my attention from swimming to running.
"It's time to run," he said.