November 19, 2014 - 3:24 pm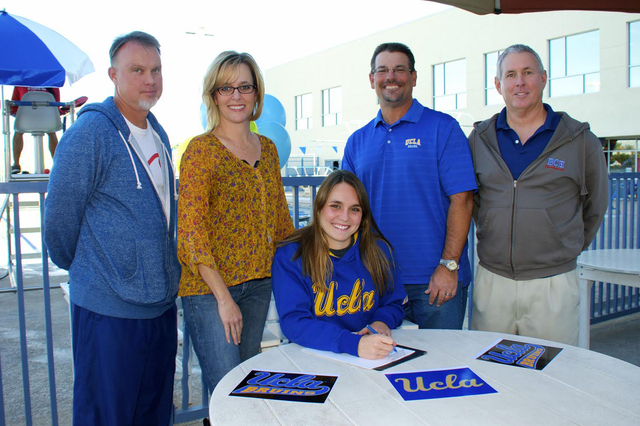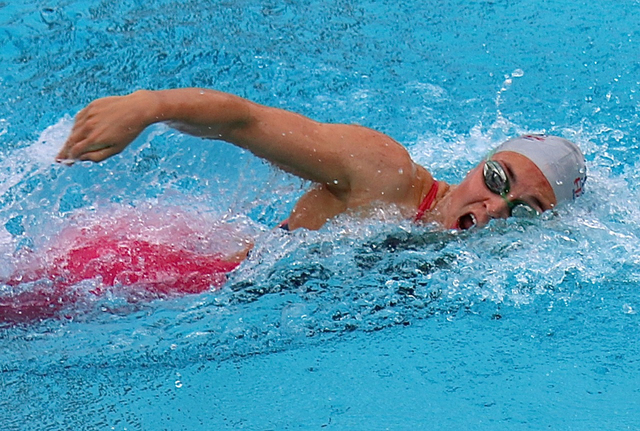 Baby Alli Rose has become quite a swimmer from her first days in a pool before she could even walk.
Boulder City's Alex Hubel, as she is now known, is one of the state's top swimmers. This past week she signed a national letter of intent to attend UCLA, one of the nation's top Division I swimming programs. She selected UCLA over the University of San Diego but also considered Pepperdine, New Mexico, Tennessee and Purdue.
Hubel is the first Boulder City High athlete to sign a national letter this school year, but there will be more. The Eagles average 10 athletes per school year who receive full or partial scholarships to attend college.
"I think UCLA is a great school for Alex. The Pac 12 is the fastest swimming conference so she will be challenged in the pool," said Bob Hommel, national team coach for the Boulder City-Henderson Heatwave, the competitive swim team for which Hubel has set many records and won numerous awards.
Hubel, a senior, will lead the Lady Eagles in the spring as they look for a third consecutive Nevada Interscholastic Activities Association Division I-A state championship. She excels in sprint events such as the 50 and 100 freestyle.
Hubel carries a 4.8 weighted GPA while taking Advanced Placement and honors classes. She favors math and science classes and is thinking of a career in medicine and medical research.
At UCLA she will be on the travel squad and swim in relays as a freshman. UCLA lost several meets this fall when its relay teams were edged in some races. Despite being a freshman, Hubel is expected to contribute immediately.
"She will have to find her niche within the team, probably in the 200 Free and hopefully on a couple of relays," Hommel said.
"UCLA felt foreign when I visited there," Hubel said. "It was huge to me. It was a totally different world with fancy cars and blondes everywhere. But I loved everything about it. I loved how different it was and that it would be such a big change for me. I really wanted a Division I program on the West Coast of the country.
"But UCLA is a dream school for me and many other kids across the country. I feel like someone is going to pinch me and I will wake up. I am so excited to go there in the fall and all the changes that will come."
"Academically, I don't think you can find a better school, and it is only a one hour plane ride from her home," Hommel said. "Whatever she chooses to focus on for her academic career, there will be a great program for her to further her interests, and I know she likes the facilities and area."
"As a mom, I can tell you, I really, really wanted her on the West Coast, but I wouldn't dare have said it out loud to her until after her decision," Laura Hubel said. "I've always secretly wished she would only be a quick drive away. I wanted her to go wherever she chose, but was secretly happy when she declined the letters of interest from faraway colleges."
Hubel fell in love with the water in 1998 when her grandmother Nancy Ward took the then 1-year-old to parent-baby-tot swim classes. To this day, Ward takes credit for leading Hubel to swimming.
In 2003, when she was 6, Hubel swam in her first competitive meet for the Boulder City-Henderson Heatwave coached by Mike Polk. But success was still a few hundred practices and years away. She dropped like a rock always hitting the water feet first on her dives.
In 2005, she qualified and swam in her first Nevada state meet. She qualified for the state meet for eight years, missing her first in a few months ago because she was training for Junior Nationals, which will be in Washington in December.
She began traveling to California for much larger swim meets in 2007 because the Heatwave belongs to the competitive Southern California Swimming Association.
"Her youth coach Jan Bunch smiled at us at one meet and explained that someday swimming would pay for college. At that time we had no idea what she meant, but we were all having fun and Alli Rose was swimming fast," her mother, Laura Hubel, recalled.
Alex Hubel has participated in a long list of highly competitive meets and earned record times over the years, too many to count, in high school, amateur club events, Junior Olympics and USA Swimming.
In 2011 at only 14 years old, Hubel qualified to swim at her first USA Swimming Junior National Championships at Stanford University. Trained by Hommel since 2011, she swam in high school for coach Sara Carroll and for coach Polk with the Heatwave.
As a sophomore and junior she helped the Lady Eagles win the girls swimming team state championship.
"Now that she has committed, I hope she can focus on having a great senior year and be all she can be in the pool as well," Hommel said.
Boulder City Review editor Hali Bernstein Saylor contributed to this story.