Harkins runs strong in first season meet
September 12, 2013 - 1:14 pm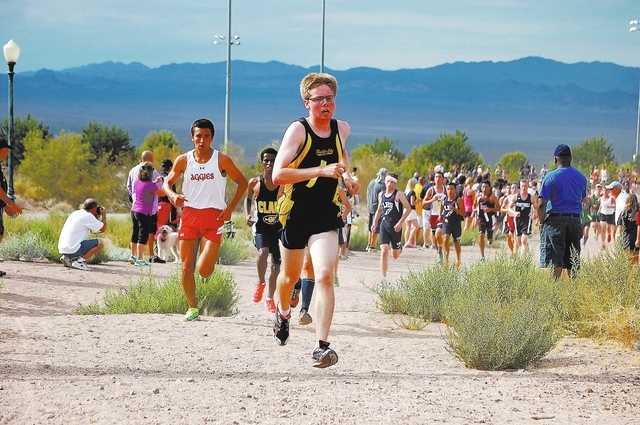 Boulder City senior Chandler Harkins ran 17 minutes, 58.1 seconds over the 3.1-mile course to finish in third place in the season-opening Larry Burgess/Las Vegas Cross-Country Invitational on Saturday at Veterans Memorial Park.
"I felt good during the race," Harkins said. "The start was difficult, but the team recovered for a good result in the end. My teammates and I felt like we had something left in the tank at the end of the race so we will be working with coach the rest of the way to get faster."
Harkins and his teammates helped the Eagles score 49 points and finish in third place behind champion Tech, which totaled a low of 29 points.
Eagles senior Evan Klouse ran 19:00.5 to finish seventh, while Christian Shamo placed 11th.
"We had a really good day. Starting the season in the Las Vegas Invitational is a good test to see how we stack up against several other good teams," Boulder City cross-country coach Canaan D. Petersen said. "The boys did an excellent job and the girls put in a solid effort, as well."
Jessica Embro led the Lady Eagles, finishing eighth in her first cross-country race in Nevada since moving from Georgia. Boulder City finished fourth among the teams in the 1-A race.
"I think that with hard work for two months, Jessica and her teammates will do even better by the end of the season," Petersen said.
As expected, Harkins faced his toughest competition in the 1-A race from Tech's Martin Ponce and Clark's Mucuranyana Amon. Ponce had a winning time of 17:03, followed by Amon's 17:16.1.
"Chandler looked good running the course in 17:58, just 10 seconds off his personal best on the course," Petersen said. "Starting the season this way is a good sign that coming off a strong track season (in the spring) and a long summer of workouts, that he is ready for the two-month cross-country season and the competition against Ponce and Amon, as well as Evan."
Harkins and Ponce were ranked as the two top runners in preseason in the Sunrise League by the coaches, and were among top three in the Southern Region along with Amon.
"It will be a very challenging season for Chandler, but he will do very well, I'm sure," Petersen said. "Evan also put in a solid effort with his finish. Combining those two with Christian, Caleb and Joren, we finished third and that was good for our first meet of the season.
"The finish in the invitational was the exact same finish as a team we had last season at the regional meet which allowed us to advance to the state meet as a team. After two months of practices and competition, I feel like we can achieve the same result if not do better."
Petersen said he expects the Lady Eagles to improve.
"I think that with hard work for two months, Jessica and her teammates will do even better by the end of the season," Petersen said. "Niquel Nussear and Emma Torgesen also had great efforts and helped propel us into fourth place.
"Maddie Sargeant, Sabrina Snow, Aubrey Klouse and Kennedy Bird also put in good races to contribute to the team. We will be working in the next few weeks to get them into position to do well as a team down the stretch."
The teams competed again Wednesday at Hemenway Park against Virgin Valley and Lincoln County. They will next compete at 4:30 p.m. Wednesday against league opponents Chaparral and Tech at Hemenway Park.
Array
Senior Kurt Steinke scored with nearly five minutes left Monday to lift the Eagles to a 5-4 against visiting Del Sol. Boulder City rallied from a 2-1 halftime deficit for the win.
Senior Yann Moncayo added two goals and an assist, junior Victor Andrades added a goal and assist. Senior Nicholas Walker had a goal and two assists.
The Eagles will host Adelson School (0-1) at 4:30 p.m. today, then will travel Tuesday to Chaparral for their first Sunrise League contest 3 p.m. Tuesday.
Array
The Lady Eagles started strong in their season opener before holding on for a 4-3 win Monday at Basic.
Boulder City, which led 3-1 at halftime, was led by junior Jane Nevarez's two goals. Senior Jana Williams and Vilde Svedsen each added goals for Boulder City.
The Lady Eagles had their season opener Wednesday against Cheyenne (2-0). The team will open Sunrise League play Tuesday against Chaparral (0-1) Tuesday at home at 3 p.m.
Array
The Lady Eagles traveled to Canyon Springs on Tuesday for their first full match of the season, coming away with a 25-13, 25-12, 25-20 sweep.
Senior Whitney Barlow had 11 kills and six digs, and senior Kendall Miller added five aces and 12 assists in the win.
Junior Alyssa Ybarra had three aces and nine digs, and sophomore Tara Cox added six assists.
The Lady Eagles will hold their first home match 5 p.m. today against Faith Lutheran (3-5), the defending Southern Region champions. Boulder City will travel to Basic (1-1) on Tuesday for a 5 p.m. match.
Array
The Lady Eagles tennis team has picked up right where it left off last season.
The defending Sunrise League champions blanked visiting Sunrise Mountain 18-0 on Monday, and then downed visiting Desert Pines on Tuesday, 12-6.
The doubles teams of junior Sariah Gneiting and junior Alexis LeMaster, and freshman Natalia Fullmer and junior Madeline Montgomery both went 3-0 to lift the Boulder City (3-0).
Array
The Eagles (2-1) downed visiting Desert Pines on Tuesday, 10-7 to earn their first on-court victory of the season.
Sophomore Gavin Morris went 3-0 in singles play to lead the Eagles.
The boys won their Monday match against Sunrise Mountain by forfeit.
The boys and girls tennis travel to Chaparral on Tuesday for 3 p.m. matches.
Reporter Pedro F. Fonteboa can be reached at fonteboavegas@yahoo.com.