Girls swim team dominates Falcons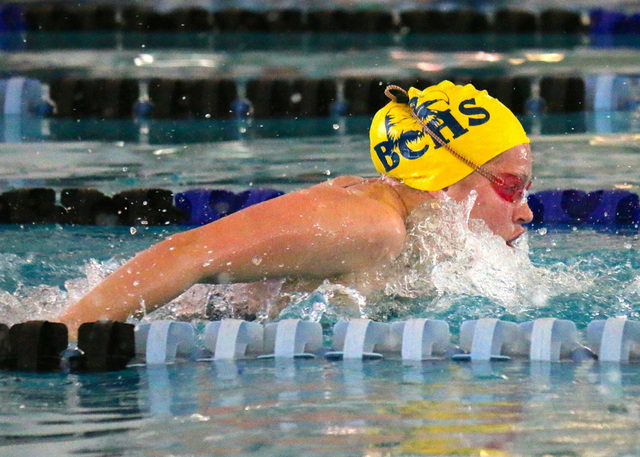 Both Boulder City swim programs were in action Saturday, competing against Division I opponent Foothill at the Henderson Multigenerational Pool, earning mixed results on the day.
For the Lady Eagles, Boulder City absolutely dominated the field against its larger-scale opponent, sweeping its way through every event, despite being shorthanded on the day for a 187-112 victory over the Falcons.
"The girls were short numbers wise, but still dominated overall," head coach Sara Carroll said. "We're a pretty solid team this year. We could compete in the Division I."
Continuing to put on a clinic for the Lady Eagles, Freshman Aimee Garcia swept both of her events, placing first in the 500-yard freestyle with a time of 5:26.79 and in the 100-yard breaststroke with a time of 1:11.5.
"Aimee is so important to our team because she is very versatile," Carroll said. "She races hard and is free of ego and drama. She been a great addition to our junior-laden core."
Of that core, Mandy Gebhart (50-yard freestyle and 100-yard backstroke), Montana Lloyd (100-yard butterfly and 200-yard freestyle) and Abby Sauerbrei (100-yard freestyle) placed first for the Lady Eagles.
For the boys, despite a 177-104 loss to the Falcons, the Eagles did have a pair of standouts.
Senior Nick Lara swept both of his events against Foothill, placing first in the 100-yard backstroke and 100-yard freestyle with times of 58.63 and 49.14 seconds, respectively, while junior Braden Klouse placed first in the 200-yard freestyle with a time of 1:58.32.
Heading into their last meet of the season Saturday for the Sunrise Region Last Chance Meet, the Eagles are hopeful to end the season on a high note, before swimming in the postseason.
"We are currently limited with swimmers with only 12 guys having regional times, so we must play our cards right and swim tough to repeat at state," Carroll concluded.
Contact Robert Vendettoli at BCRsports@gmail.com.
Upcoming games
■ Saturday, Last Chance Meet, at Las Vegas Municipal Pool, 10:30 a.m.
■ Wednesday-May 14, Sunrise League regionals, at UNLV, TBA