Eagles' home opener tonight against Pahrump
September 12, 2013 - 1:09 pm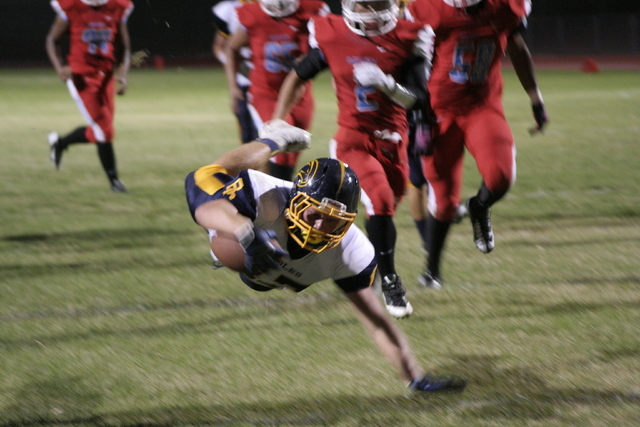 The Boulder City football team is coming home.
After playing its first two games of the season on the road, the Eagles debut at home tonight against Pahrump Valley. Tickets are $5 for adults and $3 for children. Kickoff is at 7 p.m.
The Eagles are coming off an impressive offensive and defensive display in a 58-0 victory over Western on Saturday
Senior Sam Woodbury gained 72 yards on 10 carries, scoring on touchdown runs of 28 and 3 yards. Boulder City (1-1) racked up 235 yards rushing.
Junior Brooks Roe started the scoring with a 22-yard touchdown run with four minutes remaining in the first quarter. Roe scored again on a 2-yard run early in what would be a 37-point second quarter.
Senior Xavier Steel returned a punt 41 yards for a touchdown, then Woodbury added his two scores. Junior quarterback Trenton Carmell added a 5-yard run with 30 seconds left in the half.
Junior Nelson VanDiest added a 1-yard run in the third, and junior Alex Pappageorge finished the scoring with a 10-yard run in the fourth.
Junior kicker Andrew Sands converted four-of-five extra-point kicks.
"We played a well-rounded game against Western," Carmell said. "We were able to do well on both offense and defense. It was a great effort by the defense to get the shutout."
The Eagles defense held the Warriors (0-2) to minus-85 yards total offense and no first downs. Steel, senior Dillon Prach and junior Austin Shepard each recovered a fumble. Junior Sam Doane blocked a punt.
Prach led Boulder City with 10 tackles, and junior Jacob Jurgschat added four.
Pahrump Valley (1-1) comes to Boulder City after a 41-27 loss to Desert Pines on Saturday.
"It will be nice to open at home with a chance to have a winning record. Our win against Western was a good one and we hope to make it two in a row," senior Thomas Prach said. "We did a good job of keeping pressure on Western and capitalizing on their mistakes. We have to do the same against Pahrump."
The Boulder City defense will need to contend with Trojans' running back Scott Maughan, who rushed for 131 yards and two touchdowns in the loss to Desert Pines.
"We have to be ready on both sides of the ball for Pahrump," Prach said. "It is an important game that we can win if we play our game like we did against Western. We will be ready. Playing at home is always exciting."
The Eagles downed the Trojans on the road last season 33-6. The Eagles will play their first four games this season against 1-A Sunset League opponents. They play five of their nine games on the road.
They are back on the road again at Faith Lutheran on Sept. 20, a team they beat twice in 2012. The Sunrise League games begin Sept. 27 at home against Desert Pines.
Sports reporter Pedro F. Fonteboa can be reached at fonteboavegas@yahoo.com.