Eagles gear up for challenges
August 19, 2015 - 1:44 pm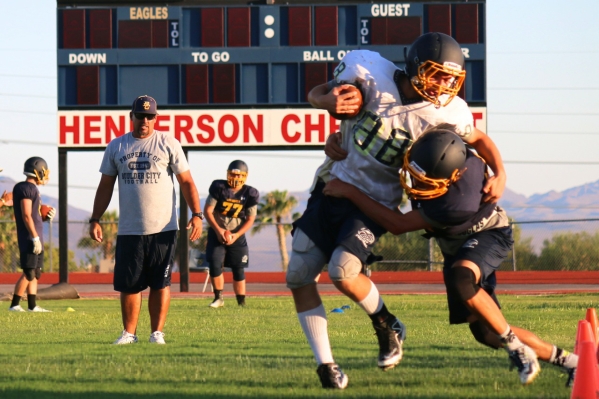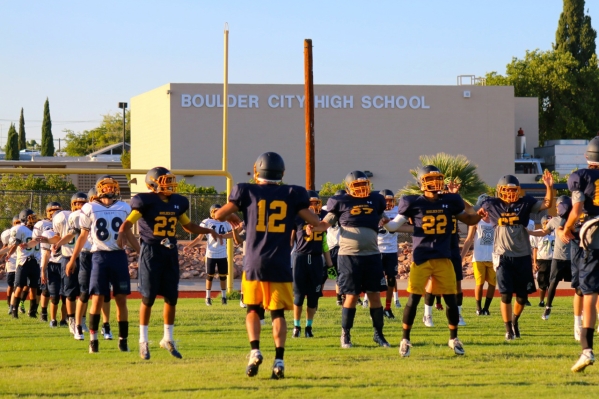 Chris Morelli knows that the task he has been assigned is far from an easy one. And the first-year varsity head coach is perfectly fine with that.
As Boulder City High prepares for its upcoming football season, practices have become harder, coaches have become tougher, and the players have become wiser.
On a team that lacks experience, wisdom will prove to be invaluable in the weeks leading up to its Aug. 28 kickoff against Clark High School.
"We have a lot of guys who this will be their first year starting varsity," Morelli said. "One of our biggest challenges is getting them up to game-speed."
Last season's campaign was an underwhelming one. After starting the season 3-1, the team lost four of its final five to finish 4-6. Coach Alex Kazel resigned at season's end, and Morelli — who had been on the junior varsity and varsity staff at Boulder City — was named to the position. He coached the undefeated girls flag football team to the county championship and was named the regional coach of the year.
With the majority of seniors playing both offense and defense, two-a-day practices will help condition the undermanned Eagles, who will face much larger teams with more depth in almost every game this season.
The challenges that come with a young team are met with the knowledge that comes with being a senior, and Morelli will rely heavily on his handful of experienced players to lead the newcomers throughout the season.
According to Morelli, Austin Wishard is the team's starting quarterback and will play safety too. Logan Branscum will be in the secondary alongside Wishard and will play some wingback. Zach Murphy will be the team's go-to receiver, and Dawson Livingston can "play just about anywhere."
"We're sitting on 31 players we carry on varsity while most other teams have 60," Morelli said. "We don't impress people when we get off the bus, we don't intimidate people when we get off the bus, but at the end of the game, they remember they were in a football game against the Boulder City Eagles."
The Eagles current Division I-A Sunrise League includes larger football programs such as Desert Pines, Del Sol and Chaparral, all of whom have a much larger talent pool to pull from when football tryouts come along.
Morelli said that his team need not worry about differences in size and strength and that he reiterates to players the team could beat anyone at anytime on any day.
The Eagles head coach also said that the biggest difference in his team this year as opposed to last season is tempo. Practices run just a shade under two hours, and the goal is to speed everything up. "We don't stop moving," he said.
At the end of the day, Morelli knows that Boulder City won't be the overwhelming favorite against any team they face this season, and according to him, that's quite all right.
"We're always going to be the underdog. Doesn't matter where we play or what team we play," Morelli said. "I personally like being the underdog, and I'm just trying to get (my team) to buy into it."
Contact Randy Faenhrich at BCRsports@gmail.com.