Eagles' bowling team captures state title
February 17, 2016 - 3:22 pm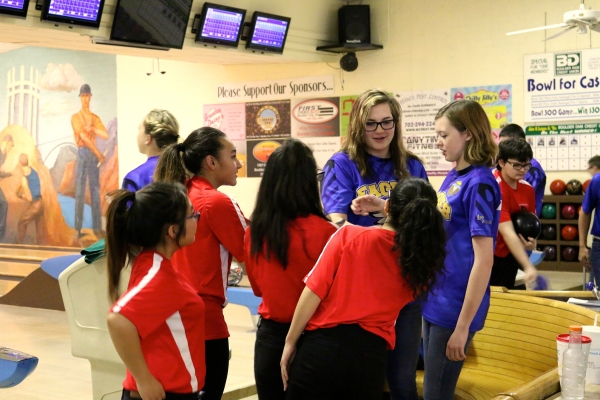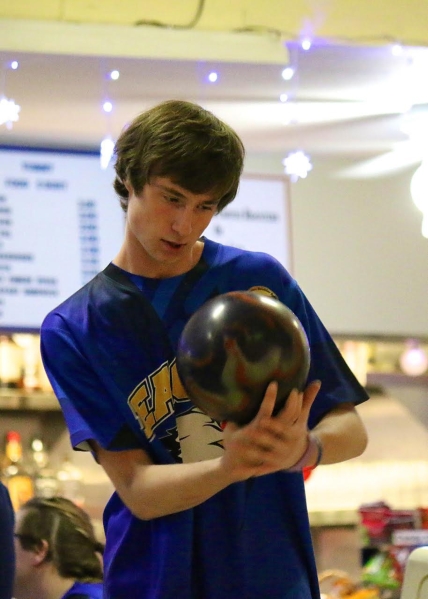 Following a third-place finish at the Individual Championship last week at The Orleans bowling center, Boulder City High School senior Teagan Smale was confident in his ability to lead the Eagles toward another state title.
Disappointed that he had let his personal goals slip from his grasp, the senior leader promised he'd put forth a better effort in the postseason, carving out a legacy that would carry on throughout the bowling program long after he graduates in June.
"I didn't have the outcome I wanted in the individual bracket," Smale said. "I know what I could have done better to have a better outcome, so I focused all that attention to detail toward our team's postseason run."
On Friday Smale delivered on his promise.
The key anchor in the Eagles' dominating 2,418-2,067 victory over Southeast Career Technical Academy, Smale led all bowlers with a game-high 635, rolling a high game of 244. More than just his accurate skill-set on the lanes, Smale also provided key leadership in the game's final day, propelling teammates to reach personal bests against the Roadrunners.
"Teagan's a great bowler," head coach Rodney Ball said. "Even better leader. He understands the game, he understands how to get involved with his teammates and help get them to see the game differently. He has a cool head about him when he's playing. He doesn't stress, he just goes out there and has fun. The team has kind of taken to him in that regard."
Far from the lone wolf offensively for the Eagles, junior Samu Jancuk rolled the game of his life in the championship round, finishing second in total points behind only Smale with 622, including a high game of 267, which was easily the game's best individual score.
"Samu had a really nice day for us," Ball said. "He's a guy that's continued to work hard every day and put the work in to get better. To see where he was when he came to us at the beginning of the year to where he is now, you can see the changes in his game and the confidence that he's playing with."
Senior Dylan Amico and junior Ed Rassuchine also played their roles in leading the Eagles to their second title in three years. Amico rolled a 586, which is in line with one of his better scores for the season, while Rassuchine stayed consistent with a score of 577 with a high game of 213.
"This was a total team effort," Smale said. "Everyone was involved in this victory. We handled the moment exceptionally well and went out there and got the job done. To leave Boulder as a state champion is just an unbelievable feeling. (I) can't explain the joy I feel."
Ball shared Smale's sentiment afterwards as well, calling the program the closest thing you'll see to a dynasty in the Division I-A ranks.
"We've had a good stretch of bowling with Teagan at the helm," Ball added. "If this isn't a dynasty, then it's pretty close. It's been a pleasure to coach all of these boys and see them take their games to new heights, capping off the season in such dominating fashion. Today's score could have beat Liberty for the Division I crown, as well. I think that's pretty special considering we're just a small-town program."
The Lady Eagles are also on their way to etching their own dynasty, finishing as the state runner-up for the second consecutive season to the daunting Southeast Career Technical Academy bowling program.
"I'm so proud of the girls for the way they fought back to make that last match entertaining," Ball said. "Southeast Career Technical Academy has a really solid program, a program that we strive to emulate and hopefully one day become. Both teams played their hearts out and played like champions. At the end of the day, they just got a few more pins to fall."
Entering the third and final match against the Roadrunners, the Lady Eagles found themselves down 59 pins, before mounting a late comeback to take the lead in the eighth frame of game three.
"We had an opportunity to pull this one out," Ball said. "Great teams find a way to pull themselves out of a hole and, like we did in the early rounds of game three, they found a way to close it out in game three."
Heading into the game's final frame, the Roadrunners created separation from the Lady Eagles en route to their fourth consecutive state championship, winning the match 1,942-1,869.
"I'm proud of our runner-up finish," Ball said. "We've made strides as a program. Before, we used to be never able to get out of the second round of postseason play. Now, we're competing with the very best for championships. This program is on the right track; I told the girls we'll be back here again."
Putting together her best stretch of bowling in the championship round, junior Abigail Harling led all bowlers with a score of 576, including a personal best score of 229 in the third game of the series.
"Abby put together a nice game," Ball said. "I'm excited to see where he game takes her."
Junior Alexis Cable contributed with a score of 433 for the Lady Eagles, while senior Emily Owens and sophomore Bailey Jordan-Bennett bowled just above their averages with scores of 430 apiece.
Turning both programs into prominent contenders, Ball stated that the effort wasn't made alone, thanking everyone for their contributions, not only throughout the season, but in the off-season as well.
Crediting coaches Don Smale and Garth Schulz for their efforts in carving out a winning culture at Boulder City, Ball also praised the Boulder Bowl and Boulder City bowling club for their efforts in making his job as a coach easier.
"When we go to state and compete for championships, it's a community effort," Ball concluded. "No one man is responsible for any of this. Everyone on our team, everyone of our coaches, the local community, we're all a part of this winning culture. With everyone's support, we'll continue to be dominant."
Contact Robert Vendettoli at BCRsports@gmail.com.