Coach: Team needs to focus on swings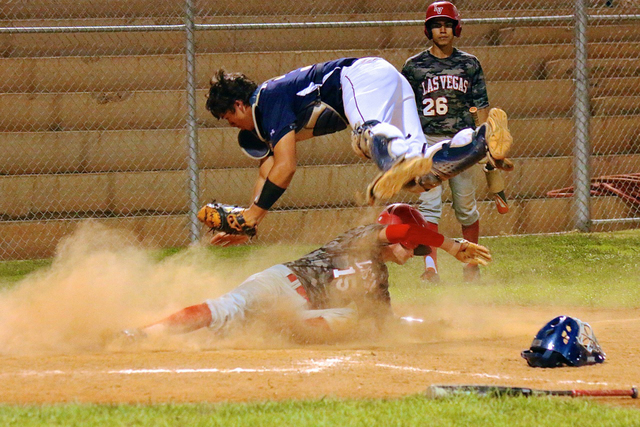 It only took one inning to put away the Boulder City baseball team, as the Eagles lost to Las Vegas High School Friday night 9-2.
The Eagles led most of the game 2-1 until the Wildcats erupted at the plate, and scored eight runs in the last three innings. But Boulder City's loss didn't come at their expense.
"We played good defense. We didn't have any errors," head coach Bobby Reese said. "They just have some very good hitters. Our pitchers threw well, they just put the ball in play on us, and hit a lot of balls hard. I tip my hat, it's a good baseball team."
Senior Nick Giutna pitched five innings, throwing 103 pitches for 59 strikes and three strikeouts. He was relieved for the last two innings by sophomore Preston Van Diest and junior Zach Murphy.
Even though Las Vegas High went home with the win, they only had 12 hits compared to Boulder City's eight.
"We need to shorten our swings. We're getting long. We've seen not the greatest pitching in our league, so we are getting long, trying to drive the ball out of the park. That's not our success. We're going to have success if we can stay short, compact, and focus on middle away, so that's what we're going think about," Reese said.
At the plate, Van Diest and senior Austin Shepard each provided a RBI.
Next week, Boulder City is heading into the second half of regular season play. If they are going to have the same success they have had in previous games, they believe they need to work on swinging.
"If we don't make the defense work and keep flying out, we're going to lose games," Shepard said. "It was definitely a learning experience, and we need to work on a few things. Just simple things that we can adjust in practice: shorter swings, put the ball in play more, stop flying out, make the defense work."
But not all was a loss for the Eagles. Boulder City won an away game at Moapa 18-3 on April 9.
Junior Peyton Koopman pitched a complete game, throwing 99 pitches for seven strikeouts. Koopman also scored three runs and recorded three RBIs.
"It's always nice to go out there and beat them," Reese said. "That's a good rivalry."
Monday, the Eagles put away Desert Pines 18-3 in five innings. Shepard had 6 RBIs.
Van Diest pitched four innings and was given the win. He had five strikeouts.
Wednesday they played Sunrise Mountain, but the results were too late for this edition.
Friday the Eagles will host Del Sol and Saturday they travel to Pahrump.
Coach Reese said because this is the second rotation for these teams, Boulder City needs to make sure they start off the second half of league play well, to extend their one game lead over Southeast Career Technical Academy, which they face at home at 3:30 p.m. Wednesday.
"One game at a time," Reese said. "Let's make sure to take care of business."
Contact Rochelle Richards at BCRsports@gmail.com.