Coach has high expectations for Eagles' baseball team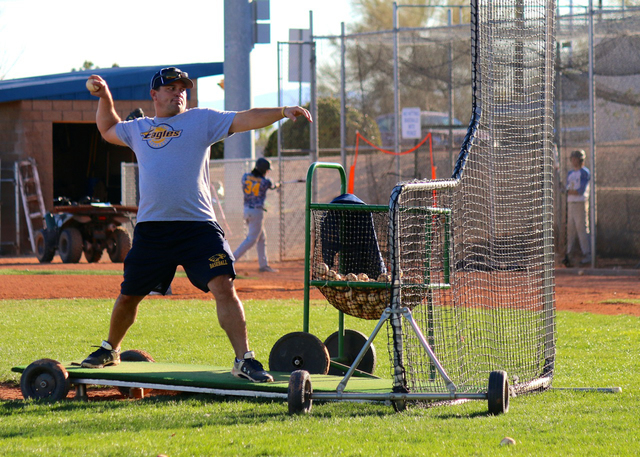 The Boulder City High School baseball program made it's second trip to the Division I-A state tournament in three seasons last year under head coach Bobby Reese, but the varsity coach expects more than just appearances from his talented ball club.
"It's nice to go to the tournament, but our goal every season is to win it," Reese said, commenting on the state championship that has eluded the Eagles since their banner season in 2006. "We have the guys to get there; now we just have to execute once we're there. We don't want to be the two-and-barbecue team anymore. We want to bring a trophy home."
Returning seven starters from last season's team, as well as a key transfers from Division I power Foothill High School, Reese certainly feels like this year's team is capable of duplicating last season's 24-13 success.
"This is the deepest team we've had since I inherited the program," Reese said. "This year we have 15 guys who can step up and contribute at anytime, which gives us great depth as well as a lot of different lineup options. We have rotation guys capable of playing starting minutes, so that will not only push them to become better ball players, but push our starters as well. Our depth is a good problem to have."
Back to lead this year's squad are senior pitchers Zach Wagner, Peyton Koopman and Zach Murphy, who all shined last season on the mound for the Eagles.
"We certainly have one of the better pitching staffs amongst our conference, which will be a strength of ours," Reese said. "Every one of our guys can give us quality innings, which is key in winning ball games."
Wagner, a Western Oregon signee, leads the pack after transferring from Division program Foothill a season ago, compiling a 5-2 record on the mound with a team-leading 2.10 earned run average and 35 strikeouts in 40 innings.
Koopman also garnered five victories a season ago for Boulder City with just one loss in his 28 innings on the mound, while Murphy went 2-2 last season with 24 strikeouts in 20 2/3 innings.
Junior Preston VanDiest is also back for the Eagles after going 3-2 last season with a 4.91 ERA and 24 strikeouts in 25 2/3 innings.
At the plate, the Eagles are equally explosive after a season in which they averaged 8.5 runs per game, topping the double-digit mark 16 times last season.
Leading the way for the Eagles offensively is senior Nolan Desantis, who's coming off a junior campaign with a .516 batting average, 25 runs batted in, six doubles and three triples and eight stolen bases.
Returning offensively as well are Koopman, Wagner, Murphy and seniors Austin Wishard and Mike Morelli.
Koopman led the Eagles in runs batted in (33), home runs (5) and triples (5) last season, while batting .372.
Also expected to star this season are Wagner (.294 batting average, 19 RBIs, two doubles, three stolen bases), Murphy (.357 batting average, 17 RBIs, five doubles, 14 stolen bases) Wishard (.352 batting average, 25 RBIs, eight doubles, two triples, one home run, three stolen bases) and Morelli (.295 batting average, 15 RBIs, five stolen bases).
The transfer of senior catcher Alec Mathis from Foothill High School is expected to be a gain for the Eagles, along with the further development of junior Jake Hubel and sophomore D.J. Reese.
Mathis was a two-year varsity contributor for the Falcons during his prep career, while Hubel batted .292 last season with five RBIs and a triple.
The Eagles begin their season March 10 in the Bengal Varsity Tournament, hosted by Division I Bonanza, that is regularly filled with the valley's top Division I baseball programs.
Contact Robert Vendettoli at BCRsports@gmail.com.