Coach expects Lady Eagles' talent to take them far
December 12, 2013 - 5:27 am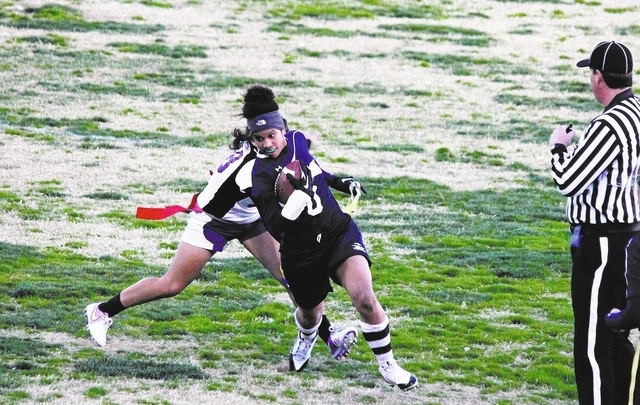 The way Boulder City girls flag football coach Chris Morelli sees it, there is a difference between a young team and a team that is young and talented.
"We graduated only four seniors from last season and we have a lot of players returning who are young but very talented and they intend to compete at a high level. We are going to be a good team," Morelli said. "The girls who are out here love to play football and they are working hard to improve and to prepare to win."
So far this season the Lady Eagles are 3-0 and the only unbeaten team in the nine-team Southeast League.
After a 26-0 rout of Sunrise Mountain in their home opener, the Lady Eagles went on the road to defeat a tough Silverado team 19-18 in overtime. Paige Buettner's 10-yard touchdown run and 1-point conversion run in the extra period lifted the Eagles to victory.
The other two touchdowns for the Lady Eagles were a 70-yard interception return by Kinsey Smyth, and a 6-yard scoring run by Jollene Gosselin.
Tuesday, Smyth had four interceptions for Boulder City and Jeanne Carmell threw two touchdown passes and ran for another score as the Lady Eagles defeated Eldorado 19-12.
Carmell hit Smyth on a 20-yard scoring pass and then threw a 5-yard touchdown pass to Mackenzie Pluta. Smyth also ran for a 15-yard touchdown.
The Lady Eagles have 11 returning starters, led by sophomores Carmell, Bryanna Lopez and Buettner, and juniors Jane Nevarez, Jessica Embro and Smyth, and seniors Cameron Kanaley and Gosselin.
On the field a year ago the Lady Eagles were 8-10 overall and 6-10 in the Southeast League for a sixth-place finish. They did not qualify for the playoffs.
The Lady Eagles play at 5 p.m. today at home against Del Sol at the school's football stadium.
This is the second season for Morelli as head coach and the second for girls flag football as a varsity sport.
Girls' flag football — 7-on-7 on a 40-by-80-yard field — was added for Boulder City and 36 other high schools in Clark County a year ago to satisfy a 2010 complaint from the National Women's Law Center in Washington, D.C. The center alleged that the school district violated Title IX, a 1972 federal law mandating equal opportunities for men and women in education and athletics. The gap between the number of male and female athletes in the district should be no more than 5 percent, but was 11 percent favoring male athletes.
The interest in the sport has been greater than anyone expected with record numbers of players trying out for teams, leading to the addition of junior varsity teams at most schools and the Las Vegas Review-Journal providing team standings and individual statistics online as it does for boys' football at nevadapreps.com.
Boulder City had nearly 40 girls try out in November, while Coronado and Shadow Ridge each had more than 100.
"There has been amazing interest and we now have a JV team, but the best part is that the sport will get media recognition and that fans can follow the team and stats online at the R-J site. Flag football is here to stay, and to be successful," Morelli said.
The games are played outdoors in winter. It is sanctioned by the Clark County School District, but not the NIAA. Playing outdoor in Northern Nevada in winter is not likely, so a statewide championship is years away.
One of the toughest parts has been learning the rules, such as there are limits as to how far down the field players can go on a running play and there are no kickoffs, punting or extra points. Additionally, the field and ball are smaller than the boys' game.
"The girls are excited about the season and they are working hard to make the playoffs. We just missed making the playoffs last year by two games, and I know we can do it this season," Morelli said.