Boys seek fourth straight swim title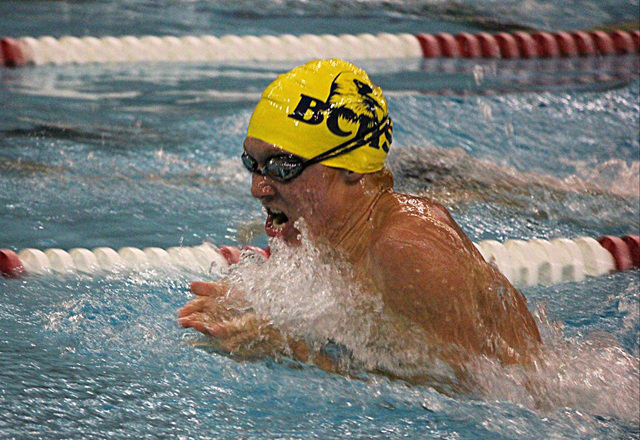 The Boulder City boys swimming team will go after a fourth consecutive state championship and eighth overall when they hit the water Saturday in the Division I-A Championships at the Buchanan Natatorium on the UNLV campus.
This past Saturday, the Eagles made it four Southern Region championships in a row when they swept the field and out-distanced second-place Faith Lutheran 547 points to 322 points at UNLV. The top four finishers in each of the 12 events advanced from the region to the state meet.
Boulder City's Sam Sauerbrei set the record in the 200 individual medley with his effort of 1 minute, 57.55 seconds, breaking the previous record of 1:58.72 that he set last year.
"Sam did a great job setting records in his events, and all the swimmers did great especially since it was a nighttime event and we usually swim in the day," said Boulder City coach Sara Carroll, who is hoping both her boys and girls teams can defend their state championships of a year ago.
The boys are attempting to win their fourth straight state title and eighth overall, and it would be a fifth boys title for Carroll, who has been at the school as coach for 20 years. The girls are hoping for back-to-back state swimming titles for the first time in school history. If all goes well, Carroll will have coached seven state championship swim teams at Boulder City.
Sauerbrei, Jared Smith, Evan Klouse and Joey Gebhart teamed to win the 200-yard medley relay with a time of 1:37.62.
Smith swam 1:41.36 to win the 200-yard freestyle, followed by teammate Adam Peterson who swam 1:46.29 to place second. Branden Klouse was fifth (1:56.93).
It was a sweep in the 200 individual medley for Boulder City as Sauerbrei (1:57.55), Nick Lara (2:07.74) and Joren Selinger (2:13.94) took the top three places. Teammate Cade Braden (2:23.58) was fifth.
Gebhart won the 100-yard butterfly in 50.79, while teammate Nick Lara (57.02) was third and Lars Palmer (1:04.52) was sixth.
Faith Lutheran's Bowen Becker won the boys 50 freestyle (21.45) and 100 freestyle (47.35). He was the only non-Boulder City athlete to win a swimming event. The Eagles' Evan Klouse was second to Becker in the 50 freestyle (22.04) and second in the 100 freestyle (48.00). Keith Klouse (53.02) was third in the 100 race.
Smith won the 500-yard freestyle (4:38.68) while Peterson (4:48.73) was third and Jason Lynn (4:48.83) was fourth.
Gebhart, Lara, Peterson and Evan Klouse teamed to win the 200-yard freestyle race in 1:31.84. Gebhart swam 52.35 to win the 100-yard backstroke. Daniel Palmer (1:03.86) was fifth.
Sauerbrei swam 1:01.19 to edge teammate Jason Lyon, who was second with a 1:04.03, in the 100-yard breaststroke. Nicholas Walker placed fourth in the event in 1:06.35.
Sauerbrei, Peterson, Lyon and Smith teamed to dominate the 400-yard freestyle relay by more than 23 seconds, swimming 3:16.56 to Clark's 3:40.4.
"I just want the kids to do well at state, win their events and realize their dreams," Carroll said. "I want the parents to enjoy the day after all the time and effort they have put in over the years."