Boys eye repeat as state champions
November 26, 2014 - 1:29 pm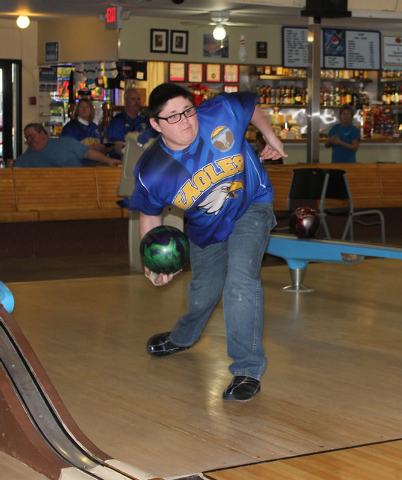 Winning a state championship is tough. To some, repeating as state champs is even more difficult than winning it the first time.
But for the Boulder City High School men's bowling team, capturing the state title for the second consecutive year is a serious possibility. Assistant coach Garth Schulz, who has been a coach for the team for the past seven years, knows that bringing home another state championship is the team's main objective.
And with some of the strongest bowlers returning from last year's team, there's no doubt in his mind that the boy's team can bring another championship to Boulder City High School.
"Our goal is to repeat, and we definitely have a shot at it," he said.
After growing up in Boulder City and being a part of several football and baseball teams as a player and coach to make the championship game, Schulz was never able to taste the success of a state title.
Until last year when the men's bowling team reigned supreme.
"I had been involved in five state championship games and never won one (until bowling). It was really neat to finally win it," he said.
Led by junior Teagan Smale, one of the best high school bowlers in the district, the Eagles' varsity team will feature senior Randall Berkheimer, junior Dylan Amico and sophomore Ed Rassuchine, who will replace Ed Feeney from last year's team. Although Feeney graduated last year, Schulz said he's confident in Rassuchine being able to contribute just as much as Feeney did the year before.
"Eddie was a good bowler, but we've got five or six guys competing for varsity spots," Schulz said. "We have at least four guys who bowled varsity somewhat last year, and we've got them back."
Smale, who finished second in the first-ever NIAA individuals state championship tournament in February before placing second in the countywide MVP tournament for high school bowlers the following day, shares the same optimism about bringing home another state title.
For him, the recipe for success is simple.
"We've just gotta do our jobs," he said. "We have to beat our man, go out there and have a little fun."
Having fun while struggling in any competitive sport can be a daunting task, which is why Feeney's presence will greatly be missed on this year's team, Smale said.
"He made it a little goofy and he kept it more lighthearted when we were struggling," he said.
Another challenge of repeating as state champions is the added pressure to perform just as well as the year before, according to Amico.
"It helps knowing (that we were state champs), but it puts more pressure on you. Everyone expects you to win a state championship again," he said.
Like Smale, the simplicity of getting the job done is what it takes to end up on top come season's end, according to Amico.
"We just need to lay it all on the line, bowl our best games and take it frame by frame," he said. "We've gotta forget about the misses and just think about our next frame."
The girl's varsity team will rely on youth to help catapult it into the postseason this year. With junior Emily Owens as the only bowler to return from last season, the Lady Eagles feature three new faces in sophomores Abby Harling and Brittany Goldston, as well as freshman Bailey Bennett-Jordan.
Both teams begin their season Dec. 1 against the Chapparal Cowboys at Boulder Bowl. Matches begin at 3 p.m.
Contact reporter Steven Slivka at sslivka@bouldercityreview.com or at 702-586-9401. Follow @StevenSlivka on Twitter