Bowlers solidify quest for state championship
December 26, 2013 - 5:10 am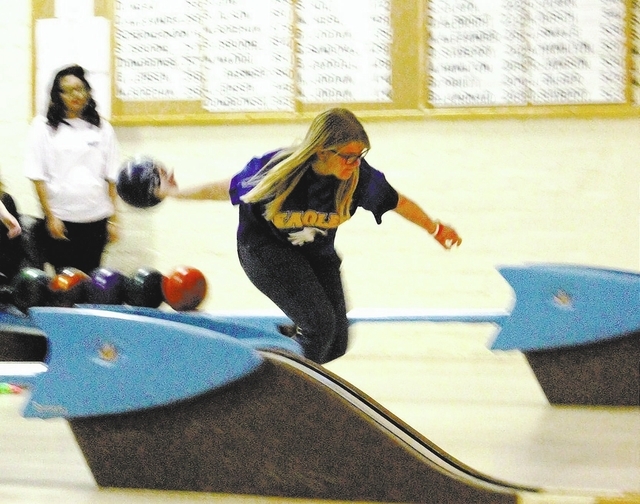 The Boulder City boys bowling team started the season as the favorite to win the state championship. They took another step to solidify that position when they defeated two-­time defending state champion Southeast Career Technical Academy on Dec. 16 at Boulder Bowl.
But days later, they slipped in a match­up with Cheyenne. The Eagles, state runner­-up last season, are now 5-­1.
The Eagles pounded former champion Tech 9-­0 by winning by more than 400 pins, 2,002 to 1,567. Sophomore Teagan Smale had the high game of 244 and high series of 578. Junior Randall Berkheimer rolled a 235 game and a series of 548 in beating Tech.
"We were fortunate to bowl well against last year's powerhouse and returning state champions," Smale said. "We know they are very depleted from last year's squad, but you bowl who you bowl.
"We know there is still work to be done, especially our spare shooting as a team. We have a new foe on the horizon in Cheyenne. We have split the season series so far with them and we expect to face them again sometime in the regional or state tournament.
"The season has been a lot of fun so far, but there is still much more ahead of us. We are getting better as a team every day and we look forward to the rest of the season," he said.
The Eagles lost 7­-2 to Cheyenne Dec. 19. Smale had games of 215 and 212 and a 616 series. Berkheimer had a 192 game and a series of 553.
This season, the Eagles also defeated Cheyenne, 7­-2, winning 2,101 to 1,941 in pins. Smale lead the Eagles with games of 257, 210 and 237 for a 704 series. It remains the highest series for the Eagles this season. Berkheimer posted a 494 series and freshman Ed Rassuchine posted a 472 series.
Against Desert Pines, Boulder City scored an easy 9-­0 victory with a pin count of 1,948 to 1,422. Smale led the Eagles with a 540 series and Berkheimer was close behind with his 538.
"We are off to a pretty good start, but we all have work to do," Smale said. "Our spare shooting as a team needs to get more consistent. We are still building together as a team with two new members on the varsity. We got younger this year and our new players are just starting to settle in."
Berkheimer agreed with Smale.
"We were feeling strong and confident after our first couple of matches," he said. "We are looking forward to our upcoming matches. Our team really is coming together and we understand we have work to do, especially on our spare shooting."
Meanwhile, the Lady Eagles are off to a 2­-4 start. Senior Niki Schulz had games of 195 and 164 and a 514 series, while Amy Murphy rolled a 145 game and had a 380 series as the Lady Eagles lost 5­-4 to Cheyenne Dec. 19.
Earlier in the season, Schulz had a 405 series and senior Aliya Anders had a 407 series, as the Lady Eagles lost a close match to Cheyenne. Although the team score was 2­-7, Boulder City was close in pins, losing 1,381 to 1,355.
Against Desert Pines at the Silver Nugget Bowling Center in North Las Vegas, the Lady Eagles found their form in a 9­-0 victory, winning by almost 400 pins. Schulz had her second series of 405 in as many matches, while Murphy enjoyed a 371 series in support.
The Lady Eagles lost 9-­0 to Tech, which had a 1,562 pins-to-1,323 pins advantage. Schulz rolled a 142 game and a 385 series, while Murphy bowled a 137 game and a 376 series.
"We talk about what is working and what is not working and we communicate and perform as a team, which is great," Schulz said. "We have been beaten by Tech every time during my years here and as a senior it would be great to somehow knock them off, even for a game. Maybe next time.
"We are working hard and will be even better as individuals and as a team in January."
Amateurs win
In other bowling news, Berkheimer finished sixth among 30 amateur bowlers in the Junior Bowling Tournament Dec. 15 at The Orleans. He won $43 in scholarship money.
Smale finished eighth out of 25 Dec. 14 in the JBT Mojave Doubles with teammate TJ Rock. He also placed 10th in the singles event Dec. 15.