Bowler pins hopes on calm demeanor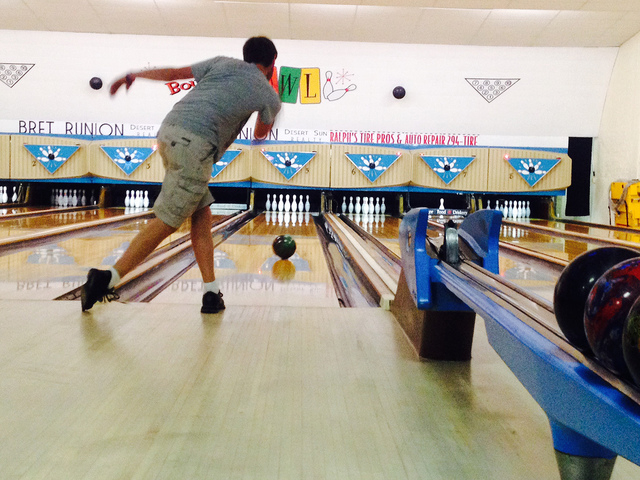 With a smooth release of his ball that barely makes a sound as it gently touches the lane, Teagan Smale looks on as it hangs on the gutter line before curving into the heart of the pocket.
His demeanor is calm before he steps up to the foul line, but once the ball is thrown, his body language signals a kid who has deep passion for the sport of bowling.
Smale was the anchor for Boulder City High School's bowling team that won the state championship in January. Now, he's preparing for Junior Gold Nationals in Buffalo, N.Y., from July 12-18 as the only bowler from Boulder City to qualify for the tournament.
"I'm hoping for a good finish, and to bowl as good as I can," Smale said about his expectations for Buffalo. "I'm excited to gain the experience, too."
Smale will compete against more than 2,700 bowlers from across the country with the hopes of making Junior Team USA, a nod that will only be given to the top four bowlers in the tournament for those ages 16-20.
Like any other competitor, Smale said he would love nothing more than to win it all and represent his country, as well as Boulder City, but he's taking a more modest approach to things, including keeping his composure and enjoying the experience of getting to bowl with other youth bowlers from around the U.S.
Finishing in the top 25 percentile is just fine with him, he said.
Dylan Amico, Smale's high school teammate, said he's confident that Smale will fare well in Buffalo.
"He'll do great, just plain and simple," Amico said. "He's a leader, and that's why he's our anchor. I had never met anyone who loved bowling as much as I did until I met Teagan."
Like Smale, Amico will be a junior at Boulder City High School in the fall. He said he was only averaging 120 his freshman year, but his average has jumped nearly 70 pins since Smale and his father, Don Smale, began working with him. It's a quality that only ensures that Smale will succeed on the national level, Amico said.
Don Smale credited his son with being a quick learner, and said his ability to learn from other bowlers while picking up their good habits will make him an even stronger competitor.
"There's definitely a lot of people out there, and a lot of resources for him," Don Smale said. "You learn a lot more just by watching."
Teagan Smale first gained an interest in bowling as a kid when he would watch his dad bowl league matches on Thursday nights at Boulder Bowl. Don Smale said that bowling was only supposed to be a fun hobby for Teagan, but Teagan told his dad he wanted to bowl competitively.
"I told him, 'If you want to do something more than fun, you need to come tell me and I'll help you,'" Don Smale said. "He came to me and said 'Yeah, I think I wanna learn,' and so from that point we really started working on fundamentals and things of that nature."
Teagan Smale adapted quickly to the sport when he first started bowling as an 11-year-old. Now, as a junior in high school with a state title to his name, Smale is averaging 221 at Red Rock Lanes, the bowling alley where he qualified for Junior Gold after winning his division.
The key to winning in Buffalo, just like when he won the state championship, is keeping his composure and sticking to the basics, he said. And even though he throws between 18-20 games per week in preparation for Junior Gold Nationals, Smale said not much has changed from his game.
"Some days you'll throw the ball right on target and shoot very bad," he said. "And then other days it looks like you've got a blindfold on and you're hitting lights out."
But for all of the personal accolades Smale has earned from bowling, including a state championship, second place in the countywide MVP tournament for high school bowlers and more than $3,000 to his name, he continues to stay humble and enjoys going with the flow.
"I just have to pick out a target line and roll it up there," he said about how to succeed in Buffalo. "If you throw a couple of bad shots, you just gotta let it go."