Berkheimer wins state championship
February 25, 2015 - 1:37 pm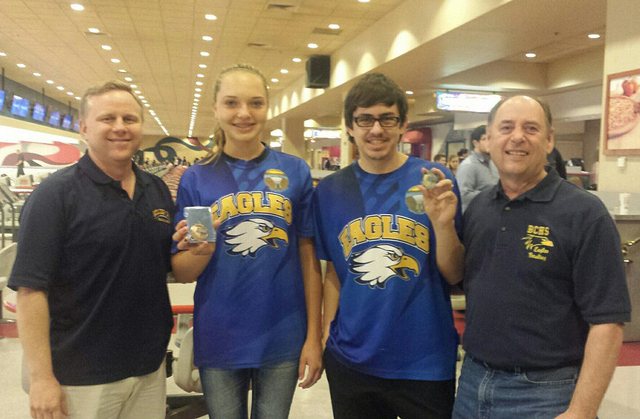 Randall Berkheimer concluded his Boulder City High School bowling career with the title of Division I-A individual state champion Feb. 19.
Berkheimer's 686 series was the highest in the I-A state championship held at The Orleans, the icing on the cake for a successful campaign of high school bowling. His series was 40 pins higher than Chaparral's Houston Hughes, who came in second place.
"It's a great achievement, and to do it in my senior year makes it so much better," Berkheimer said. "I definitely think this is a complete career."
As the leadoff bowler for Boulder City High, Berkheimer helped the Eagles reach the state championship three of his four years on the team. Last year's title was sandwiched in between a pair of second-place finishes.
Berkheimer's average jumped nearly 25 pins from the time he came on as a freshman until his last game as a high school bowler. He said the support of the bowling community, as well as the Boulder City community, helped him develop his game during his high school career.
"Even if we didn't win, they supported us," he said. "It means a lot, because some schools in (Las) Vegas don't even have a bowling team."
A vocal competitor who's never afraid to show his emotion on the lanes, Berkheimer said he went into the individual competition with a clear mind. He just wanted to have fun.
"When I went into it, I didn't care what happened," he said. "Having that mindset might've had some good karma."
Boulder City freshman Bailey Bennett-Jordan finished fourth in the individual championship in the girls' division with a 459 series. As the anchor bowler for the Lady Eagles, Bennett-Jordan was an integral part of the girls' second-place finish in the team championship two weeks ago.
The camaraderie the Lady Eagles were able to garner throughout the season helped her bowl better as the year went on, she said. And during the individual championship, she said she could feel the absence of her teammates.
"I missed bowling with them. I consider them my sisters," she said.
Bennett-Jordan's 459 series was 80 pins from third place, and more than 120 pins from first-place finisher, Emi Leong. The Southeast Career Technical Academy, who Leong bowls anchor for, defeated the Lady Eagles in the finals two weeks ago.
"It shocked me that I got fourth," Bennett-Jordan said. "I had seen other people bowl higher games because they're really good bowlers and they've been bowling most of their lives. Next year, if I practice more, I'll do even better."
Contact reporter Steven Slivka at sslivka@bouldercityreview.com or at 702-586-9401. Follow @StevenSlivka on Twitter.