Baseball team slugs way to season-high 19 runs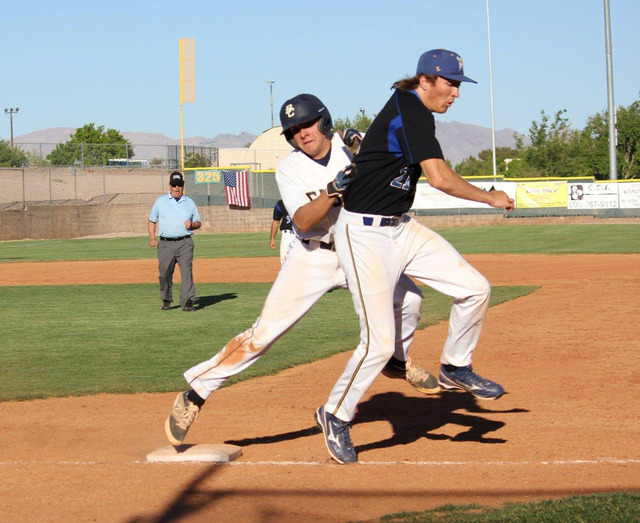 The Boulder City baseball team scored a season-high 19 runs on a season-high 18 hits to defeat visiting Moapa Valley 19-14 Tuesday in an important Sunrise League game.
The victory improved the first-place Eagles' overall record to 10-2-2 and Sunrise League record to 4-0. They have won seven straight games and nine of their past 11.
The Eagles had a home game Wednesday against second-place Tech (9-3 overall and 4-1 in the league. Boulder City headed into the game undefeated this season at home).
"It's not exactly what I envisioned before the game, but it's a league win, and against Moapa Valley which is always a big rival for us, so I'll take it," head coach Bobby Reese said. "That's the most runs any of my teams has ever scored and the most we given up while winning a game. But that's what happens when the pitchers give up eight walks and your defense makes two errors.
"Again, I am happy with the hitting and the wins, but we have areas to improve."
Of the eight Moapa Valley walks, seven came around to score and keep the Pirates in the game.
Boulder City was led by pitcher Peyton Koopman, who threw two innings to get the win. He had five strikeouts.
At the plate, the Eagles were led by four players who had at least three RBIs, and other four who had at least one RBI.
Zach Murphy went 2-for-3 with a home run, two runs and four RBIs, while Preston Van Diest was 3-for-4 with a double, four runs and one RBI. Will Knudsen was 3-for-5 with two runs and three RBIs and Colton Bosnos was 3-for-5 with two runs and one RBI.
Taylor Wold, batting ninth, went 3-for-3 with a double and four RBIs and teammate Austin Wishard hit a home run and had three RBIs. Austin Shepard had two RBIs.
"The hitting was great. This was our best game this season hitting the ball," said Koopman, a sophomore. "It seems like each game we are hitting better and better. We needed the hitting against Moapa Valley to overcome all the walks and runs we allowed. But the team is coming together and we are all playing hard to win each time we take the field."
Friday, Boulder City defeated Bonanza 6-5 in extra innings in a nonleague road game.
Koopman scored on an error in the top of the ninth inning to give Boulder City the victory. Koopman led off the inning and was hit by a pitch. He moved to second base on a wild pitch, stole third base and scored the winning run on an error. Boulder City's other scoring came in a four-run third inning.
Wishard and Knudsen each drove in two runs for the Eagles, and Koopman was 2-for-3 with two runs scored.
On April 3, the Eagles defeated Desert Pines 15-5 in a road league game. Bosnos went 4-for-5 with two runs and four RBIs and Shepard added a double and four RBIs. Patrick Garvin was 2-for-4 with two runs and two RBIs and Wishard was 2-for-3 with three runs, while Koopman went 2-for-4 with a double, a run and an RBI.