Barlow to be missed at Boulder City
April 23, 2014 - 12:43 pm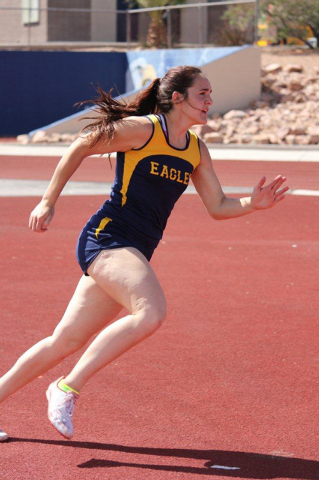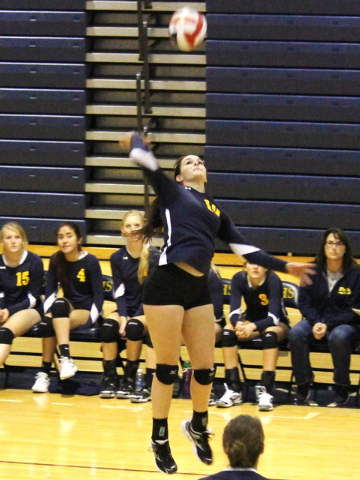 Whitney Barlow knows with each toss in the shot put and each leap over a hurdle that she is closer to the end. It is an end, though, that she wishes was a little further away.
The 18-year-old senior knows she doesn't have much time left before she competes in the Division I-A state track and field championships in May and ends a stellar athletic career at Boulder City High School.
"I can't believe I'm so close to the end of my high school career," Barlow said. "I feel like it was just yesterday and I was deciding between freshman track or the chorus and the piano. Now, I am only a few weeks from graduating and, as they say, leaving it all behind."
Barlow will leave behind one of the most successful sports careers at the school ever. She was a three-sport standout —volleyball, basketball and track and field — and ranks as one of the greatest female athletes to ever don the navy blue and gold. She has 11 varsity letters, was chosen all-state in two sports, and watches "SpongeBob SquarePants" in her spare time.
If not, she is playing the piano, singing in the church choir or doing math.
"Yes, I love math, and I love to learn," she said.
Her coaches and teammates will miss her, but Boulder City's opponents will be glad to see her move on.
In volleyball, as a senior, she was an all-state first-team player, All-Southern Region first-team and Sunrise League MVP. She was one of the most dominant outside hitters and players at the net, leading Boulder City to the state tournament, where the Lady Eagles lost their semifinal game.
Her awards as a junior, sophomore and freshman are too many to mention. But there were few all-state, all-region and All-Sunrise League teams selected in the past four years without her name at some level.
In basketball, few opponents wanted to cross elbows underneath or be on the receiving end of a shoulder or hip bump as Barlow fought for position and got rebounds. This season, she helped lead the Lady Eagles to the state championship final. She was named all-state first team, after being named All-Southern Region and Sunrise League MVP. Again, the awards joined the ones on a shelf at her home from her three previous years.
"Whitney is a great athlete who has great leadership skills," said Paul Dosch, her basketball coach. "She can run, jump, shoot, rebound and defend. But she always had the knack to be able to make everyone laugh and smile. She is the best athlete I have ever coached in all my years of coaching youth sports. You can't replace an MVP and all-state player like her."
Barlow has the distinction of having played four varsity basketball seasons for four different head coaches and having winning teams each year.
In track, as a junior, she showed her speed by running the 300- and 100-meter hurdles and her strength in throwing the shot put. She was fifth at the state championship finals in the 300-meter hurdles and eighth in the shot put. She hopes to improve those results this May.
The one track season Barlow skipped in favor of chorus and the piano is her only regret.
"I could have had 12 varsity letters, but let that one get away," she says with a smile. "Yeah, it would have been a feat to go 12 for 12 and earn 12 varsity letters, but I also enjoyed playing the piano and singing in the church choir, so I got something out of it."
Where will history place Barlow among the best Lady Eagles ever?
Well, don't ask her.
"I played because I loved to play the sports and to have teammates and the entire high school experience. I didn't play for the awards, so I don't know where 'history' will place me among all the great athletes that have played multiple sports at Boulder City," Barlow said. "I don't even know if I am on the list."
Cherise Hinman has been coaching volleyball at Boulder City for 17 years, and she has seen her share of athletes at the school, in volleyball and other sports.
"You don't come along and find too many three-sport athletes that are as talented as Whitney," said Hinman, who coached Barlow for the past four seasons. "I have been here since 1998 and have seen us move divisions several times, and there are very few like her that stood out.
"I don't recall too many athletes that played three sports and received all the achievements that Whitney received in her four years at the school. I would put her as one of the top five volleyball players I ever coached here. You can build a team around her as a hitter."
With Barlow as a key player, the Lady Eagles reached the volleyball state championship match in 2011 and the state semifinals in 2013.
In recent years, Katie Palmer (soccer, basketball and track) and Karlee Koopman (volleyball, basketball and softball) were dominant three-sport athletes at Boulder City. Barlow refused to compare herself to other athletes.
"First of all, I am not even in the same breath as Katie when people talk about the best ever. She was great. If there is a list, she must be on top. Karlee had a great career, too. There are so many others in so many years," said Barlow, who grew up a fan of Eagles athletics and her older brother Mitch, who graduated in 2005 and also excelled in several sports.
"I appreciate the thoughts by those that brought up the subject," she added. "Just being mentioned is another honor. I have been around the school and community for many years, so I have seen so many great athletes here, and I just can't come to compare myself to them."
She is a Boulder City girl. Her father, John, graduated from Boulder City in 1981 and was the principal at the school from 2002-2003. Her mom, Pam, has been a big supporter.
Barlow, who got an academic scholarship to attend Southern Utah University, will play volleyball at the Division I level. She also was good in the classroom, recording a 3.86 GPA. When not participating in sports or practices or school activities, there is another side to Barlow she doesn't hide.
"I watch 'SpongeBob SquarePants' and 'Scooby-Doo' cartoons," Barlow admits. "I do a lot of baby-sitting for my nieces and nephews, and there are a lot of them, so often I can't watch what I want to watch on TV. I'm kind of hooked on the cartoons, and it keeps the kids quiet. I also like to sing and play the piano. I always seem to find time to do all the things I like to do.
"My next step is college, and I hope to have another great career and lots of fun there, too. But it won't be easy to say goodbye to Boulder City."
And, Boulder City will have a tough time saying goodbye to one of its best.