Girls cross-country team wins regional title, heads to state
October 31, 2018 - 3:20 pm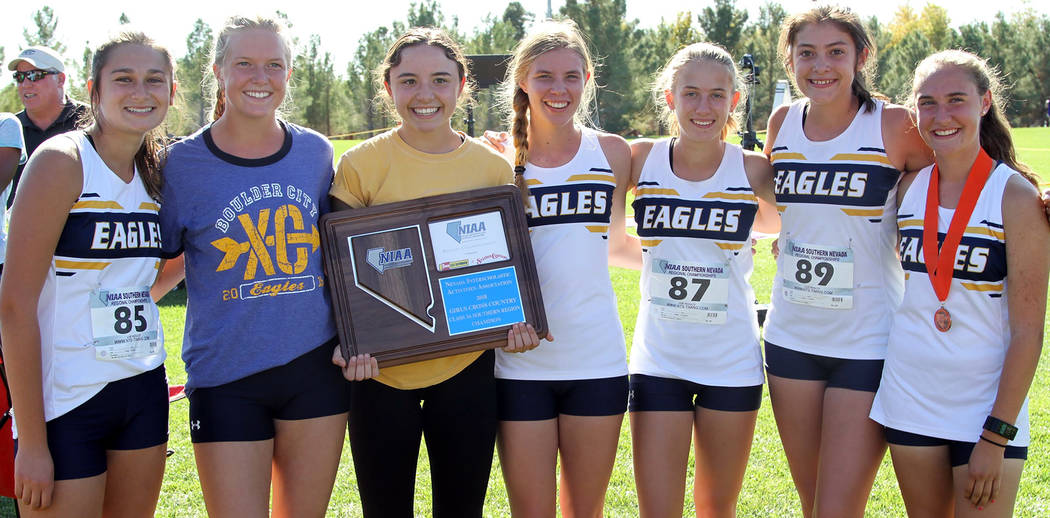 Boulder City High School girls cross-country team is making its way back to the 3A state championship meet after placing first at the Southern Nevada championships Friday at Veterans' Memorial Park.
"The team is super excited to be going to state as regional champions," head coach Staci Selinger said. "I couldn't be more happy as we started the season in August with only four girls and I wasn't expecting to get a full team. Then the girls did some recruiting and suddenly we had a team and, as the season progressed, I started planning on making state. Each girl gave it their very best on Friday and it came down to a tie, which was broke by our sixth runner. Totally a team effort."
Tying with rival Moapa Valley for the team lead with a score of 52, the Lady Eagles placed three top 10 finishers, with two more finishing in the top 15 out of 62 racers.
Leading the Lady Eagles, freshman Mary Henderson finished seventh with an overall time of 22:38.4, followed by eighth-place finisher sophomore Sophie Dickerman (23:16.9) and junior Audrey Selinger (23:38.8), who placed 10th.
Junior Sarah Oberweis (24:28.9) and senior Alyssa Williams (24:29.6) finished 14th and 15th, respectively.
Senior Geri Wachtel finished 29th for the Lady Eagles with a time of 26:27.9 to break the tie with the Pirates.
"They all met the goals I gave them for Friday as they have also achieved the goals set all season," Staci Selinger said. "This group has been amazing to coach and has improved their times or performance in each and every meet. They have been so exciting to watch run as a close pack."
Finishing sixth in the team standings in the boys race, the Eagles failed to qualify as a team for state, but will send sophomore Ethan Porter as an individual representative. He ran the course in 18:04.2 finishing in fifth place.
"Ethan has come back this season so much stronger and more competitive in our region," Staci Selinger said. "I am really happy with his performance on Friday. We thought he would make state either as an individual or hopefully with the team. I gave him a goal of a few guys to beat that would help the team placing and he blew it away. I have no doubt he will run well at state and continue to be a force in our region for the rest of his high school career."
Senior Justice Tilman finished 26th with a time of 20:18.9. Sophomore Sean White finished 31st out of 72 runners with a time of 20:35.7. Sophomore Seth Woodbury (20:53.1) and senior Noah Calvert (20:56.2) finished 37th and 39th, respectively.
The 3A state meet will be held on Saturday at Veterans' Memorial Park, 1650 Buchanan Blvd.
Girls soccer
Boulder City High School girls soccer team knocked off rival Moapa Valley 1-0 on Oct. 24 and will now head to the playoffs.
Entering a must-win situation against the Pirates, junior Madison Manns sealed a trip to the playoffs after a one-year hiatus with a late goal assisted by freshman Samantha Bahde.
"The girls were very disciplined in our Moapa Valley prep training sessions," head coach Arnold Oeland said. "We focused on playing tactical advantage and methodical possession. The girls have committed themselves to this sport and team achievement."
Turning their season around, the Lady Eagles won three of their last four league games to earn a playoff bid and feel confident behind their star junior core of Mann's, Keely Alexander, Makena Arboreen and Trinity Oeland.
"We're primed and ready for the postseason," Arnold Oeland said. "Led by these four leaders, all exercising their skills, we've shown we belong in these playoff games."
Results from Wednesday's opening postseason play against Western will appear in next week's issue.
Boys soccer
Boulder City High School boys soccer program ended its season Tuesday, Oct. 30, with a 5-1 loss to Valley in the opening round of the 3A postseason.
It was the Eagles' first trip to the postseason since 2012.
"I'm very proud of how far the team has come since the beginning of the season," sophomore Julian Balmer said. "We have constantly improved and have continued to prove our doubters wrong. We've done something that no other Eagles soccer team has done in years and for that I'm so happy. I look forward to the team's future and believe that we can achieve this goal next year as well."
The No. 3 seeded Eagles ran into a tough Vikings opponent at Bettye Wilson Soccer Complex in Las Vegas, showing there's still room for improvement.
Junior Mason Hood scored the Eagles' lone goal.
The team ending the regular season on a high note, defeating Moapa Valley 5-3 on Oct. 24.
Benson Deml scored two goals against the Pirates, while Balmer and juniors Austin Morris and Jacob Sanford each added a goal. Sophomore Adam Leavitt assisted a pair of goals.
Contact Robert Vendettoli at BCRsports@gmail.com.
Girls cross-country
Saturday, Nov. 3, state meet at Veterans' Memorial Park, 1650 Buchanan Blvd., 1:15 p.m.
Boys cross-country
Saturday, Nov. 3, state meet at Veterans' Memorial Park, 1650 Buchanan Blvd., 11:10 a.m.
Girls soccer
Thursday, Nov. 1, regional semifinals (if qualified) at Bettye Wilson Soccer Complex, 7353 Eugene Ave., Las Vegas, 6 p.m.
Saturday, Nov. 3, region finals (if qualified) at Bettye Wilson Soccer Complex, 7353 Eugene Ave., Las Vegas, 2 p.m.