Gebhart signs letter to swim for Pac-12 University of Utah
November 30, 2016 - 2:58 pm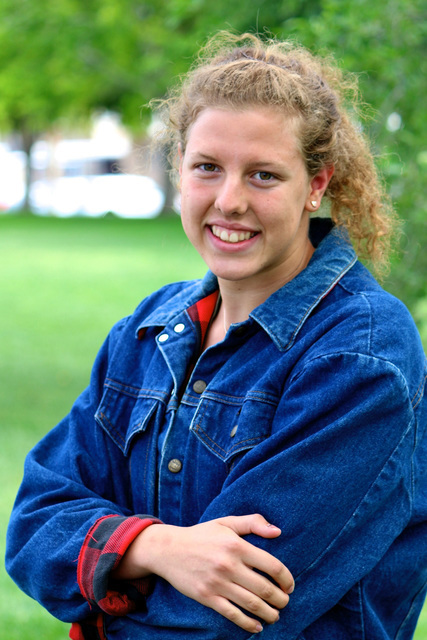 Another Boulder City swimmer has joined the ranks of collegiate athletics.
Mandy Gebhart signed a national letter of intent to swim for the University of Utah next year.
She will now compete in the Pac-12 Conference, which hosts four teams in the Division 1 collegiate Top 25 for women's swimming and diving, a thought that makes Gebhart sweat a bit.
"I am really excited but also kind of intimidated because there are Olympians in the Pac-12," Gebhart said. "But meeting with the team helped because I thought they were a really nice and cohesive group."
Gebhart was described by her coaches as a versatile, hardworking swimmer who excelled as a quiet leader.
"She does anything you ask of her. She can do any stroke and any event, which is rare, and it will be hard to replace her next year," said Bill Carroll, who coached Gebhart for her club team, Desert Storm Swimming in Las Vegas.
Sara Carroll, who coached Gebhart for Boulder City High School, said that she was a strong person who led by example and gave everything she had for her team.
"She is really willing to do whatever the team needs her to do," Sara Carroll said. "It is such a strong point for her. She is a quiet leader who motivated her team by working hard every day."
Gebhart said that both Bill and Sara Carroll helped her develop the skills that the two coaches admire.
"Sara has really helped me a lot with swimming. She puts a lot of pressure on you but also gives you enough support so that you believe in yourself," Gebhart said. "I think Bill is a really good role model for life and swimming because he has always been really supportive of me and helped me with the recruiting process."
Sara Carroll coached Gebhart throughout her high school career, but Bill Carroll never thought he would recruit her to the Desert Storm because she swam for another club team the Boulder City-Henderson Heatwave for years.
"I got an email from Mandy about a year ago telling me she was thinking about switching teams and I was surprised because I had given up on ever having her a long time ago," Bill Carroll said. "She was hesitant to switch teams because her brother had swam for the Heatwave but she wanted to try a different style of training and we got her."
Both coaches think she will be an excellent college swimmer, but added there would be some bumps along the way.
"She is going into the Pac-12 and it has one of the fastest swimmers in the nation. She is going to get beat up a bit but she is ready to compete," Bill Carroll said.
Sara Carroll said Gebhart has a lot of areas she could improve on but she will be watching her closely and is confident she will make it.
"I am interested to see what she will specialize in and where she is going to be most successful," Sara Carroll said. "She needs to get stronger and that will help her shave off some time, but she is a hard worker and Utah is lucky to have her."
Carroll will join her teammates Montana Lloyd, Abby Sauerbrei and Rori Connors as another Desert Storm swimmer to receive a swimming scholarship.
"It is really awesome to see everyone move on to the next part of our lives," Gebhart said. "I have been swimming and racing with all these kids since kindergarten and we have reached so many milestones together."
Gebhart will begin practicing with the Utes in August.