Future looking bright for hoops players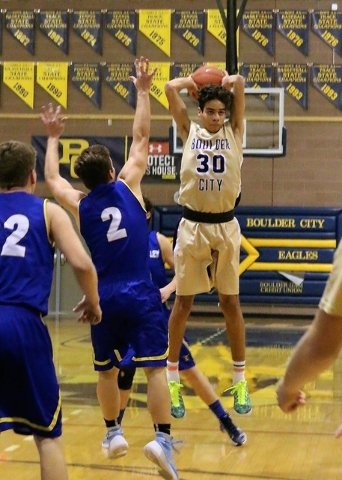 The feeling among the Boulder City High School boys basketball program is upbeat with a pair of solid performances against a pair of Division I programs.
Despite losing to Eldorado 60-47 and Valley 45-43 in the Bigfoot Hoops Basketball Las Vegas Live tournament July 13-17 at the Doolittle Community Center, the coach and team members said they feel the games helped show them the level of competition they are capable of playing against.
"I thought we did a nice job out there this weekend," head coach John Balistere said. "All summer long I've thought we've competed well against some of the larger Division I programs. These games don't count for anything against our upcoming schedule. This is just about getting better each day, and I feel we do that."
After nearly pulling off an upset against Valley, one of the prominent high school programs in the Sunrise region of the Division I ranks, Balistere said he is pleased with the way the Eagles played.
"Obviously you want to win," Balistere said. "More importantly though, this game proved to our guys that we can play with them. We'll have our hands full with them when we open up the regular season against them, but I'm confident that the boys can put together another great outing."
Squandering a lead late in the game to the Vikings, the Eagles were certainly disappointed to walk away from the competition without a victory despite playing well. But, they found a potential silver lining with the outstanding performances of junior guard Carson Balistere and senior forward Justus Green.
Pouring in a game-high 19 points and five rebounds for the Eagles, Carson Balistere, who is set to become a third-year starter for the program this season, looked comfortable controlling the tempo of the offense, while Green seems poised to break out into a larger role this season with the Eagles following an outing against Valley of 11 points and 14 rebounds.
"We have a bunch of returners this year who can hopefully contribute to us winning ball games," coach Balistere said. "We have guys that can put the ball on the floor and make plays when we need them. I'd say we'll certainly be more well-rounded offensively with some key guys stepping up for us."
Displaying more of an all-around offensive attack in their first game against Eldorado, Carson Balistere led the way with 12 points and five rebounds, while junior guard Billy Ferrence added six points and junior guard Tanner Montgomery and senior guard Michael Martinelli each added five points.
Hopeful to come away with a victory in the Bigfoot Hoops tournament, the Eagles are competing in the Las Vegas Classic Wednesday through Sunday where they're sure to run into another few Division I opponents.
"I love summer ball for the fact that it gets these guys ready without any consequences," coach Balistere said. "We're doing a lot of things right, but at the same time we have areas that need to be improved upon. We'll be back at it again this weekend, hoping to get our areas of concern fixed."
Contact Robert Vendettoli at BCRsports@gmail.com.