Future Eagles' baseball stars hone skills during summer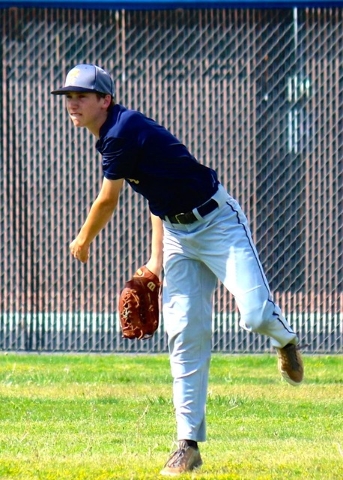 Fresh off a 2016 campaign in which they were crowned Division I-A state champions, the seasoning never stops for the Boulder City baseball program under head coach Bobby Reese, who has a majority of his players playing under him this summer for the Southern Nevada Eagles in the Connie Mack league.
"This summer is all about getting our next wave of players ready," Reese said. "Getting our kids more at bats, more time on the mound, more reps in the field. Our summer program is about individual improvement moving forward."
Sitting midway through their summer circuit with a 4-6 record, Reese has stated that he likes the way his 16U ball club has played, which is made up of a mixture of varsity and junior varsity players.
"Our roster is mixed with kids who will play varsity next year and kids that will be playing junior varsity," Reese said. "This summer season has been exactly what I wanted — at bats for our kids against good pitching. Our junior varsity players are seeing a lot better pitching then they did during the regular season. This is also an opportunity for other guys to step up on the mound and see who is going to compete for some open pitching jobs next season. Defensively some guys have really stepped up for us as well. Been nice to see improvement in everyone." After losing seven seniors, who were all key players in the Eagles' first banner season since 2006, summer ball has proved to be a prime opportunity for the team's next core of stars to get quality reps.
Combining for just 27 at bats this past season as sophomores for the Eagles, Teddy Lobkowicz, Anthony Pacifico and DJ Reese have all impressed individually at the plate this summer, a potential sign of positive things to come.
Leading the Eagles through 10 games, Lobkowicz sports a .500 batting average for the club, with a team-high 12 hits and three doubles, along with five runs batted in, despite missing a pair of games. Making the most out of his team-leading 32 at bats, coach Reese has also seen positive production from Pacifico who has a team-high nine RBIs, with a .344 batting average, two doubles and a triple, while DJ Reese has .288 batting average and a double. All three are expected to fight for starting roles in the infield, with Pacifico a potential option in the outfield as well.
At the plate isn't the only place the trio has contributed at, with DJ Reese and Lobkowicz ranking first and second, respectively in pitch count, while Pacifico ranks fourth.
Throwing 322 pitches thus far for the Eagles in 14.1 innings, DJ Reese has seen a rise in his pitching reps this summer, after throwing only one inning in the spring. Striking out 17 batters so far this spring, Lobkowicz (15 innings, 284 pitches, 21 strikeouts) and Pacifico (6.2 inning, 197 pitches, nine strikeouts) have also seen a majority of the reps throughout the summer, a telling sign that they could be potential starters in the rotation next spring with the loss of two starters and only one returning starter in senior Jake Hubel.
Two more potential key contributors for next season are senior Preston Van Diest and junior Nolan Herr.
A key returner from this past season's championship team, Van Diest is currently batting .467 with seven hits, four RBIs and a triple, while Herr hopes for a larger rolefollowing success this summer with a .333 batting average, nine hits and five RBIs, along with 263 pitches thrown and six strikeouts.
"With all the seniors graduating, it's nice to see some of our guys show they are up to the challenge and ready for the next level," coach Reese said.
The Eagles will conclude their season in the Connie Mack this week at home with doubleheaders today against Las Vegas and on June 30 against Green Valley. Games will be played at 6 and 8 p.m. on both days.