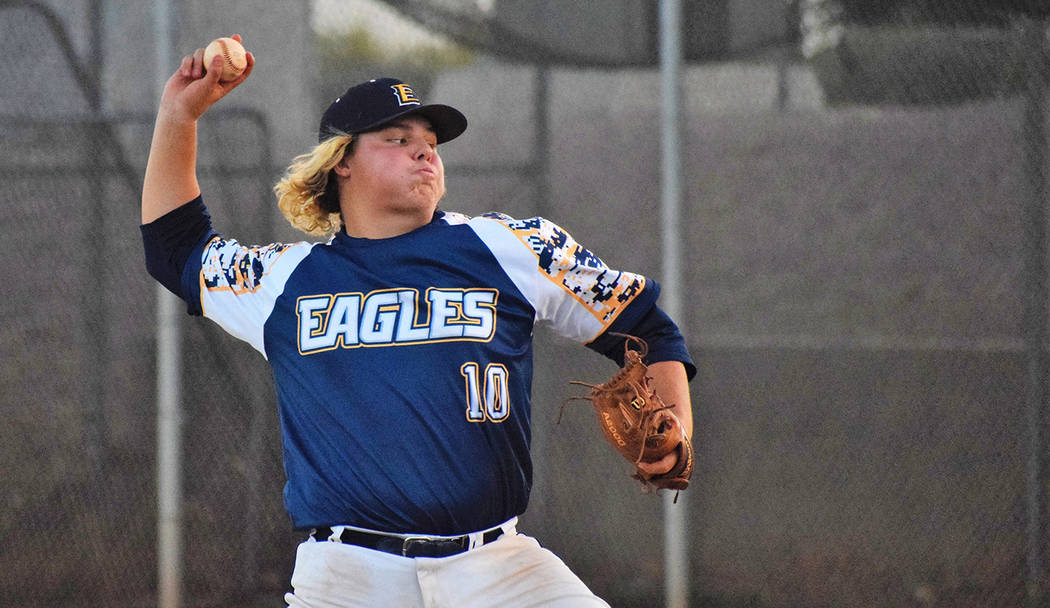 The Southern Nevada Eagles 16U swept Faith Lutheran in a doubleheader Saturday, June 30, in the Connie Mack summer baseball league, advancing to 15-0 on the season.
"I thought the boys played with a lot heart on Saturday," assistant coach Jeff Kinsler said. "We didn't quite get the hits we wanted in the first game, but Joey (Giunta) was dominant for us on the mound. They kept their composure and came out swinging in game two. When we get things going, it's really fun to watch."
Holding off the Crusaders in a game one pitchers' duel, Giunta stepped up for the Eagles in a close 2-0 victory.
Throwing a complete-game shutout, Giunta allowed just four hits while striking out seven batters.
"I thought I did pretty good on Saturday," Giunta said. "Faith Lutheran is a hard opponent, but my defense really helped me out. They made a lot of plays for me. Having them behind me gives me confidence when we play hard opponents."
Their sole runs in the game came from Ian Mills, who singled home Giunta in the fourth, and Troy Connell, who provided a sacrifice fly ball to center field to score Scott Bahde in the fifth.
The team collected just five hits; Mills finished 1-for-2, while Blaze Trumble finished 2-for-3. Matt Felsenfeld finished 1-for-3 and Bahde finished 1-for-1.
Getting it done at the plate and on the mound, Trumble earned the win in game two for the Eagles in a 13-1 rout over the Crusaders. Pitching a complete five innings in the mercy-rule game, Trumble allowed one run on five hits while striking out two.
The Eagles collected 15 hits in game two.
Mills finished 2-for-3 with three runs batted in and a double, while Trumble (2-for-3), Connell (2-for-4) and Clark Newby (1-for-3) drove in two runs apiece.
"Our entire lineup can hit and get on base," Giunta said. "Once one of the guys gets on base, we know the next one is going to back him up. We want to drive in runs and go back to the dugout and get cheered on by our teammates. Everyone encourages everyone to do their best."
Giunta finished 2-for-3, while Deavin Lopez finished 3-for-4 with an RBI.
The Eagles will face a tough test Saturday at Whalen Field when they host Green Valley for a doubleheader starting at 5 p.m.
Contact Robert Vendettoli at BCRsports@gmail.com.