Eagles preparing to open '17 football season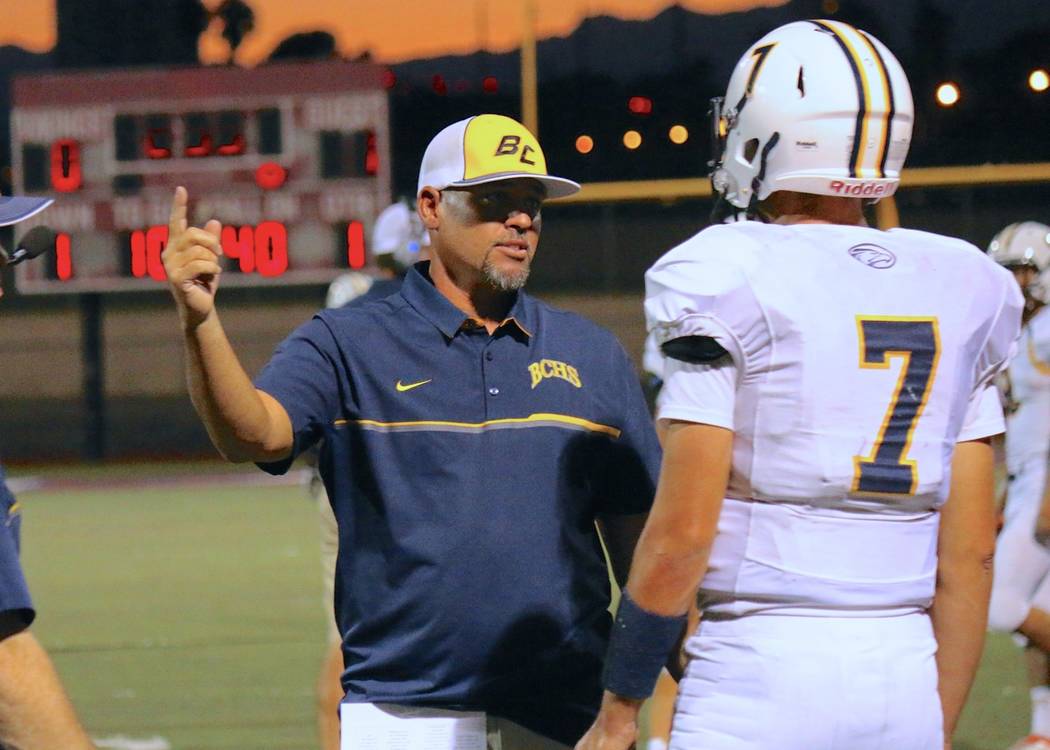 Wrapping up their summer workout program over the weekend, Boulder City High School football coach Chris Morelli is optimistic that better days are on the horizon for the program.
"This summer has been really good to us," Morelli said. "We got a lot of players to buy into working out with us and learning our playbook. It's beneficial not only for our returning guys who we expect to be starters, but for our younger varsity players as well."
Heading into his third season at the helm of the Eagles, Morelli said the vibe this summer among the team members was the best it's been throughout his tenure with the program.
For a program hopeful of a rebirth after combining for 2-16 the last season, Morelli is excited to see if the positive energy will translate into more success on the field.
"We're doing everything possible as a coaching staff to put a better product out on the field," Morelli said. "We're getting players to buy in early to our system, rather than in two-a-day practices in August, with hopes that by the time the season comes around, we're a (well-oiled) machine. I tell the boys all the time, games won in September and October come from the hard work you put in during June and July."
Buying into the Eagles' culture change immediately, returning senior starter Zach Trone is on board with Morelli's vision for turning around the program, citing the prospects of fielding a better roster this season with more players taking thegame seriously during the offseason.
"We've had a good amount of guys coming out to non-mandatory practices, which will help us in the long run," Trone said. "We've all been working hard and pushing each other to get better. The coaching staff has been doing an awesome job preparing us for the upcoming season. Coach Morelli puts a lot of his personal time into our team, and I'm glad I get to learn more about the game every day. I'm excited for the upcoming season."
A majority of the Eagles have been hitting the weight room in the morning, before night practices, leading Morelli to believe that this year's team is more equipped to compete than in years past.
"The weight room has always been our biggest issue," Morelli said. "Trying to get guys to buy into working out and training right hasn't always been our strong suit, but this summer, thanks to a few of our junior leaders, we've had no trouble getting guys to come in. It really starts here when you look at the building blocks for a successful season."
Noting that participation numbers are up from a year ago, with several new faces attending workouts, the Eagles are already reaping the benefits of playing under independent status.
Getting a chance to bring the program back to their glory days, the process has gone according to plan thus far.
"When we pushed for independent status, we did so with the intent to get potential players excited about coming out and playing football," Morelli said. "We wanted to get players talking, let them know that we're committed to getting the program back to where it was during the early part of the decade when we were making the playoffs each season. I've seen a bunch of new faces this summer, especially seniors who are giving our team a chance for the first time. It's rewarding to know that change is starting to surface."
The team opens the regular season at 7 p.m., Aug. 25 against Clark in Boulder City.
Off for this current week, the Eagles resume practice Wednesday, Aug. 2 for heat acclimation training, followed by two-a-day practice beginning Monday, Aug. 7.
Excited for the upcoming season, Morelli wants to send a reminder that all players who haven't attended summer work are more than welcome to join the team when they take the field for official practices Aug. 2.
"We're doing everything we can to turn this team into a winner," Morelli said. "It's a process, but I believe we're heading in the right direction, giving the level of commitment these players have shown. We had a great turnout this summer and expect even more faces to show up August 2. We encourage everyone who wants to see what our program is about to give us a try and help push this team in the right direction."
Contact Robert Vendettoli at BCRsports@gmail.com