Eagles induct ninth Hall of Fame
October 25, 2017 - 3:05 pm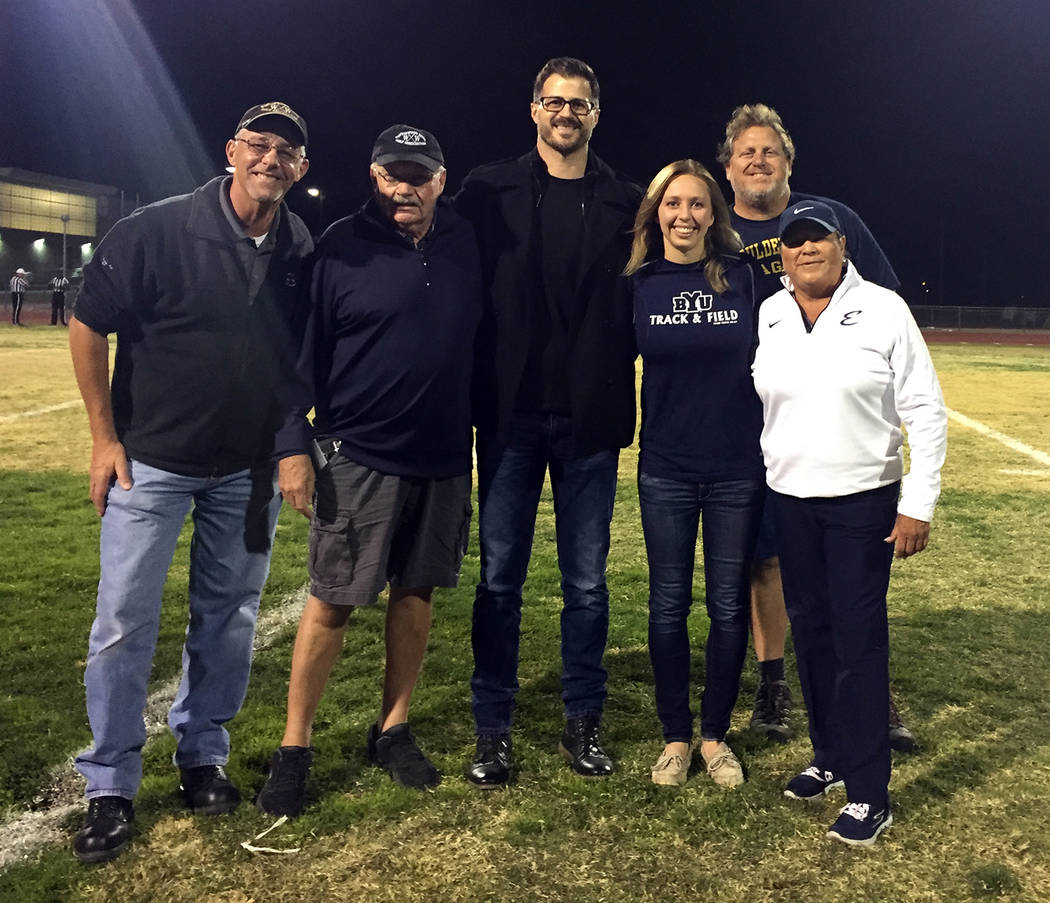 Former Boulder City athletes Shane Stemmer, Katie Palmer-Mackay and Frank Baird, former head coach and athletic director Regina Quintero, and contributors from the Winterwood Men's Golf Association Bob Stoltz and Kevin Keegan, inductees into Boulder City High School's ninth class in its Golden Eagle Hall of Fame, were celebrated for their achievements during Friday's varsity football game against Valley.
"It was honestly such a great feeling to be back in my hometown," said Baird, who now resides in Lakewood, Washington. "Attending Friday's football game brought back a lot of great memories from high school. I'm truly honored to be inducted in the Golden Eagles Hall of Fame."
During a celebratory luncheon Saturday at the student activities center the group interacted with former alumni and past Golden Eagle Hall of Famers, sharing stories of their fond memories from high school.
Unable to attend the festivities, Eagles graduates Kara Lundgaard and Tad Thormodsgaard were also inducted into the Hall of Fame, along with current Boulder City High School swim coach Sara Carroll.
Celebrated for their achievements not only athletically but academically as well, Baird was recognized for his contribution as senior class president in 1984, while Palmer-Mackay earned valedictorian honors in 2007.
"I always thought the greatest thing about Boulder City High School was everyone's passion to see you succeed," Baird said. "I credit my coaches for not only preparing me on the field, but in the classroom as well. I know they truly believed in me and thought I could accomplish great things, which is why I believed it."
Baird was a key part of the Eagles' track dynasty in the early 1980s, helping Boulder City to three consecutive state championships (1982-1984), while excelling individually on the gridiron.
A two-way all state performer, Baird was a two-time all state nominee as an offensive and defensive lineman, while finishing his senior season as 3A lineman of the year.
Accomplished as any athlete in school history, Palmer-Mackay was named Nevada Gatorade Player of the Year for girls track in 2007, finishing her prep career with the Lady Eagles as a 12-time individual state champion: four times in the 300-meter hurdles (2004-07), three times in the 100-meter hurdles (2005-07), twice in the 800-meter run (2005-07) and twice in the 1600-meter run (2006-07).
Palmer-Mackay also lettered three years in soccer (2003-05) and basketball (2005-07), and a season in volleyball (2006).
An accomplished three-sport athlete, Stemmer, a 2004 graduate, was a four-time letter winner in track and field, three-time letter winner in football and twice in basketball.
Finishing a four-time individual 3A state champion his senior year in track, Stemmer placed first in 110-meter hurdles and 300-meter hurdles, as well as the long jump and triple jump. He holds the school record for 110 hurdles with a time of 14.55 seconds.
A second-team all state selection in basketball his senior season after averaging 18 points and nine rebounds, Stemmer used his great leaping ability primarily on the gridiron, where he was named a first-team all-state wide receiver and 33rd annual West Charleston Lions Club All-Star Game participant, where he led all players with three catches for 59 yards and a touchdown.
Inducted as one of the most accomplished wrestlers in the school's history, Thormodsgaard, a 1987 graduate, led the Eagles' only state championship team in 1986. Team captain in 1986 and 1987, he was a three-time individual state champion (1985-1987), while finishing as the 3A state champion runner-up in 1984. Thormodsgaard finished his career with a 154-14 record.
Lundgaard, a 1999 graduate, was a four-year letter winner in both swim and basketball, making the state tournament in swim three years (1997-1999), while being named defensive player of the year (1996-1997) and offensive player of the year (1998-1998) for the basketball program.
Stepping down from the school in June, Quintero started her teaching and coaching career with the Eagles in 1988, serving as head coach of girls volleyball (1988-1998), softball (1995-2003), girls golf (2005-2015) and boys golf (2009-2015). Quintero served as the Eagles' athletic director from 2008-2016, highlighted in 2010 when she was named the 3A Athletic Director of the Year and in 2015 as a recipient of the National Athletic Administrators Association State Award of Merit.
As a head coach, Quintero won two state championships in softball (1997, 1999) and girls golf (2008, 2010) and one in girls volleyball (1989).
"This was such a great honor that I couldn't be thankful enough for," Quintero said. "Looking back on my tenure, I had a great time at Boulder City High School, whether it was coaching, teaching, being an administrator. I'm thankful for my time here."
Accustomed to winning championships, Carroll was inducted despite still being active as the Eagles' swim coach.
Beginning her coaching career in 1995 with the Eagles, she has a total of 16 Nevada state championships with the swim programs, 11 with the men and five with the women.
Inducted alongside her daughter Lundgaard, the duo joined Carroll's son, Bret Lundgaard, who was inducted into the Hall of Fame in 2014.
"It was any absolute honor for me to see both of them get inducted into the Golden Eagle Hall of Fame," said Principal Amy Wagner of Quintero and Carroll. "Having worked close with both of them and having built relationships with both of them, I know this honor is well-deserved. I couldn't be happier for them."
On hand to represent the Winterwood Men's Golf Association, were Stoltz, president; Keegan, secretary; and Don Kracht, shootout director. The association was enshrined for its donations in excess of $125,000 in scholarship aid to BCHS graduates since 1988.
"I thought the luncheon went great," said Athletic Director Alex Moore said. "Obviously we would have liked to have everyone on hand, but for those who were able to make it, I know they had a great time, as did I. I thought it was a great experience to get not only last alumni but current members of our community to get and celebrate the great accomplishments of this year's class. It was very nice to welcome everyone back and hear about their time at Boulder City High School and what it meant to them."
Contact Robert Vendettoli at BCRsports@gmail.com.