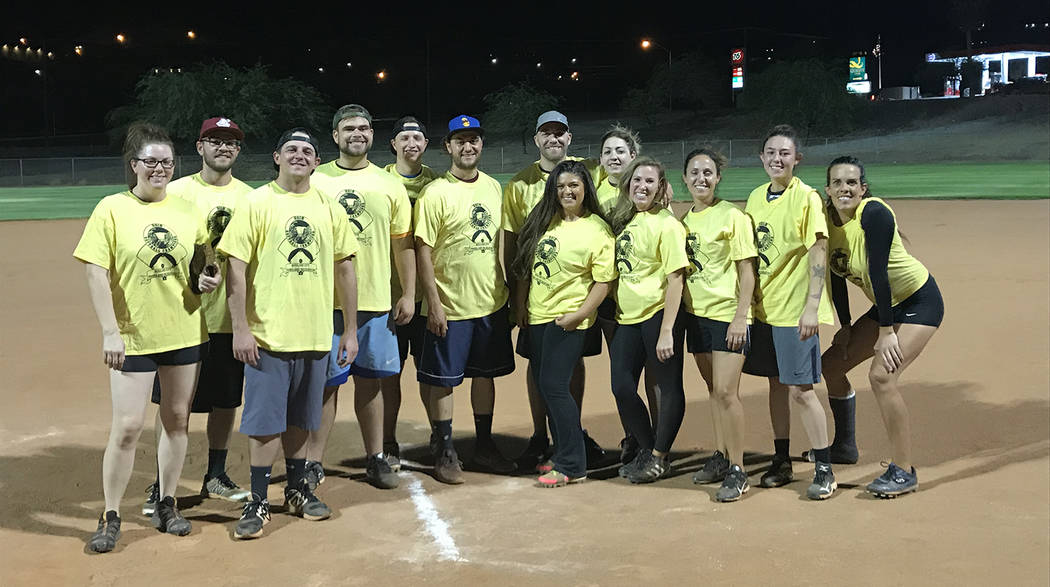 Brew Pub team wins league
Boulder City Parks and Recreation Department's adult coed softball league has concluded.
While Lakefront Pool and Contracting was the top-seeded team, it was Boulder Dam Brew Pub that came up the ranks to beat Boulder Dam Credit Union 13-5, according to Kelly Lehr, sports coordinator. She said big hits came from Tyler Bletsch, who had three of his eight home runs and 10 of his 17 RBIs this season in the championship game on Sunday.
Members of the winning Boulder Dam Brew Pub team are Bletsch, Nicole Alrich, Danny Bell, Garrett Calloway, Eddie Feeney, Emilio Gomez, Jake Gullo, Melissa Montana, Kelly Poe, Jen Rodriguez, Amanda Rogers, Alyssa Ybarra and Jax Zacher.
Basketball tourney begins
The men's summer basketball league will finish its last round of league games this week before heading into a double-elimination tournament.
Woodbury Law (6-1) is in first place, followed by Boulder Dam Credit Union (4-3), B.C. Kids (3-4) and Judge Joe's Jury (1-6).
Michael Van Diest from B.C. Kids was the high scorer, averaging 19 points per game. Dave Randall from Woodbury Law, Ryan McQuillan and James Wilson from B.C. Kids, J.J. Gray and Justice Fisher from Boulder Dam Credit Union, and Ron Dean and Bailey Gossard from Judge Joe's Jury all follow close behind, averaging 12 points a game.
Softball manager meeting set
Coed softball and men's softball will begin their fall leagues in early September. A manager meeting is scheduled for 7 p.m. Aug. 23 in the old gymnasium at the Recreation Center, 900 Arizona St.
Soccer clinics to be held Aug. 18
The Boulder City Parks and Recreation soccer clinics will be held Aug. 18 at Veteran's Memorial Park's Pratte soccer fields. The skill clinics will be held as a mini-camp, each one lasting approximately 45 minutes. The kindergarten clinic begins at 8 a.m.; the first- and second-grade clinic begins at 9; the third- through fifth-grade clinic begins at 10; and the sixth- through eighth-grade clinic begins at 11. Soccer registration is ongoing throughout the summer.
Floor hockey players clinic set
The sports department is hosting a hockey clinic for this year's past floor hockey participants from 10-11:30 a.m. July 31 in the gymnasiums at the Recreation Center, 900 Arizona St.
Players from the kindergarten, first and second grades, and third- through sixth-grade leagues are welcome to attend the free event. Players may wear their team jersey for admittance.