Boys advance to postseason play
October 24, 2018 - 6:01 pm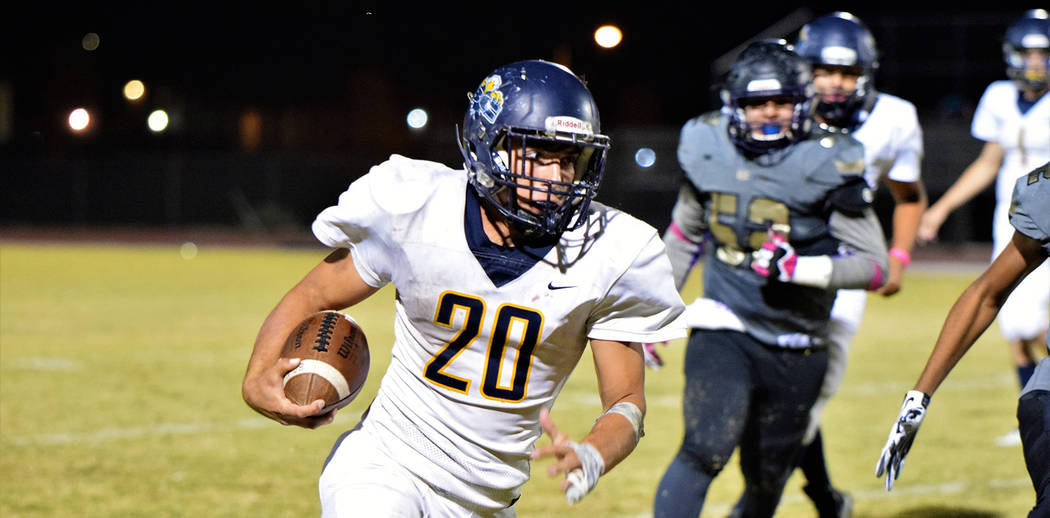 The Boulder City High School football team claimed its first postseason bid since 2014, defeating Sunrise Mountain 48-12 on Friday, Oct. 19.
It's the first postseason berth of head coach Chris Morelli's tenure with the program.
"I honestly couldn't be prouder of the boys," Morelli said. "This is something as a team, as a coaching staff, that we've been working on for a long time. It's taken us a while to get to this point, but these boys have put in the work and they deserve this."
Senior running back Thorsten Balmer ran wild, rushing for five touchdowns in the rout of the Miners, which set up a home playoff game.
"He sure is a special one," Morelli said. "We've coached a lot of good players, and he's certainly up there with them. His dedication for the game really sets him apart from everyone else. Just the workouts that he does on his own, the desire he has to get better. We use him as an example of what it takes to be a great player."
The game was scoreless through the first quarter. Balmer got things going for the Eagles (6-3) with three touchdown runs to give his team a 21-6 halftime lead.
Opening the second half with a balanced attack, junior quarterback Parker Reynolds found senior Jimmy Dunagan for a 41-yard touchdown early in the third quarter.
Balmer and senior Travis Hungerford plunged into the end zone for rushing scores in the third quarter, and then Balmer capped the night with a late score in the fourth quarter.
Setting a career high for touchdowns in a game, Balmer finished with 203 rushing yards on 26 carries. Balmer now has 20 rushing touchdowns on the season.
Playing his part, Reynolds finished 7-of-10 for 131 yards and a score. Dunagan caught four passes for 75 yards, and sophomore Deavin Lopez caught two passes for 41 yards.
"I thought the game went as well as it could have," Morelli said. "Not only were we clicking on offense, but our defense was up to the task of stopping their passing game that gave Virgin Valley fits the week before. This was a good win for our team."
Focusing on tonight's home playoff matchup, the Eagles will host Del Sol, which airs it out similarly to Sunrise Mountain. After stopping the Miners' aerial attack the week before, the Eagles will need to be up to the task again to get past the Dragons.
Contact Robert Vendettoli at BCRsports@gmail.com.
Upcoming games
Today, Oct. 25, Southern Region playoffs at BCHS, 7 p.m. varsity