BC graduate Grothe wins two swimming events at U.S. Open
August 15, 2013 - 1:03 am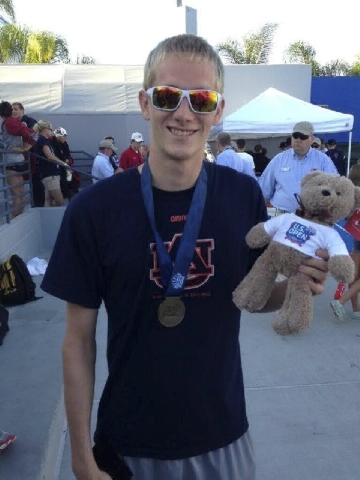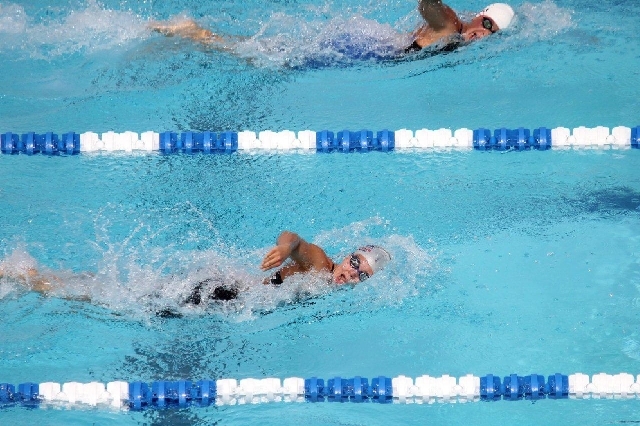 Former Boulder City High School swimmer Zane Grothe won two events at USA Swimming's 2013 U.S. Open on July 30-Aug. 3 at the William Woollett Jr. Aquatics Center in Irvine, Calif. Grothe, who will be a senior at Auburn University this fall, won the 1,500-meter freestyle with a time of 15 minutes, 13.39 seconds, and the 800-meter freestyle in 7 minutes, 56.15 seconds. He was fifth in the 400 freestyle
(3:54.68).
Grothe was among 1,000 swimmers in the U.S. Open, which was held in California for the first time ever.
"I was seeded last in the field for the 1,500 meters, but I had a good feeling before the race that I would do real well," said Grothe, 21, who graduated from Boulder City in 2010. "In the 800 meters I was seeded third, but in the back of my mind I just knew I was going to win as we approached the starting line.
"It was great to swim with all the great swimmers in the U.S. and be able to do so well."
Grothe competed in four events at the World Championship Swimming Trials June 25-29 in Indianapolis.
Grothe said his overall goal is to qualify for the U.S. National Team for the 2016 Summer Olympics in Brazil, but his immediate goal is his senior season with Auburn and the Southeastern Conference finals and the NCAA finals in early 2014.
Grothe is studying aerospace engineering at Auburn. He holds the Auburn school record in the 500-yard freestyle, the 800-meter freestyle and the 1,000- and 1,650-yard freestyles. He was part of Auburn's SEC champion 800-meter freestyle relay team and is a six-time All-American.
He was a former longtime member of the Boulder City-Henderson Heatwave swim club. His sisters, Rachael and Natalie, currently are top swimmers for the Heatwave and they helped the high school girls' team win its first state championship in May.
Also competing at the U.S. Open were former Boulder City and former Heatwave swimmers Dylan Bunch and Drew Peterson, and current Eagles senior and Heatwave member Jared Smith. Bunch swims for the University of Denver, while Peterson swam one season for Rider University before transferring this summer to the University of Tennessee.
Six of the Heatwave's national group swimmers competed in USA Swimming's 2013 Speedo Junior National Championships on Aug. 5-9 at the William Woollett Jr. Aquatics Center in Irvine. Smith and Alex Hubel each competed in seven events and did well. Smith garnered an 11th-place finish in the 200-meter backstroke final with a time of 2 minutes, 4.3 seconds. Hubel teamed with Cori Molisee and two Henderson swimmers in the 4×100 freestyle relay where their team placed 20th in the final.
Smith also competed in 100 backstroke and 200 and 400 freestyle. He swam in the 4×100 freestyle relay and the 4×100 medley relay along with Joey Gebhart and Jeremy Estes. Smith and Gebhart swam in the 4×200 freestyle relay. Estes swam in the 50 and 100 freestyle and the 100 butterfly.
"I experimented some with my stroke so my times were a little off, but overall I was happy with the competition," Estes said. "I took some time off of my 100 freestyle and 100 butterfly and added the 50 free. It was a great experience to swim with the future pros."
Hubel and Molisee teamed with Megan Purdy in the 4×200 freestyle relay and placed 34th. Purdy swam in the 200, 400 and 800 freestyle preliminaries.
Hubel also swam in the 4×100 medley relay that was 29th and she swam in the 50, 100 and 200 freestyle preliminaries, and the 100 butterfly.