Library director asked to resign; trustees offer severance package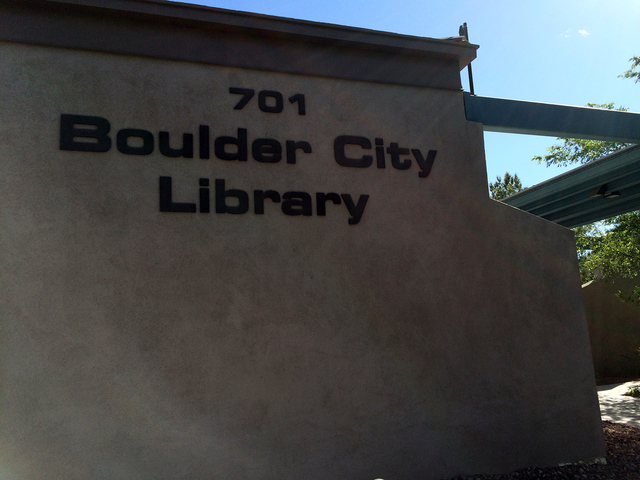 Boulder City Library Director Lynn Schofield-Dahl is on paid administrative leave after she was offered a one-week period to consider a severance package presented by the library's board of directors during its meeting March 16.
A written statement by the trustees reads: "At our last board meeting the trustees decided to offer Lynn Schofield-Dahl a severance package in exchange for her resignation. Ms. Schofield-Dahl has done many positive things and has helped bring the Boulder City Library into the future, but the board feels it is time for a change in leadership."
"I would like to thank the citizens of Boulder City who have made working here such a pleasure," Schofield-Dahl wrote in a statement about the situation to the Boulder City Review.
According to Gary Berger, chairman of the board, Schofield-Dahl was the subject of an internal investigation regarding the misappropriation of library funds, of which she was cleared.
He said they looked into accusations that Schofield-Dahl used library funds to purchase gift cards that were then used by her personally.
"There will be and there are no accusations that she has done anything illegal," Berger said. "She was cleared of all potential charges."
Lack of accountability
Closed board meeting minutes that were published on the library's website reveal the problem stems from a lack of accountability for gifts cards and premiums provided by vendors from which the library purchased promotional items.
One company, ProSource Specialties of Flower Mound, Texas, said it offers a percentage of the order incentive for purchases that the buyer can use as it wishes. The amount of the incentive varies depending on what was purchased and company costs, said an owner who asked not to be identified.
In the January minutes, trustee Jeff Breeden said he did not believe that Schofield-Dahl would be able to account for every single gift card that came in because they had not been tracked in the past. He would like to see a policy "about gifts from vendors being accounted for similar to petty cash."
The minutes also reveal that Martha Ford of the CPA firm Piercy Bowler Taylor &Kern, which audits library finances, has questioned the purchases.
The amount of promotional items purchased also was discussed.
"During the closed session of the last meeting one of the board members mentioned being shocked by how much stuff there was," according to the February's closed-session minutes about the promotional items stored in the library's basement.
Community complaints
In addition to the questions surrounding vendor premiums, the board had received numerous complaints about Schofield-Dahl's temperament, how she treated customers and the wrongful termination of a library employee.
These subjects were the focus of an evaluation of Schofield-Dahl's performance during the February closed session.
The minutes state "Jeff agreed that the specific personnnel situation with Mary (Hughes, a library employee who was terminated and then reinstated) was handled incorrectly, but he thought it was done professionally. His concerns have to do with policy and they are being addressed."
Board member Valerie McNay "suggested learning more about HR (human resources) policy as a goal for the year."
The minutes also reveal that numerous community members attended the January board meeting in support of Hughes.
November board meeting minutes reveal that one patron was upset about the library's behavior policy and that it seemed to be randomly enforced.
Members of the now-defunct Friends of the Arts raised issues about Schofield-Dahl's behavior after the last BC's Got Talent show and her handling of their complaints. A report on the July 27, 2015, meeting called her behavior "shocking," criticizing her shouting at members into "stunned silence," and using offensive language. The notes also said that she "laughed and bragged that people make the mistake of complaining to the city about her behavior but as she does not report to the city they are wasting their time."
Not unanimous
Berger said the decision to offer Schofield-Dahl a severance package while she "explored her options," was not unanimous.
When contacted, board members who have been supportive of Schofield-Dahl in the past deferred to the written statement.
According to public salary records, Schofield-Dahl has worked with the Boulder City Library District since 2011. Her base pay in 2012, the last year her salary is listed on the site, was $69,456.
She has been library director for eight years.
The severance packaged offered includes one month's salary for each year worked, with benefits such as insurance and vacation accruing during that time.
Berger said the agreement has to be accepted and signed by noon Friday or it expires. If she does not accept the offer, the board will meet and consider its options.
A board meeting has been scheduled at the library for 7 p.m. Tuesday.
As of this past Tuesday, she had not accepted or declined the offer; however, she has indicated to several of her Rotary club members that she has been let go from her position.
Until a new library director can be found, Kimberly Diehm, assistant director and head of youth services, will oversee operations and staff, Berger said.
"We have an exceptionally competent assistant director who will be asked to step up to the bar," Berger said early March 17.
He added he didn't know how long it would take to find a replacement for Schofield-Dahl, but the vacant position should not affect day-to-day library operations.
Boulder City Review reporter Kimber Laux contributed to this article.
Hali Bernstein Saylor is editor of the Boulder City Review. She can be reached at hsaylor@bouldercityreview.com or at 702-586-9523. Follow @HalisComment on Twitter. Contact Kimber Laux at klaux@bouldercityreview.com or 702-586-9401. Find her on Twitter: @lauxkimber