Work of native flute artist featured in exhibit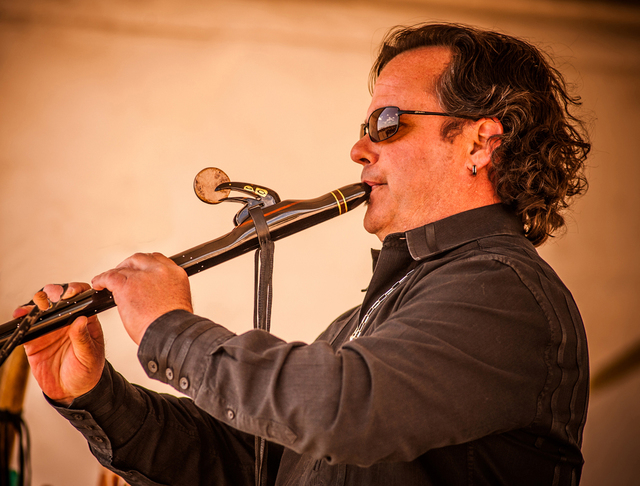 The work of Boulder City Native American master flute artist and performer Tim Blueflint will be exhibited in "Toubat: A Canvas of Wind and Wood" presented by the Nevada Humanities Program Gallery, 1017 S. First St., No. 190, Las Vegas, in the Art Square Garden Courtyard.
The exhibit is part of the ongoing Nevada Humanities Exhibition Series that showcases the work of Nevada artists who articulate a sense of place for the Silver State.
Blueflint will be honored during a reception from 6-9 p.m. June 5 during the 18b Arts District's Preview Thursday.
A multiple award-winning flute maker, Blueflint is an internationally recognized artist, performer and a registered member of the Bad River Band of the Lake Superior Chippewa and the Comanche tribe. His interest in the flute developed out of love for his grandmother.
"I used to watch my grandfather play his flute and my grandmother would be transformed into another realm," he said.
After his grandfather passed away, Blueflint said, "I couldn't let my grandmother go through the rest of her life not hearing that sound again, so I learned how to play."
"Toubat: A Canvas of Wind and Wood" draws on traditional Chippewa and Comanche teachings, which have allowed Blueflint to advance this ethnic musical instrument into the world of art. Each flute he creates is built of the finest woods, hand-selected from around the globe.
The exhibition allows viewers to appreciate the color, contrast and textures of the instruments, accentuated by the artist's craftsmanship, and to learn more about the role of flute music in Native life.
The gallery is open from 1-5 p.m. Monday through Thursday and from 1-9 p.m. during Preview Thursday and First Friday events each month.